Buried: A New Musical – 26 July 2017, DINA, Sheffield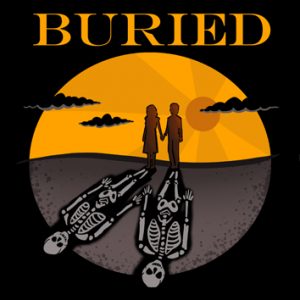 ***** As I'm trying to good and only go to the Edinburgh Fringe every other year at the moment (this is my year off and I'm finding it hard to resist) I was delighted to be asked to review the preview show of Buried: A New Musical before it went up to the Fringe at a new Sheffield arts venue I hadn't yet visited, DINA.
Buried: A New Musical tells the story of Harry (Sebastian Belli), a shy, seemingly-average young professional, and Rose (Lindsay Manion), a sarcastic thrill-seeker, who after matching on an online dating service, form a unique relationship when they discover something special that they have in common: they're both serial killers.
The sell-out audience of all ages, followed the young and fun loving couple as they join forces, setting out on a trail of deception and murder whilst simultaneously attempting to navigate their way through the world of normal, adult relationships. Combining a folk-inspired score and a funny script, this new musical put a bloody spin on the traditional rom-com formula, examining the world of relationships when pushed to its extremes.
Supported by a five piece band, who moved easily from folk to jazz and all the musical genres in between, and making brilliant use of the small stage and minimal props (a table, chairs and two telephones) thanks to set and lighting designer Sam Costello, the preview was introduced by writer/director Tom Williams and composer/director Cordelia O'Driscoll who said that the performance was still evolving and improving, although as an audience member you couldn't tell as it would be hard to make this great show even greater
Kicking off the show in a red dress and with a song and dance routine full of moments that anyone whose dated would recognise, Lindsay started the show wonderfully (and only got better as the show went on) before being joined on stage by the end of the first song by Sebastian, whose on screen chemistry with her was instant as they went on to pull off very naturally a boy and girl next door romance with a modern "Bonnie and Clyde" twist, working their way through all stages of a 20 something relationship within the space of the hour long show.
Unlike several stage actors I have seen, Sebastian pulled off perfectly speaking straight to the audience (though front row be prepared for him to wave a knife in your faces) and throughout the musical Sebastian showed off a pure West End style voice full of charm that not just Rose but the entire audience would fall for and when combined with Lindsay's singing, either when they were singing over each other or beautifully in harmony was magnificent. Later in the show the song equivalent of a love letter showed that the female chorus members voices were as pure and beautiful as Lindsay's own when sung in harmony.
The chorus (Laurence Hunt, Teah Lewis, Oliva Doust and Alexander Cosgriff) were as amazing as the two leads as they took on the roles of dates, waiting staff and murder victims, each pulling off these parts brilliantly and hilariously, including comedic running on the spot, without having to result to obvious stereotypes.
The band and choreography of the chorus were at their transitional best in a song and dance routine (thank you to Phoebe Phillips for the excellent choreography that perfectly captured the spirit of the show) that flowed from train to plane to wedding, including an unexpectedly brilliantly smooth re-working of Huey Lewis and the News "Power of Love" and the meatball scene from "Lady and the Tramp" combined with the "Macarena". And if you didn't think Sebastian's singing voice from earlier in the show could get any better then wait for his final ballad which he sings with emotion, passion and thoughtfulness with a voice and lyrics that could give Jamie Cullen a run for his money.
The excellent script, thanks to Tom Williams, balanced comedy and serious moments whilst providing a great insight into psychopaths whilst also not being afraid to cover issues as diverse as dogging, veganism and the environment along with the important lesson that "loving what you do makes life worth living". Although the language used in Buried may offend some, its use felt natural for the characters involved and didn't stop the audience spending most of the show with big smiles on their faces before being taken to a dark conclusion.
I admit that I will always love a show that randomly throws in a perfect impression of the "Muppet Show" theme tune as part of a cast member's television impression, but putting that face aside, I wish this superb show good luck and the sell out audiences at the Fringe it thoroughly deserves and can see this show running and running and the cast and company going far.
A new, emerging theatre group from Sheffield, Colla Voce Theatre performs musical theatre with a fresh take, showcasing the unusual, the forgotten and the undiscovered. Whether they are producing stories that rarely get told, or stories that have never been told before they attempt to challenge the conceptions of what musical theatre can be. For further information on Colla Voce Theatre visit www.facebook.com/collavocetheatre.
Buried: A New Musical will be performed at C Too (C Venues) at this year's Edinburgh Fringe Festival from Thursday 3rd to Monday 28th August. Tickets are £8.50 full price and £6.50 for concessions and are available from https://tickets.edfringe.com/whats-on/buried-a-new-musical or via the methods listed at https://tickets.edfringe.com/box-office.
Housed in a building created from the merger of a Sunday school and a spoon factory in the centre of Sheffield and feeling like my favourite type of Edinburgh fringe venue but within my own home town, DINA provides a hub for creative and digital practice, hosting music, learning adventures, performances, exhibitions and a social café. For further information visit www.facebook.com/dinavenue.