Gypsy – 13 November 2018, Lyceum Theatre, Sheffield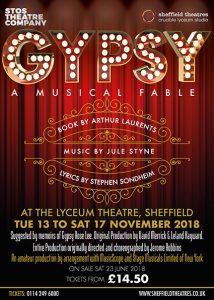 ***** When the winner of our best musical of last year STOS invited us to the opening night of their production of Gypsy, immediately leading to my colleague breaking into a melody of songs from the show, we knew we had to be there.
Loosely based on the memoirs of Gypsy Rose Lee, the musical is the story of an overbearing, pushy and unrelenting stage mother Rose and her dreams of making her children June and Louise stars of the stage in the Vaudeville era of 1930's America. Performed by the company for the first time in its history, this backstage theatre story is full of quirky characters and classic songs, with lyrics by Stephen Sondheim.
Close to musical heaven that with a few tiny tweaks would not be out of place on a Broadway stage, STOS's production of Gypsy is packed full of wonderful performances, dancing and voices from all supported by stunning choreography, direction, musical numbers, laugh out loud comedy and stylish costumes. I can also tell when a musical is amazing when I find myself welling up during the encore, and with Gypsy I definitely did. Doing for 1930s theatre what Singin' In The Rain did for 1920s film studios, anyone who loves a classic musical will want to be in the audience for this production.
Rightfully so the stand-out performance, in a cast of stand-out performances, came from our last year's winner of best actress in a musical Keeley Kilby as Rose, who not only wonderfully portrayed the ultimate pushy mother but brought to life on stage one of musical's greatest female characters, channelling every aspect of her in a performance that could not be improved upon and continues to confirm Keeley's destiny as a musical star.
Other cast members I must mention include Lauren Lomas who played Rose's daughter Louise in a way that any of us eager to please wallflowers could truly relate to before pulling off the ultimate theatrical transformation into Gypsy Rose, not only transforming into the icon but appearing to also transfer into the elegant and talented Downton Abbey actress Michelle Dockery; Steve Mather as Herbie, whose role combined all of Hollywood's loveable, sweet, put upon guys that the audience always route for, whilst having a great connection with Keeley and Lauren; and Caroline Fojut as burlesque dancer Tessie Tura who not only captured the look, charm and confidence of an original blonde bombshell but also the voice of Singin' In The Rain's Lina Lamont.
Also deserving a special mention are all of the children in the cast (Team Chow on the Tuesday night) who all possessed the natural talent, fearlessness, personality and enthusiasm of American child pageant contestants and if they decide to go further in the entertainment business all deserve a place on the stage and at performing arts schools, supported by less pushy mothers than Rose.
Stand out moments in the superb opening act include Baby June (performed on the Tuesday evening by Eve Wibberley) transformation through clever direction and choreography to June (played by Katie Mather) in the annoyingly catchy "May We Entertain You?" with both actresses perfectly catching the spirit, enthusiasm and need to entertain of Shirley Temple; the quirky and romantic duet, packed with natural chemistry, between Keeley and Steve "Small World"; Lauren's movingly childlike and innocent rendition of "Little Lamb"; and Jack Skelton (our winner of best supporting actor in a musical last year) as Tulsa's superb performance of "All I Need Is The Girl" perfectly channelling his inner Gene Kelly and leaving you slightly devastated that by the end of the act he had chose the other sister.
Although the second act was not quite as strong as the first, partly due to the sound problems which I will happily forgive and due to the script itself which seems to rush through the story during the second half, it did include the upliftingly entertaining "Together, Wherever We Go" highlighting the natural talent of and bond between Keeley, Lauren and Steve; and the finale "Rose's Turn" was the musical number which blew everything else in the rest of the production out of the water, showcasing Keeley's voice, talent, stage presence and range at it's very best and easily acting as her Broadway audition piece for any role she wants.
Gypsy will be performed at the Lyceum Theatre at 7.15pm, with an additional 2pm matinee on the Saturday, until Saturday 17 November. To book visit www.sheffieldtheatres.co.uk/whats-on/gypsy, telephone 0114 249 6000 or visit the Sheffield Theatres box office in person.
STOS Theatre Company aims to produces the world's top musicals for and by the people of South Yorkshire. There productions have been seen by over 15,000 in the last three years alone. For further information visit www.stos.org.uk.
P.S. If like the women walking out of the theatre behind us you are expecting a musical about a fortune teller you may be slightly disappointed but we guarantee you will absolutely love the show nonetheless.