Closer – 8 November 2018, Montgomery Theatre, Sheffield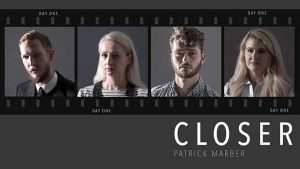 ***** This autumn's trend for bringing to Sheffield stages productions that are famous for their film adaptations continues with this powerful and darkly funny production, performed by new independent Sheffield theatre company on me, Day One Theatre.
Patrick Marber's award winning drama follows the lives of four people trading partners for lust, in what is definitely not a love story, and instead dissects the high and lows of relationships and how honesty is frequently not the best policy.
Selling out it's opening night in the Montgomery Theatre's studio space, Closer is a cleverly and stylishly superbly written, directed and performed piece of theatre that will leave you never looking at relationships and sex in the same way again, if you are loved up making you grateful for the relationship you are in and if you are single, putting you at risk of never quite trusting potential future partners in the same way again.
Although first premiering in London 21 years ago, apart from the smoking in public and 90s desk toy, the play feels incredibly contemporary, studying themes of love and passion in a way no other production I've seen has achieved, with the four excellent cast members stunningly and naturally bringing their characters attitudes, confidence and desires to life whilst displaying incredible chemistry, passion and desire between each other.
Every look, movement and word drew the audience further into the desired, dirty, complicated messed up lives of the four beautiful but broken characters, whilst the soundtrack, minimalist stylish set, hair and wardrobe only added to the contemporary and desirable feel of the production.
Day One Theatre's unmissable production should be seen by anyone who loves previous productions of the play or the 2004 film or loves dark, intense, passionate theatre that draws you in to the characters lives.
Closer will be performed at the Montgomery Theatre at 7.30pm until Saturday 10 November. Tickets are £12 full price and £10 concession. To book visit https://themontgomery.org.uk.
For further information on Day One Theatre visit www.facebook.com/dayonetheatre.