Interview – Becky Cleary, Butter Side Up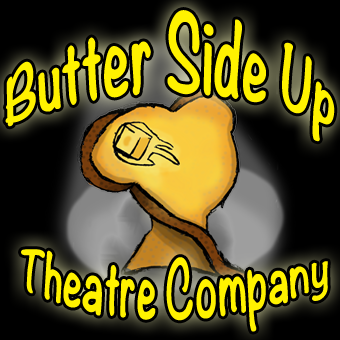 With Sheffield arts venues currently on lockdown we have no performances to review at the moment but that does not mean we are going to stop supporting Sheffield theatre companies, continuing with an interview (by email not face to face in these times of social distancing) with the chairwoman and co-founder of Butter Side Up.
Q. Tell us about your company?
Becky. Butter Side Up (BSU) Theatre is a Sheffield based amateur dramatics company that specialises in original writing, collaborative works, stand up comedy, and musical theatre performances! The company was founded in 2016 which was set up as a group for those who wanted to enjoy theatre and performing in a fun and friendly setting. Named after an absurd running joke in Seussical the Musical on the correct way to eat toast, Butter Side Up was named to showcase the fun and frivolity that is to be had by being part of the company. We are a fun but committed collection of people who want to create entertaining performances for the city of Sheffield. BSU are open to any one over the age of 18 and welcome members from all walks of life from across Sheffield, Leeds, Derbyshire and more. We are proud to be an inclusive group, welcoming anyone regardless of orientation and often highlights the talents and energy of the LGBTQ+ community in performances and productions.
Q. What's your role in the company and what does it involve?
Becky. I'm Becky Cleary and I am one of the founders of the company as well as the Chairwoman. As a founder I sit on the board of trustees and as Chairwoman I head up the committee who are involved in the day to day running of Butter Side Up. As Chair, it is my responsibility to manage the company, ensure that trustees are informed of committee decisions and to manage the committee and assist them in their job roles should they need it.
Q. What's the best thing about being part of the company?
Becky. The people. This company is a completely drama free zone off stage and it's all about having fun. We rehearse every Saturday and it's great to just get away from life at rehearsals and have a laugh with each other (as well as posting memes in between in the group chat). All members are incredibly supportive and it's great that we have our little group who will be there for each other.
Q. What are your favourite(s) shows you have been involved with and why?
Becky. Our spoof musicals have always been popular, we did Batman: A Spoof Musical; written and directed by Michael Hudson and more recently we have been rehearsing for Game of Thrones: The Spoof Musical; written and directed by Sian Meredith. Unfortunately due to COVID-19, Game of Thrones has been postponed until further notice but it was so much fun to be a part of. Our spoof musicals are a USP for us, it's what makes us stand out from other theatre companies in the area. Both have been well executed and the cast have a lot of fun taking the mick out of things they love but know could of been better – that's why we rewrite them!
Q. What show(s) would you love the company to perform that they have not already performed?
Becky. I want us to put on some large scale musicals – it's the one aspect we haven't explored yet. I would love us to put on Seussical on our 5 year anniversary. It is our name sake and would fit the bill of a big musical and also introduce more people in Sheffield to the lesser known show.
Q. What are one or some of your favourite off stage moments at the company?
Becky. Tara and Chris bring their baby Seb to Game of Thrones rehearsals and to be honest we get easily distracted by him because he's so cute. We spend about half of our rehearsal time pulling strange faces at the poor boy. He definitely puts a smile on everyone's faces.
Another would be when we had to carry the cardboard batmobile for Batman: A Spoof Musical across Sheffield city centre because we didn't have a car. The fear of it blowing and away and the looks we got will not be one to forget.
Finally, all the comments we get from members and audience at all our events, even our more obscure events like 'Emo Cabaret' that everyone really enjoyed.
Q. What are your favourite performance venue(s) in Sheffield and why?
Becky. We have been lucky to perform at many different venues but two of our favourites would have to be:
The Holt – This is not your conventional performance venue, in the day it is a cafe, however they have become a creative events space and provide a unique setting with a rustic feel giving a different performance feel to your usual stage setup. The manager Jess is very supportive and is so welcoming, we love how she makes putting on a performance easy for us.
Theatre Deli – This gives us a professional performance setting without the hefty price tag. There is an onsite team who know all about the lighting rig and sound board to lend us a helping hand. Even though we have had to delay our latest production with them they have been so helpful with communicating with us and hopefully we will be back there later this year to put on Game of Thrones: The Spoof Musical!
Q. Which other performance companies in Sheffield would you recommend?
Becky. HSU Theatre – This is a university based society and holds a lot of sentimental value to the Butter Side Up founders, who met in the society. They put on 3 shows a semester including original works, plays and musicals. HSU Theatre are very supportive of us in terms of helping us out with any backstage equipment we might need from their storage and always come to support our shows.
Southey Musical Theatre Company – We have members who are part of this theatre group and we have gone to see a couple of their musicals including; Avenue Q and Little Shop of Horrors. This group always have incredible set design and give an amazing performance.
Croft House Theatre Company – Croft perform one musical a year at the Lyceum and you would believe that they were a professional touring company. Their musicals are next level and it is always a pleasure going to watch their shows.
Q. What's the best thing about being part of the Sheffield theatre scene?
Becky. How supportive everyone is of each other. COVID-19 has stopped so many shows from being put on, however the theatre community here are very much there for one another in this terrible time. I also know that several of our members are a part of different theatre companies within Sheffield. I also love the diversity of the different shows that you see in the Sheffield theatre scene.
Q. How can people become involved with/support your company?
Since the very beginning, Butter Side Up have offered members not only the chance to perform whatever your level of theatre experience may be, but to try a hand at backstage work, directing, writing, film-making, marketing, producing and also the chance to develop skills in a low-pressure environment.
Currently we are asking for submissions for our online piece 'Sunny Side Up Radio Plays'. This is a writing opportunity for anyone looking for a creative outlet during self-isolation/lockdown. We are looking for fun or light-hearted original content/stories to be brought to life. Please send scenes/monologues that capture the brighter side of life. In times like this when many people are feeling anxious, overworked, or just not their best, it's high time we had some happy stories to listen to. The homemade recipes we select will be rehearsed by Butter Side Up members, recorded, and then shared across all our platforms for everyone to enjoy. If you want to submit something, email info@buttersideuptheatre.com with your script before 5pm on Monday 6th April 2020. The piece should last between 5 and 15 minutes and feature up to five characters. If you have any further questions. feel free to get in touch via social media or email.
For further information find us at:
Website: www.buttersideuptheatre.com/
Email: info@buttersideuptheatre.com
Facebook: https://en-gb.facebook.com/ButterSideUpTC/
Twitter: https://twitter.com/buttersideuptc
YouTube: www.youtube.com/channel/UCI11Yd6-9J-TxhDeUGXryMA Instagram: www.instagram.com/buttersideuptheatre/