Jesus Christ Superstar – 2 April 2019, The Octagon Centre, Sheffield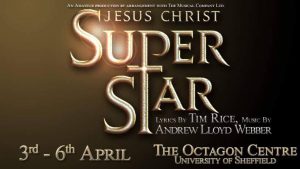 ***** To celebrate their 30th anniversary I was delighted to be invited to the dress rehearsal for Splinter Theatre Group's performance of Sir Andrew Lloyd Webber and Tim Rice's first ever musical collaboration.
The rock opera Jesus Christ Superstar is set against the backdrop of an extraordinary and universally-known series of events but seen, unusually, through the eyes of Judas Iscariot. Loosely based on the Gospels of Matthew, Mark, Luke and John, Superstar follows the last week of Jesus Christ's life, the story, told entirely through song, explores the personal relationships and struggles between Jesus, Judas, Mary Magdalene, his disciples, his followers and the Roman Empire.
Spine tingly breath-taking from beginning to end, as a reviewer I would not be lying when I say that this production blew me away more than any other show I have seen in Sheffield and should set the stand for every future professional and amateur production of the show.
Not only does the production have the feel of a stadium tour, making fantastic use of projection, the live band and choir and the whole stage and auditorium area, but as an audience member I would be more than happy to pay stadium tour ticket prices to see it.
I must truly praise the exceptional work of director Ian Walker, musical director Anna Wright. assistant director Adam L Walker and choreographers Abigail Oldfield and Leah Rhoads-Burch for their superb and clever direction, choreography and musical arrangements throughout getting the very best out of all of the cast and company. In addition, from the band I must especially mention guitarist Dave Brocklebank whose solo at the end of "I Don't Know How To Love Him" was the production's equivalent of Brian May playing on top of Buckingham Palace; and from the production team the make up team whose work on Jesus's back is some of the best theatrical make up I have seen.
Scenes that will stay with me for a long time to come, showing the entire company and the work of the production team at their most superb and unforgettable, include the opening riot scene, which transformed the 49 year old musical to the present day and confirmed it is just as relevant today, the nightclub Temple, and the paparazzi and media intrusion of "The Arrest".  However, it was the performance of "Superstar" that brought all the musical magic of this production together at it's very best with show-stopping choreography, vocals, music and costumes ultimately confirming why nearly half a decade later this musical is still going strong and only getting better and better.
As mentioned, all of the cast were superb but I must specifically highlight Jessica Rose Curr as Mary, who could easily give a young Sarah Brightman a run for her money, whose performance of "I Don't Know How To Love Him" moved me to tears and, if I could afford it, I would pay her to sing the beautiful "Everything's Alright" to my unborn child every night. Ross Banister as Judas, whose previous work with Tudor Players we have enjoyed but in this shows he has been keeping his musical abilities well hidden and that there is something wrong with the world if he is not snapped up for a lead in a West End musical after this production, at his most raw, powerful and dramatically and vocal best at the climax of"Judas's Death" with the final projected footage kick starting a series of dramatic and powerful images guaranteed to stay with audience members for a long time to come. And of course, Dan Romano as Jesus, who not only had the looks required for the role but is truly up there with Lee Mead and Ben Forester in his performance, with his emotion, range, passion, power, vocals and stage presence at their outstanding best in his performance of the moving "Gethsemane".
I must also mention Adam R Walker as Annas, who as a website we are already massive fans of from his previous roles, but in this proved he is just as superb a performer when playing the bad guy; Mark Holmes' powerful and operatic performance as Pilate; and deserving more stage time than he had, Bob Flewitt as the gloriously flamboyant Herod whose moment in the spotlight came in his cabaret style performance of "Herod's Song" that made me long to see Eddie Izzard in the role.
Massive congratulations to everyone involved in this production, you should all feel extremely proud of what you have achieved, and Sir Andrew Lloyd Webber, Tim Rice, Ben Forester and the cast of Hamilton were more than justified in their good luck messages to you, as based on this production you are all destined to go far in musical theatre and should rightfully sell out every night of this run, with anyone who calls themselves a musical theatre fan not worth that title if they don't book a ticket. Here's to Splinters next 30 years of phenomenal productions.
Jesus Christ Superstar will be performed at The Octagon from Wednesday 3 to Saturday 6 April at 7.30pm with an additional 2.30pm matinee on the Saturday. To book visit www.gigantic.com/jesus-christ-superstar-tickets.
Splinters Theatre Group have been performing annual full scale musicals in Sheffield with a cast aged 14 to 30 years since 1989. For further information visit www.splinterstheatregroup.co.uk.