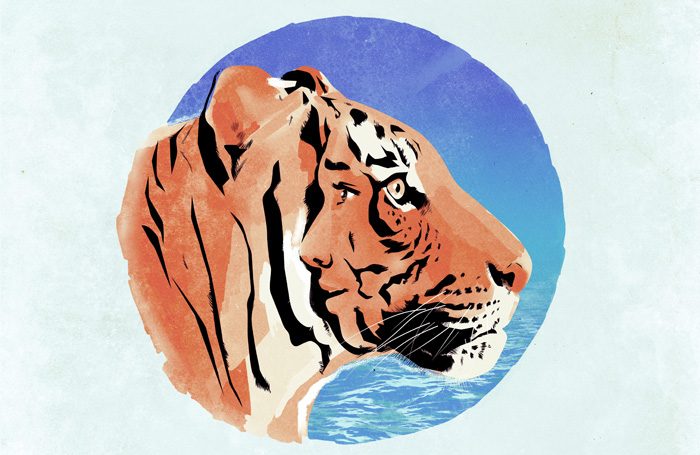 Life of Pi – 3 July 2019, Crucible Theatre, Sheffield
***** We were delighted to be in the audience for the press night of Sheffield Theatres latest exciting production, their adaption of Yann Martel's Man Booker Prize winning novel Life of Pi.
This new theatrical adaptation, adapted from the novel by Lolita Chakrabarti, brings to life an epic journey of endurance and hope, after a cargo ship sinks in the middle of the vast Pacific Ocean, sees five survivors stranded on a single lifeboat – a hyena, a zebra, an orangutan, a 16 year-old boy and a hungry Bengal tiger.
It has been suggested that the novel could never be adapted to cinema, so probably even less so to stage, but this production proves this wrong with a triumph adaptation that superbly blew the film out of the window.
Lolita Chakrabarti's adaption of the novel, not only brought the story to life, but carefully balanced making the plot darker whilst adding moments of natural humour, with her script making wonderful use of the cast after the ship sunk to immerse us further into Pi's thoughts and illusions.
In a production whose cast were superb and could easily transfer the show to the National Theatre, especially Hiran Abeysekera as Pi, who made the character his own and naturally brought to life the 16 year old who found himself in an extraordinary situation, the real stars of the show were the direction of director Max Webster, imagery and puppetry that captured and transported the audience directly into the story.
Stunning visuals and the clever set that made perfect use of the Crucible stage, brought the storm, the ocean, the zoo and the boat to life, with our only small criticism being that the effort put into the earlier market scene could have been transported to the island, though I imagine that was the point allowing us to enter Pi's imagination further and visual it for ourselves.
The puppet design of Nick Barnes and Finn Caldwell for this production must truly be up there with War Horse, bringing the natural movements and temperament of the animals to life, with the help of all of the company who operated and performed them, in a way that worked often better than in the film, with the detail of Black & White making their tragic end even more shocking.
Life of Pi is an unmissable theatrical adaptation at its best that should not be missed by fans of the novel, wonderful storytelling and superb immerse, visual theatre. It highly deserved its standing ovation and all involved deserve to win awards in their own theatrical fields.
Life of Pi is on at the Crucible Theatre until Saturday 20 July. For further information and to book visit www.sheffieldtheatres.co.uk/events/life-of-pi
P.S. We prefer the first story too.