Little Shop of Horrors – 14 December 2018, Sheffield Hallam University Student's Union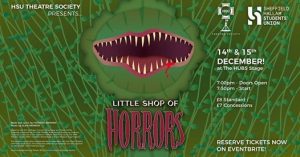 ***** HSU Theatre Society have a fantastic knack for presenting my favourite musicals just before Christmas, which is why I was delighted to be in the audience for their opening night of Little Shop of Horrors.
For those of you who are not familiar with the hilarious cult musical, it tells the story of Seymour Krelborn, the assistant at Mushnik's Flower Shop in downtrodden Skid Row, who becomes an overnight sensation when he discovers a strange and exotic plant. He names it Audrey Two in order to impress glamorous Audrey, the colleague he's secretly in love with. Audrey Two quickly starts to wilt, putting Seymour's job and dream future with Audrey at risk. Accidentally pricking his finger, Seymour discovers Audrey Two needs a little more than plant food to thrive. The plant grows into a bad-tempered, foul-mouthed carnivore whose voracious appetite becomes increasingly difficult to satisfy. The audience will discover how far will Seymour go for the woman of his dreams and how sadistic the dentist boyfriend of the woman of his dreams can really be.
I had a big grin on my face throughout this production, from the moment the wonderful soulful voices of Jamie Cooke, Mofe Sey and Al Narapol as the sparkly silver trio Crystal, Ronette and Chiffon started singing ""Little Shop of Horrors" (my ear worm all week in the run up to reviewing the show) to their powerful "Star Spangled Banner" style "Finale Ultimo (Don't Feed the Plants)" at the end.
Other musical numbers that deserve a special mention included "Skid Row (Downtown)" whose clever musical arrangements showcased the beautiful singing voices of all of the cast and the ensemble; "Somewhere That's Green" which showcased Ellie Maderia as Audrey's Broadway singing voice and growing stage presence; "Mushnik and Son" performed by Max Black as Seymour and Becky Cleary as Mushnik with strangely uncomfortable Latino passion, bonkeriness and a tango thrown in; ""Feed Me (Git It)" which provided a fantastic introduction to Emily Capp, who voiced Audrey 2's superb soulful singing voice, that I can best describe as Barry White with a hint of Alicia Keys and the operating of Jack Underwood, whilst also proving Max had the soul voice to match; and Max and Ellie's sweetly and lovingly sung duet "Suddenly Seymour", which reminded me why the song is one of the best and most genuine love songs in the world of musicals and ending with their, applause worthy, cutest ever stage kiss.
My stand-out performances in the show include Max as Seymour, who had perfected the all American put upon nerd with a crush persona required for the role whilst possessing an incredible Buddy Holly inspired singing voice and whose performance would not be out of place on a professional tour of the show; Becky as Mushnik whose performance made you wonder why the original musical and film did not think to make the character female in the first place as it worked wonderfully; and of course the trio of Jamie, Mofe and Al who were one of the best interpretations of the trio I have seen and made me wish I could afford to hire them to sing, dance and support me through life, combining soul and Motown voices with attitude, friendship and just a hint of "Queer Eye".
I must also mention Rob Eagle as Orin who had mastered the evil laugh, bad boy looks and attitude required for the role, though maybe could have benefited from some more volume, especially during my boyfriend's favourite ever song from a musical "Dentist!"
From the production team I must give a special mention to first time director Samantha Hart and Jamie, who was not only was the first male to play the role of Crystal in the production but also choreographed the show.
Accompanied by a great five piece band throughout, this production is darker than the film (don't expect it's happy ending) and other theatre versions I have seen, but is all the better for it and should not be missed by anyone who is a fan of the cult musical. Not only my favourite musical production I have seen by HSU Theatre but also one of my favourite stage adaptations I have seen of the show, this production features great casting choices, a production team that has got the very best out of everyone involved, clever musical arrangements and great voices, choreography and direction throughout.
Run entirely by students, HSU Theatre are one of the largest non-sporting societies at Sheffield Hallam University Student Union. For further information including their forthcoming shows visit https://hsutheatresociety.wixsite.com/theatre.
P.S. As mentioned in the programme for this production, by buying a ticket for this show you hereby accept all liability for any ravenous plant related injuries, and HSU Theatre will accept no responsibility.
Meek flower shop assistant Seymour pines for co-worker Audrey. During a total eclipse, he discovers an unusual plant he names Audrey II, which feeds only on human flesh and blood.HSU Theatre will be performing at The HUBS Stage -14th + 15th December https://bit.ly/2Kuanct Tickets are free to reserve and then £8/£7 on door!- huge thank you to Plantology Floral Creations for letting us use their store –

Posted by HSU Theatre Society on Wednesday, 21 November 2018