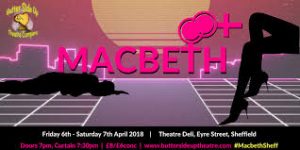 Macbeth – 7 April 2018, Theatre Deli, Sheffield

When one of my favourite new companies  invites me to see their re-working of Macbeth, transported to my favourite decade, the 1980s, I couldn't say no even if my holiday meant I missed the first of only two nights, so I was thrilled to be in the audience for Butter Side Up Theatre Company's production in one of my favourite new venue of last year Theatre Deli.
For this production, the company promised to do things a little different, with the part of Macbeth  being gender swapped, altering the dynamic between the core murderous couple and turning the idea of "behind every man…" diatribe on its head with the 'woman in the relationship' acting as both the brains and the brawn.
They also transported the Shakespeare classic  to the corporate 1980's, the heyday of excess, ambition ad greed.  The time of Grace Jones, Margaret Thatcher and other powerful women on the rise, with the protagonist fighting for the control of her company, rather than the crown of Scotland, and kill off boorish men in the process.  The themes of the show, while iconic for the new setting, resonates within the current culture of female empowerment and gender and sexual equality. In other words, as audience members we should imagine Dynasty, but with murder and lesbianism.
Confirming that behind every great wo(man) is an even greater woman, my stand out performance on the night came from Sabrina Celia Senior as Lady Macbeth, whose performance was full of passion, emotion and incredible stage presence and who had fantastic sexual chemistry with Heather Gibb as Macbeth. Wonderfully capturing Lady Macbeth's increasingly psychotic behaviour in the second half leading to the most shocking scene in the production, Sabrina's haunting performance was emphasised even further by her pale skin and dark wavy waist length hair. Whilst, Heather in the lead role perfectly combined the power and paranoia required for Macbeth and came into her own when presented with Shakespeare's speeches.
Joe Elliott Hobson's performance as Duncan greatly reminded me of the actor Marc Warren whilst both as a business man and a ghost, Michael Winrow performance had a hint of Louis Theroux about it and was haunting enough to have me checking my chair at the dinner table to see if it's vacant for a while to come.
Other cast members I must praise, include Robert Place, Robert Lee and, stepping in to the role at only a week's notice, Mobeen Arshad as Malcolm, Ross and MacDuff captured their characters increasing anger and disillusion as the lives collapse around them, with a special mention to Mobeen and Heather for their well-directed stage fighting in the second half; and Alison Beresford as the Sloane housewife Lady MacDuff who proved that she will never be mother of the year to Young MacDuff, played by Bethan Tanner with childlike knowing.
In contrast to the business people represented by the majority of the characters, the three witches performed by Michael Hudson, Becky Cleary and Sian Meredith beautifully captured the so-called underclasses of the era, the goths and punks, confirming that their cults will ultimately be those that are remembered and reinvented by cultures through times to come and that when eye of newt is involved a toilet is as powerful as any cauldron.
From the production team I must especially praise director Bethan Tanner whose clever combination of Shakespeare's creation with the spirit and issues of the 80s made it almost appear as if it had been the play's destiny all along; Rhi Walker, whose costumes beautifully captured the contrasting looks of the decade whilst minimalist use of the props and set, including best ever use of a toilet on stage, kept the audience focused on the word and attitude perfect talented cast; and Lucy Smith Jones whose use of light and sound, a mixture of 80s synth and the likes of Blondie and Madonna, and clever use of darkness and spotlights gave the production the feel of an 80s nightclub and captured the darkness of Shakespeare's tragedy.
This unique and exciting production of Macbeth beautifully brought both Shakespeare's greatest tragedy and the dark sub-culturals and tribes of the 80s to life to both fans of and those new to the language of Shakespeare and the style of the period, with the production proving that, only a year and a half since forming, Butter Side Up is a diverse and talented company that fans of the arts in Sheffield and beyond should go out of there way to see perform.
Butter Side Up Theatre company is a new amateur theatre group in Sheffield, specialising in original writing and collaborative works. It was set up as a group for those who wanted to enjoy theatre and performing in a fun and friendly setting. They welcome people of all levels of theatre experience, to get involved with writing, acting, directing, backstage, marketing and multimedia content, in a range of projects. Named after a running joke in Seussical the Musical, Butter Side Up is a fun but committed collection of people who want to create entertaining performances for the city of Sheffield.
For further information visit www.buttersideuptheatre.com, like on Facebook at www.facebook.com/ButterSideUpTC, follow on Twitter at https://twitter.com/buttersideuptc, subscribe to their Youtube channel at www.youtube.com/channel/UCI11Yd6-9J-TxhDeUGXryMA or follow on Instagram at www.instagram.com/buttersideuptheatre/.
Theatre Delicatessen aims to change the way people think about their creative potential by unlocking unusual spaces where artists, audiences and communities can come together to make transformational moments. By transforming spaces they aim to expand opportunities to create, make and experience art and contribute to positive change in careers, communities and their collective future. Last year in Sheffield they moved from their venue in the old Woolworths to a new venue in Eyre Street, next to Office Depot, into a huge great blank canvas of a venue, double the size of their previous site. For further information visit www.theatredeli.co.uk.