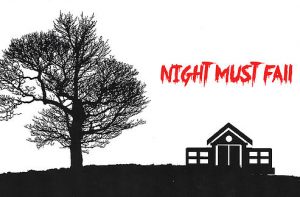 Night Must Fall – 28 March 2018, Sheffield Library Theatre
As a fan of crime fiction I love being drawn into psychological thrillers so was delighted to be in the audience for the opening night of Night Must Fall, the first performance I have seen by Denys Edwards Players, at Sheffield Library Theatre.
Written by George Emlyn Williams CBE, the play introduces the charming, smooth-talking Dan, who arrives unexpectedly at old Mrs. Bramson's remote woodland home and soon ingratiates his way into her life and that of her niece. When a local woman goes missing and rumours appear in the press of a murder, fingers begin to point. As the police close in, the audience will discover if anyone is safe?
The production featured incredible acting throughout from the entire cast, who beautifully brought their characters to life, the chemistry, relationships and differences between them, and their reactions to the situations around them.
A welcome addition to the company, the stand out performance on the night came from Daniel Storey as Dan whose portrayal of the character evolved from a working class ladies man and charmer, that reminded me of Gary Webster's portray of Ray Daley in Minder, to ultimately portraying pure evil magnificently as his exterior persona gradually cracked revealing his real and terrifying self.
Kicking off the production before the curtain even rose and treating the audience as the jury Charles Ibberson in his role as Lord Chief Justice spoke with an authority that would not put him out of place in a real life court room and set the scene for the harrowing scenes.
Susan McCormick as Mrs Bramson, reminded me greatly of the late Thora Hird, presenting the best lines of the production with wonderful attitude whilst mastering her wheelchair.
Joining Daniel in performing in their first production in the company and who I saw perform in Splinter Theatre Group's production of West Side Story last year, Jennifer Horsfield wonderfully portrayed Mrs Bramson's bored, terrified, intelligent and inquisitive beyond what was expected of a young woman at the time, niece Olivia Grayne.
With a hint of Alexander Armstrong, Paul North's portray of Hubert Laurie was the dictionary definition of an upper class 1930s bachelor and desperate romantic, perfectly capturing the look, tone, mannerisms and moustache.
The most loveable character in the play, Susan Toulson's portray of servant Mrs Terence was a delightful combination of saying what she thought, sarcasm and caring for those around her in her own unique way, with a pinch of Julie Walters Mrs Overall for good measure.
Behind the scenes, I must mention James Plura for his stunning direction of this production and, for the living room set that beautifully captured the period and the remoteness of the 1930s cottage, the set design, construction and props team.
Not to be missed by anyone who is a fan of good quality theatre, Night Must Fall is ultimately a shocking and terrifying evening of psychological crime drama, which at it's heart takes the issues of loneliness and manipulation to their extremes, and whose shocking ending will leave you looking over your shoulder on your journey home. Beautifully written and directed, the play becomes even more intriguing and harrowing by having most of the murderous action taking place off stage.
As the first performance I have seen by Denys Edwards Players, this production left me desperate to see what they perform next and made me wish I have discovered them sooner.
Night Must Fall will be performed at Sheffield Library Theatre on Thursday 29 and Friday 30 March at 7.30pm and on Saturday 31 March at 2.30pm. Tickets are £9, with £8 concession tickets available for the Saturday performance only. To book fill out the online form at www.denysedwardsplayers.org/current or telephone 07948 905048. The company's next productions, both at Sheffield Library Theatre, are Abigail's Party from 15 to 18 August and Last of the Duty Free from 21 to 24 November. To book for these productions email denysedwardsplayers@gmail.com or telephone 07948 905048.
Named after a leading local amateur actor who performed in the 1920s and 1930s, Denys Edwards Players was formed after World War Two and now perform a varied programme of three full length productions each year. For further information on the company, including a detailed history of how they were formed, visit www.denysedwardsplayers.org.