Margherita – 3 November 2018, Merlin Theatre, Sheffield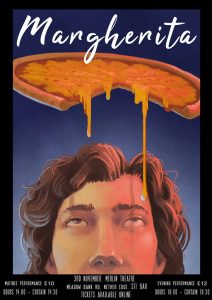 ***** Rom-coms and pizza are one of lives great combinations, so when Mage Plays invited me to the debut of their original theatrical rom com Margherita, which is also the first Kickstarter funded theatre production I've seen, I had to say yes.
Margherita follows the story of a lowly pizza delivery boy and his struggles with memory loss and romance, which promised to be positively cheesy and deliver pizza-based comedy and truly awkward romantic moments.
Stand out performances include Jonathan Pearmain as the pizzeria manager John, who was brilliantly over the top, channeling his inner Matt Berry as if after leaving Reynholm Industries he had decided to go into the pizza industry; and Jack Hutson who as the doctor hilariously combined the likes of David Mitchell with Carry On's and Monty Python whilst as the Pizza Box proved he could be insanely surreal with the very best of them.
Agnetha Spencer cemented her character Ruby as one of the great female theatrical seductresses whilst displaying a natural talent for farce and the best comic timing of the night and confirming, what we should have already all known, the aphrodisiac, innuendo power of an extra large meat feast.
Other cast members who deserve a special mention include Missy Van Schaick as the female equivalent of The Young One's Neil and alongside Dale Raven as Will and Grace Murphy as Sam offered some of the best stoned acting you are likely to ever see on stage; Hope Baxter as Beth, who naturally brought her role as the supportive co-worker and friend to life; and James Gucc as Sancho who had perfected both the Spanish accent and Spanish passion required for his role.
However it was Elliott Dale-Hughes as Joey who shone as the romantic lead, from the beginning getting the audience on side and rooting for him throughout, wonderfully and naturally bringing to life the likeable boy (from the pizza parlour) next door and coping with every situation thrown at him. I hope once the closing curtain fell his character gets the happy ending he thoroughly deserves.
Stand out scenes from the show that will stay with me for a long time include the cleverly directed opening monologue and cycle ride from Elliott; the sureal choreographed acid muffin, talking pizza box scene and the classic stage farce that was the visit to Ruby's apartment.
However it was Christy Stanley's performance as the charming and confident Glaswegian Jasper, and his chemistry with Elliot that led to an original and unexpected and highly satisfying almost ending twist, that made this wonderful feel good production even more feel good.
Only writer / director Rurik Seven's third play to be performed, the script of Margherita has the potential to become a contemporary classic, full of great characters that any cast would be excited to get their teeth into and offering comedy for all tastes from farce to innuendo, slapstick to traditional rom com.
Margherita is a cleverly written and directed show that proves that already with only their second show the company, its cast and crew continues to go from strength to strength, whilst also proving their is a need for more great original rom coms on stage.
Everyone who donated to the Kickstarter campaign for this show will be delighted they did, and everyone in the audience will leave the theatre craving pizza and with a new found respect for pizza delivery people.
Margherita is a sweet, fun, laugh out loud rom com that should be seen by everyone who is not just a fan of the genre but loves classic British theatre comedy. Even more than the first time I reviewed them, I can't wait to see what Mage Players do next and urge you to see them, as they deserve far bigger audiences than they are getting.
Your last chance to see Margherita is at 7.30pm on Saturday 3 November at Merlin Theatre. Tickets are £12 on the door.
Founded in early 2018, Mage Plays are a new Sheffield based, amateur theatre company whose goals are to bring original writing and theatre to Yorkshire. For further information like them on Facebook at www.facebook.com/MagePlaysTheatre or follow on Instagram at www.instagram.com/mageplaystheatre.
The Merlin Theatre is a thriving arts centre and a unique place for celebrating the creative potential of young people with special educational needs. The theatre has recently had a major renovation to restore it back to its former glory. For further information visit http://merlintheatre.org.
P.S. You have to love a programme that continues the pizza theme by listing the cast and production crew's favourite pizza toppings – Marketing Manager Kirsty Parkin I agree with you.