Midland Players' Stage Kiss – 22 September 2023, Sheffield University Drama Studio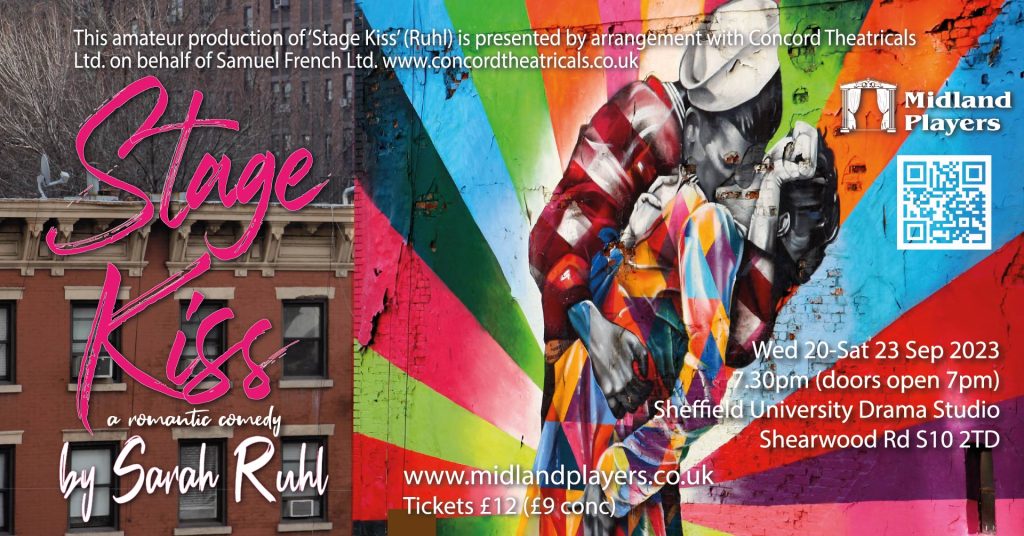 Review by Jacob Bush.
This week, on a bustling campus celebrating freshers week, Midland Players are performing Stage Kiss by Sarah Ruhl at Sheffield University Drama Studio. The play follows two unnamed actors, who simply go by She and He, who find that getting cast in a show together brings up memories, some lovely and some more unsavoury, from their past relationship. Ruhl's script cleverly parallels the action and narrative of the play-within-a-play and the events happening in away from the fictional rehearsal room.
Ruth Deller directs the production and she leads the cast in creating fully fleshed out, believable characters. The show is very meta and she leans into that, although at times clearer distinctions between scenes in the 'real world' and scenes in the play-within-a-play could be drawn. Phil George's set design is, initially, simple but when we relocate to being on stage rather than in the rehearsal room, the set design becomes really quite impressive. It is also great to see that, even for this amateur production, a intimacy co-ordinator has been brought onto the production team. Sam Islam helps the cast to create very believable intimate moments, keeping them safe without watering down any of the action.
Sue Jamison-Powell leads the cast as She tremendously. She gives a wonderful portrayal of the washed up actor who is just returning to the industry after 10 years away. She brings to life the lighter moments, as well as the moments of pain and conflict brilliantly. Opposite her is Matt da Gama as He. Although his accent can't quite decide what it wants to be, he gives an equally strong performance of an equally complex character. Gama and Jamison-Powell have a completely believable on stage chemistry which is just a joy to watch unfold.
The supporting cast also has plenty of fantastic performances. Joe Otten is entirely believable as Adrian Schwalbach, the director and writer who thinks he's a little bit better at his job than he really is. Nicky Hindmarch gives an emotionally charged performance as Laurie whilst Mel McCart is just lovely as Harrison, with a heartwarming chemistry with Jamison-Powell. After his tremendous performance in Sheffield University Drama Society's Romeo and Juliet, Elliott Dale-Hughes continues to impress as Kevin in Stage Kiss. He brings a huge amount of energy, lighting up the stage every time he enters. He has tremendous comic timing, getting plenty of laughs throughout, but also performs the moments of tenderness beautifully.
Midland Players have done a great job in putting on this challenging play, which makes fascinating comments on whether we can really separate our work lives and personal lives. Be sure to see this wonderful cast in this beautiful venue.