Splinters Theatre Group's Our House – 11 September 2023, Sheffield University Drama Studio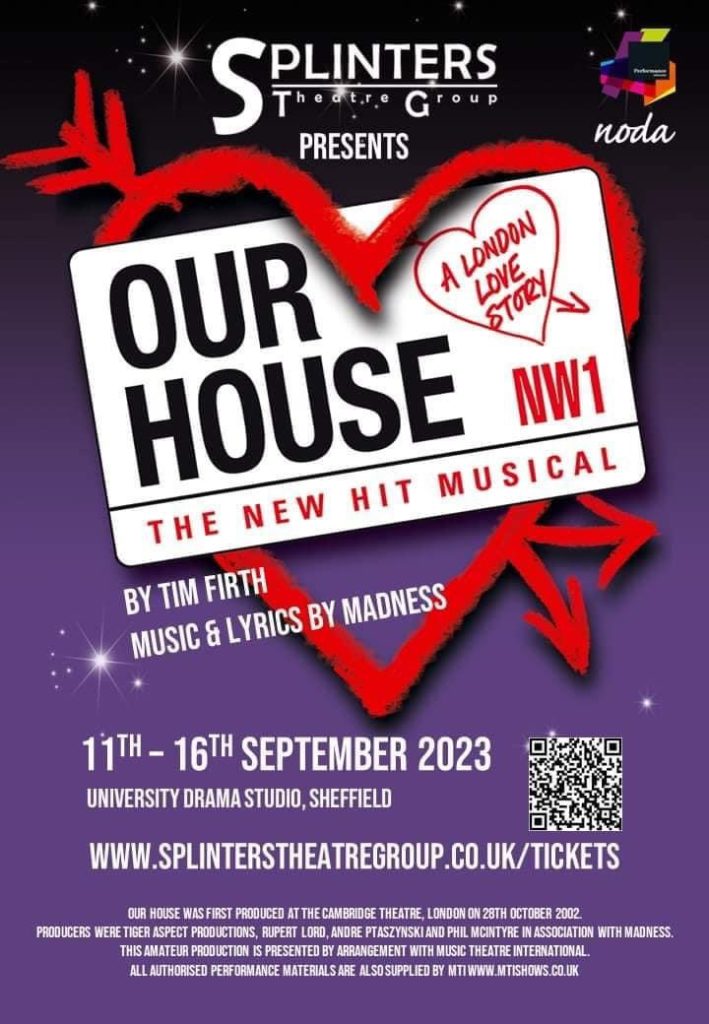 Review by Jacob Bush.
Whilst the Montgomery Theatre is closed, many of Sheffield's amateur dramatics groups have had to find new homes and Splinters Theatre Group, this week, are taking over the University Drama Studio. You have to admire the ambition of this company. Not only are they doing their first show in a new venue for them, but they are doing a much longer run than usual (eight shows – the number of shows professional companies usually do a in a week!) and they have chosen the musical famous for its number of quick changes for the leading man– Our House.
Our House tells the story of Joe Casey who finds himself caught up with the police. It explores two possibilities – what happens if he runs away and what happens if he hands himself in. It asks questions around what really is good and does good behaviour at one time mean you'll always remain good.
Splinters are already on solid ground with Tim Firth's clever and funny book, and the music and lyrics of Madness. You can expect all the hits of Madness you know and love, but they have been adapted well to fit the story. Not many of the songs feel like they are shoehorned into the narrative as you can often get with jukebox musicals.
James Parkin and Kate Parkin as co-directors of the musical give you a fairly traditional production of Our House. Using sliding doors as part of the set, we know clearly which timeline we're in. Multiple locations are depicted well, despite a very simple set. The star of this production of Our House is very much Katie Granger's choreography. Granger's choreography is energetic, colourful and performed with precision by the talented cast.
Leading the cast is Josh Fisburn as Joe Casey. He leads the show with a great sense of professionalism. He showcases his brilliant acting ability bringing to life the two different versions of Joe Casey. It's always clear which is which, and both feel like fully fleshed out, complex humans. He never leans into the stereotypes of good and bad. His London accent is also one of the most consistent in the show.
Alongside Fishburn is Jessica Smith as Sarah, Joe's girlfriend. She plays opposite Fishburn very well. Her vocals are sublime, with a powerful and moving performance of NW5 in the second act. She also leads a number of ensemble dance songs and showcases her phenomenal abilities as a dancer.
The supporting cast is also packed full of talented stars of the future. Ben Rossiter and Lewis Spowage as Emmo and Lewis are fantastic double act, bringing lots of energy to the stage and getting plenty of laughs throughout the show. Lily Grayson and Maeve Hughes give fun performances opposite them as Billie and Angie and have great rapport with the rest of the core cast. Dan Rossiter gives a strong performance as Reecey, although he sometimes leans into the stereotype of villain a little too much. He really shines when leading the company in Baggy Trousers, one of the large ensemble numbers in the show.
Our House is feel good, fun musical and you're bound to leave humming the songs on the way home. So get 'driving in your car' or on that 'night boat to Cairo', regardless of 'the sun and the rain' that the British weather will give us this week, to see this talented cast put on a fantastic musical.