My Fair Lady – 14 November 2017, Lyceum Theatre, Sheffield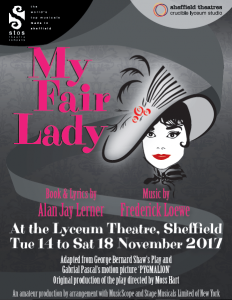 ***** As a theatre fan My Fair Lady will always have a place in my heart, not only because it was the most watched film in my family growing up but also because it was the first musical I booked tickets for as an adult, treating my late nan to a night at the theatre, so 16 years on I was delighted to be in the opening night for STOS's performance on 14 November at the Lyceum Theatre.
Adapted from George Bernard Shaw's Pygmalion, the classic rags to riches musical tells the story of Eliza Doolittle, a Cockney flower girl working in Covent Garden, and Henry Higgins, a teacher and phonetics expert, who takes it upon himself to try and turn Eliza into a lady.
After an acrobatic start, the overture perfectly captured the Covent Garden atmosphere class divide and introduced the very talented ensemble and even more talented lead actors, through their characters first meetings, including the genuine respect between Henry Higgins (Mark Feakins) and Colonel Pickering (Steve Mather).
Mark performance of "Why Can't the English" was packed with clever lyrics, beautiful language and musical arrangements that provided a wonderful introduction to his personality, attitudes and interests before his later performance of "I'm an Ordinary Man" summed up his views on life and women via dramatic key and tone changes superbly.
"Wouldn't it be Loverly"was performed by Katie Mather (Eliza Doolittle) and the ensemble's beautiful harmonies with genuine love, hope, warmth and friendship that brought the first tear of the evening to my eye, whilst Phil Brownhill (Alfred Doolittle), Damian Ross (Harry) and Andrew Stansall (Jamie) performance of "With a Little Bit of Luck" was full of so much friendship, love and cheekiness that it was guaranteed to put big grins on all of the audience's faces.
Katie performed "Just You Wait" with angry, aggression and a deep need for delightful revenge, before "The Servants Chorus" was performed by the servants with beautiful clear harmonies that would not have been out of place in a cathedral setting.
With an added mock bull fight and flamenco, "The Rain In Spain" not only acted as the song that nailed Eliza's vocal transformation but also brilliantly displayed Katie's adaptable singing voice and vocal range in a celebration number alongside Mark and her real life father Steve. Whereby, and bringing the second tear to my eye of the evening, Katie's performance of "I Could Have Danced All Night" revealed her inner Audrey Hepburn and if you closed your eyes would make it impossible to tell the difference before her production and the original film soundtrack.
In the Ascot scene, which is always one of the standout scenes of the production, the use of purple, black and sparkly dresses, as opposed to the film's white and black ensembles, added to the glamour of the occasion and made Katie's stunning white floral dress stand out from the crowd, whilst "Ascot Gavotte" was performed elegantly with crisp, clear voices and choreography, that made the audience feel part of the horse races and wish all small talk was that entertaining, before the "Move your blooming arse" line that the audience was desperately waiting for proved not to be a disappointment.
Performed by Katie's real life boyfriend Richard Granger in his role as Freddy Eynsford-Hill, "On The Street Where You Live" was sung with sweetness, admiration and true affection and with a powerful, old-school Hollywood worthy voice, which came with added comic drunkness during its second act reprise. The first act ended with Katie looking truly captivating in a white ballgown that highlighted the already outstanding work of the production's costume department, which could not have been easy with the large cast and multiple costume changes, whilst the "Embassy Waltz" was elegantly choreographed with not a step out of place.
Opening up the second act, "You Did It" is the ultimate bromance duet of the period, performed by Mark and Steve with mutual respect, admiration and friendship. Katie's duet with Richard "Show Me", showcased the chemistry between the couple and the affection of Freddy against the passion and need for words of Eliza, once more showcasing the wonderful range of Katie's voice.
From it's choral like beginnings, Phil's performance of "Get Me To The Church On Time" swiftly turned into the entertaining number full of fun, flirting and East End charm that has made it the much loved musical number it is, whilst fabulously displaying Phil's stage presence accompanied by the best and most entertaining dance number of the entire show, including spoon playing and the show's very own pearly king and queen.
"Hymn to Him" might go against every feminist's views but it's wonderful rhyming lyrics and Mark's charismatic performance meant that it could not be helped but enjoyed before his duet with Katie "About You" was the perfect world does not revolve around you number performed with proudness and new found confidence from Katie matched with Mark's self-congratulation and realisation of the wonderful woman he has helped create.
The show concluded with "I've Grown Accustomed to Her Face", which turned out to be Mark's strongest (of all very strong) musical numbers in the show, performed with true realisation and emotion, whilst maintaining true to his character, leading to the ending that audiences love even if George Bernard Shaw disagreed.
Katie beautifully captured "I'm a good girl, I am" Eliza and her transformation, and most importantly her heart, passion and emotion. As well as offering wonderful impressions of Eliza and his ex-pupil, Mark played bachelor Henry Higgins wonderfully with authority, self-pride, intelligence and deeply buried vulnerability. Phil played Eliza's father Alfred wonderfully combining a cockney rogue with a love of friends and women, with moralism and just a hint of actor Geoffrey Hughes.
In a production where it was clear that the cast were loving performing the show as much as the audience were loving watching it, and that was a lot, other cast members who deserve a mention include Steve as Colonel Pickering, who reminded me wonderfully of actor Derek Jacobi; Sue McCormick as Henry Higgins' housekeeper Mrs Pearce, who played the role with stern authority, reason and caring; Andrew Hibbert who played Henry Higgins ex-pupil Professor Zoltan Karparthy with knowing, arrogance and a fabulous Hungarian accent; and Henry's Higgins mother played by Mary Newey as a wonderful matriarch with the ability to send her son back to his inner child and a true respect and fondness for Eliza.
My Fair Lady is not only the best musical I have seen by this consistently outstanding company but also the best musical I have seen at the Lyceum, full of beautiful choreography, fabulous musical arrangements, excellent casting, stunning sets and superb voices and dancers, which together blended into a warm hug of musical, perfect for an autumn evening. I truly believe that all of the cast and crew have the talent to pursue professional careers in musical theatre.
STOS Theatre Company aims to produces the world's top musicals for and by the people of South Yorkshire. There productions have been seen by over 15,000 in the last three years alone. For further information visit www.stos.org.uk.
My Fair Lady is on at the Lyceum Theatre daily at 7.15pm until Saturday 18 November, with an additional 2pm production on the Saturday. To book visit www.sheffieldtheatres.co.uk/whats-on/my-fair-lady/dates, telephone 0114 249 6000 or visit the Sheffield Theatres box office in person.