Sex Worker's Opera – 9 November 2017, Theatre Delicatessen, Sheffield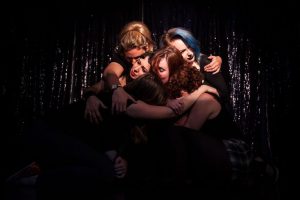 After watching my first ever opera earlier this year I am now on my way to be converted and was excited to see what the Sex Worker's Opera would bring to the genre whilst gaining knowledge of the industry and checking out Theatre Delicatessen's new venue.
Aiming to breakthrough the stigma and stereotypes, the Sex Worker's Opera is a multimedia production written and performed by sex workers and their friends, and featuring music spanning from opera to 'hip-hopera', incorporating sound art, projections and poetry, it promised an unflinchingly honest, upliftingly human insight into the lives of sex workers around the world, a promise it more than delivered on.
The sold out production was created through a series of workshops run by XX (Experimental Experience theatre company), featuring over 60 stories sent in from around the world. With a cast and crew made up of at least 50 percent sex workers, the show is a rare opportunity for us audience members to hear stories from the hidden and misrepresented world from the workers themselves.
Highlights of the show included the game of Boring Bingo, which dismissed stereotypes and views of sex workers and reminded the audience from early on in the show why the show needed to be made; the story from Argentina (with the cast perfecting the accents) that proved sex work is not just about sex but about relationship counselling; the first person stories spoken straight to the audience with genuine emotion (pushing the Vagina Monologues need for stories to be told by female celebrities rather than real people straight out the water); and the sketch about homemade videos on the internet (which made the audience desperate to get a closer look at what was happening on stage) and the government officer's failed attempts to stop it, which provided the most hilarious moments of the night.
After an interval where I recommend the audience stay seated long enough to hear a recording of a song donated to the show by Thai sex workers before visited the merchandise stand to buy a book of more sex worker stories and a t-shirt, the second half started with audio clips of songs created at workshops the company has delivered with sex workers in Leeds and Sheffield during the previous couple of days, whose raw lyrics were both honest and powerful and very real and very funny.
Other second act highlights included some very impressive pole dancing by a member of the cast that showed how much skill and athletic ability is involved, whilst some audience members received unexpected lap dances and the sketch developed into a honest look at what goes through the minds of lap dancers and their clients; a well directed combination of straight to audience talking and audio that cleverly showed the many different voices of sex workers and the persecution they face; and an insight into the history of London's sex workers and the International Day to End Violence Against Sex Workers (17 December) including a minute's silence in honour of sex workers who have been killed.
In a very strong cast, the best voices of the night came from the blonde female who displayed an incredible cabaret style voice in her numbers about dominatrix and when kicking off the capitalism number; and the stunning operatic voice of the brunette female in the duet comparing sex workers with restaurant staff and her solo number on the porn film set. I must also mention the fabulous costumes which the cats wore with empowering body confidence and attitude and the live band who performed with the perfect balance of beauty and harrowing, with a string instrument fetish thrown in that had the audience in stitches.
From the burlesque style beginning via every aspect of sex workers lives, from dominatrix's to invisible disability, webcams to trafficking, I left the show feeling empowered from its strong messages, from "women got the power" and "yes means yes and no means no whatever you wear" to "honouring the dead by celebrating life" and wanting to say no to the Nordic model and wanted to adopt the (shouldn't be radical) radical notion of "listen to me!"
Brilliantly written and directed and full of comedy, tragedy, true stories, great songs and amazing performances by all, including a ventriloquist dummy, the show (which should be seen by everyone from the open minded and non-judgemental to those who has ever wrongly thought or stereotyped sex workers) is guaranteed to make you laugh, make you cry and most importantly make you think.
The Sex Worker's Opera is at Theatre Delicatessen, Sheffield until Saturday 11 November, before moving to Tropicana, Weston-Super-Mare from Thursday 16 to Saturday 18 November and ending up at the Ovalhouse, London from Wednesday 22 November to Saturday 2 December (no show on Sunday 26 and Monday 27 November). For further information including ticket prices and how to book visit www.sexworkersopera.com/show/tickets. Please note that the age guidance is 16 and over and the show contains explicit language, nudity, scenes of a sexual nature and strobe lighting.
Theatre Delicatessen aims to change the way people think about their creative potential by unlocking unusual spaces where artists, audiences and communities can come together to make transformational moments. By transforming spaces they aim to expand opportunities to create, make and experience art and contribute to positive change in careers, communities and their collective future. In Sheffield they have recently moved from their venue in the old Woolworths to a new venue in Eyre Street, next to Office Depot, into a huge great blank canvas of a venue, double the size of their previous site, leading me to look forward to seeing what they do with and programme into it in the future.