Alice in Wonderland and Through the Looking Glass – 25 October 2017, Sheffield University Drama Studio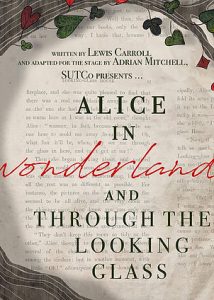 There is no better place to escape to on a cold October evening than wonderland, which is why I was delighted to be in the audience for the opening night of Sheffield University Theatre's Company's production of Alice in Wonderland, on at Sheffield University Drama Studio until Saturday 28 October.
Combining the two classic tales, the production tells the story of what happens to Alice when she falls down the rabbit hole and into Wonderland, entering a world where nothing is as it seems. The audience will discover who Alice can trust as she navigates this weird and wonderful land of magic and whether she find her way home, before watching on as she takes on a rather dangerous game of chess with the fearsome Jabberwock.
Sheffield University Theatre's Company's production of this timeless classic promises be a dark, exciting and above all playful take on a trip inside author Lewis Carroll's miraculous mind. It more than succeeded in doing this, remain tight to the story whilst making Wonderland a more contemporary and far darker and surreal place than fans of the original children's classics could ever imagine, full of incredible sounds and graphics, smoke, modern movement and cleverly paced lines and that quickly drew the audience in to the bizarre world.
Cerys Hayes as Alice beautifully captured her childlike naivety, wide-mindedness, curiosity, self-narration, imagination and desire to explore a world wider whilst capturing the need to stay as sane as possible when you find yourself in a strange new world.
All of the Wonderland residents were played with attitude and oddity but for me the stand-out performance of the evening came from Isabelle James as the Cheshire Cat who, both myself and my boyfriend agreed, gave the performance of the night playing the role purrrrfectly (sorry couldn't resist) with feline movement and attitude, intrigue and mysterious knowing.
Other notable performances included Charlotte Schofield who played the Queen of Hearts with both authority and teenage "off with your head" stroppiness; James Huxtable as the Mad Hatter whose madness balanced brilliantly with the insanity of the March Hare played by Henry Braggins (both returning to their characters characteristics when they later re-appeared as the queen's messengers); Cora James pulled off the Caterpillar as a stoned, new age guru who the Chelsea set would happily take advice from; and Sam Dickinson and Sam Ward as Tweedledee and Tweedledum who, in synch, displayed the looks, attitudes and body language of 80s male models.
I most also mention Kate Alhadeff as the Door Mouse  (and later the White Queen) and Megan Thomas as the Duchess who as long as they didn't fall asleep on me mid-story or leave me nursing the baby I would happily spend time with to find the morals in everything, as they played their roles with innocent, sweet loveliness.
From the crew I must mention Meredith Graham for her incredible direction especially of the peotry, Richard Almond, Agata Grettka and Navya Heddar for their incredible visuals that both captured the scenes and the surrealness, Viktor Heegaard whose costumes were contemporary and minimalist but still perfectly captured the characters and make-up designer Heather Atkins who for the Cheshire Cat's grin alone deserves high levels of praise.
Perfect in this, the week before Halloween, tickets for the performance make a great "un-birthday" present for anyone who longs to escape in to a world that only gets curiouser and curiouser or who read the books as children and will delight in the world coming to their life in front of their eyes, delightfully witnessing the lines they have always loved and those they have forgotten, and leading them never to read the books (play chess, or listen to poetry) in the same way again.
Alice in Wonderland and Through the Looking Glass is on at Sheffield University Drama Studio until Saturday 28 October at 7.30pm (doors open at 7pm). Tickets are £7 (£6 if booked in advance) and are available from the Sheffield University Student Union Box Office in person, online or on 0114 222 8676.
The award winning Sheffield University Theatre's Company's perform four shows a semester with their forthcoming productions including The 39 Steps from 15 to 18 November and Journey's End from 6 to 9 December.