STOS Theatre Company's Sunshine On Leith – 15 November 2022, Lyceum Theatre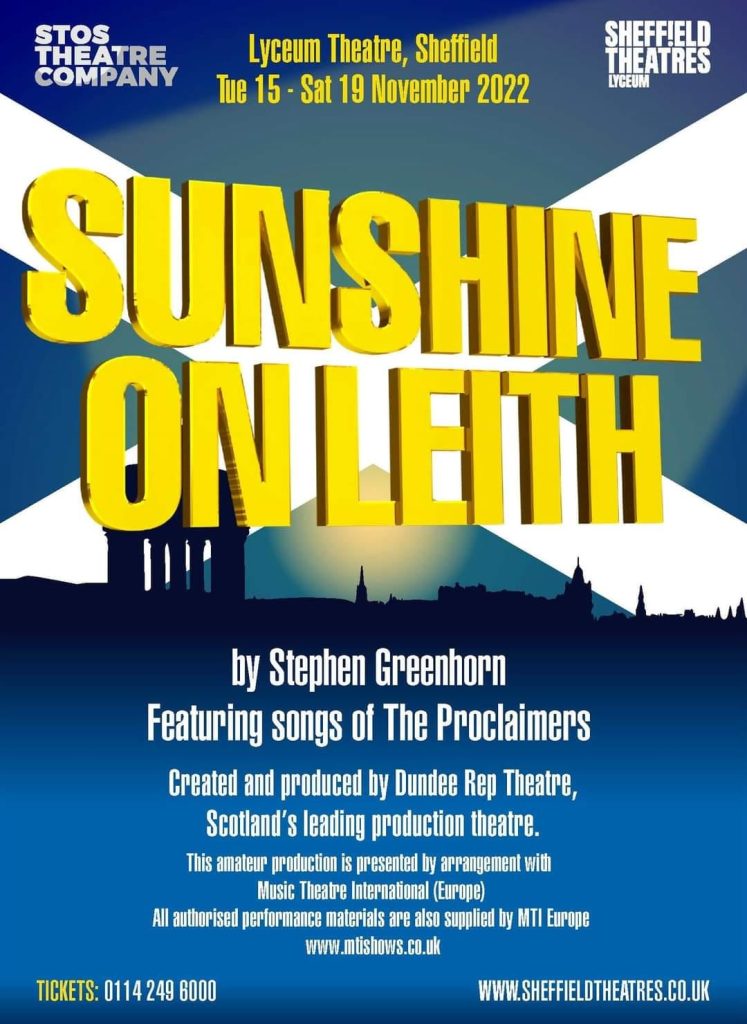 Review by Claire Taranaski.
I'm starting this review with a confession, I'm a huge fan of The Proclaimers, the film version of Sunshine On Leith and Edinburgh (where I have previously seen the musical performed) so I came to the opening night with both high expectations and high hopes that I would thoroughly enjoy the show and I'm thrilled to say both were met.
For those of you who do not know the show it's a jukebox musical based on the songs of The Proclaimers but is also, and this is what STOS captured perfectly a musical about family, friendship and life and life itself will make you laugh and also be moved close to tears.
I must praise the entire cast for their superb Edinburgh accents (with no hint of the Sheffield accent anywhere) but the strongest performances of the night came from Matt Bevan and Ashley Wilson as best friends Davy and Ally, whose chemistry on stage felt so really that I will be shocked if I ever discover they are not best friends both on and off stage and whose singing voices would give Craig and Charlie Reid a run for their money.
Matt also had superb chemistry with his English love interest Yvonne performed by Catherine Harban with their duets "Misty Blue" and "Then I Met You" making this reviewer's heart fly.
On the subject of chemistry, I loved Phil Brownhill and Helen Kempton as Rab and Jean with a chemistry that felt more real than their film counterparts and genuinely moved me to tears. Phil also provided my favourite Edinburgh accent and solo entertaining musical number of the night with "Oh Jean". As their daughter Liz, Suzanne Peach also perfectly captured the relationship between daughter and parents.
This wasn't a show that was just about the leads though, with the production team getting the best out of its entire cast and ensemble from the spine tingling opening to the superbly choreographed slow motion anniversary party, the hospital scene moving me to tears, the best ever version I have ever heard of "Letter From America" with beautiful full cast and ensemble harmonies and the uplifting "500 Miles" that brilliantly captured the flash mob finale of the film.
The minimal set also captured that Edinburgh is about the people and their love of the city whilst the busker made us long to return to the Edinburgh Fringe, whilst "Over And Done With" and "Let's Get Married" made us long for a fun night out in Leith.
It's too cold to walk 500 miles at the moment but this is definitely a musical that you wouldn't be disappointed after driving 500 miles to see and if you're from Sheffield you won't need to, that is guaranteed to delight existing fans and increase The Proclaimers and STOS fan base even further.