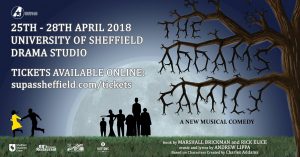 The Addams Family – 25 April 2018, Sheffield University Drama Studio
***** Since seeing Sheffield University Performing Arts Society (SUPAS) perform a spooktacular version of "When You're An Adams" from The Addams Family last autumn, I have been eagerly looking forward to seeing their full production of the musical comedy.
The musical tells the story of what happens when Wednesday Addams, the ultimate princess of darkness, is all grown up and falls in love with a sweet, smart, young man from a respectable family – a man her parents have never met. If that weren't upsetting enough, Wednesday confides in her father and begs him not to tell her mother. Now, Gomez Addams must do something he's never done before, keep a secret from his beloved wife, Morticia. The audience will discover what happens when everything changes for the whole family on the fateful night they host a dinner for Wednesday's 'normal' boyfriend and his parents and its hilarious consequences.
From the moment the Addams Family theme played and the family and ensemble of dead relatives introduced themselves in "When You're An Adams" I knew I was in for a fabulous evening of great songs, fun dance routines, incredible characters and hilarious comedy that made this production more than a match for last year's professional nationwide tour and confirming that SUPAS are the student company to watch for great quality musicals in Sheffield.
Amongst a talented cast there were not one but four exceptional performances, all displaying superb acting, voices and stage presence. Chris Ventom was the ultimate Gomez, played with charm, emotion and passion, showcased at its best in his stand-out musical numbers "Trapped" and "Not Today". Francesca Cornell as Gomez's wife Morticia beautifully captured both her look and body language in a way that other actresses have struggled to achieve, whilst her performance of "Just Around the Corner" provided a wonderful showcase for her cabaret / Rogers and Hammerstein worthy voice, accompanied by a tap dancing grim reaper and a chorus line finale. Chris and Francesca's "Tango de Amor" had everything you would expect from a Gomez / Morticia tango, slick, passionate, sensual and highly entertaining, with a pinch of bull fight thrown in for good measure.
I was delighted to see Zac Lewis in the role of Uncle Fester, playing the part perfectly with love, sweetness and adorable comedy, with his old-fashioned swimsuit wearing performance of "The Moon and Me" sung with so much beauty and innocence that you desperately hope the moon will love him back. Lily Backler's West End worthy talent shone through in her role as Wednesday Addams, with her stunning voice bringing my favourite song of the musical "Pulled" to life.
I must also highly praise Kirsty Hobbs as Alice, transforming from enthusiastic, rhyming housewife to something reminiscent of Janet in "Rocky Horror Picture Show" in "Full Disclosure" (a game I'd advise only playing with caution), Nora Murphy as the 102 year old Grandmother (know one knows who is related to), played with a craziness way beyond her years; Joanna Kearney as Pugsley performed with a youthful glee, especially in "What If"; Stephen Bache as Lurch who groaned wonderfully in all the right places and his unexpected operatic tones at the start of the show's final number "Move Towards the Darkness"; and Nathan Sloane who successfully blended all-American chat show host with middle-aged dad.
I also have to mention the ensemble of dead relatives for their crisp routines and lurking ability, the full 12 piece band playing behind a ghostly curtain at the back of the stage, the production team for bringing the musical and the iconic family fantastically to life; choreographer Hollie Eustace for the crisp dance routines featuring a wide range of styles from tango to Charleston and jive to rigor mortis; and set, costume, hair and make-up teams, who without the aid of a West End budget brought the iconic look of the house and characters to life from the torture devices to Morticia's trademark black dress to Uncle Fester's rocket and bald head.
The Addams Family should not be missed by anyone looking for a fun evening of musical comedy performed by an outstanding cast of young actors who are destined to go far and who, as with all SUPAS productions, I can't wait to see what they do next. And as Gomez himself says "word of mouth is so important" to get large audiences through the door for this wonderful production.
At it's heart a story of love, both old and new and between parents and children, and facing the future, the audience will leave the theatre no longer afraid of the monster in their bedroom closet and knowing that craziness is underrated.
The Addams Family is on at Sheffield University Drama Studio at 7.30pm (doors open at 7pm) until Saturday 28 April. Tickets, priced at £7 to £9, are available from www.ticketsource.co.uk/event/FGGGMM.
SUPAS is the University of Sheffield's only society specialising in musical theatre, putting on two shows each academic year in the University Drama Studio along with a variety of workshops and other projects. Their core philosophy is to have fun and be as inclusive as possible. For further information visit www.supassheffield.com, like on Facebook at www.facebook.com/supassheffield, follow on Twitter www.twitter.com/supasshef, follow on Instagram at https://instagram.com/supasshef, subscribe on YouTube at www.youtube.com/user/supasshef or listen to their radio show at www.mixcloud.com/SUPASonForge/.
SUPAS Presents: The Addams Family

Sheffield University Performing Arts Society presents 'The Addams Family'.THE ADDAMS FAMILY (A Musical Comedy) features an original story. Wednesday Addams, the ultimate princess of darkness, is all grown up and has fallen in love with a sweet, smart, young man from a respectable family – a man her parents have never met. And if that weren't upsetting enough, Wednesday confides in her father and begs him not to tell her mother. Now, Gomez Addams must do something he's never done before – keep a secret from his beloved wife, Morticia. Everything will change for the whole family on the fateful night they host a dinner for Wednesday's 'normal' boyfriend and his parents, with hilarious consequences.Wednesday 25th April – Saturday 28th April 2018.Doors 7pm | Curtain 7:30pm; Saturday Matinee 2pm.University of Sheffield Drama Studio, Glossop Road.Tickets: £9.00 adults | £7.00 students/concessions.Available now from https://www.ticketsource.co.uk/event/233399More details here: https://www.facebook.com/events/153258072032015/

Posted by Sheffield University Performing Arts Society – SUPAS on Sunday, 8 April 2018