The Tempest – 29 April 2019, Performance Lab, Sheffield Hallam University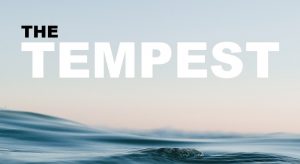 Thanks to a contact of our latest reviewer Artisan Friendly, I kicked off a busy week of theatre reviews in the audience of the opening night of a new theatre company's very first production.
Thought to be one of the last plays that Shakespeare wrote alone, The Tempest is set on a remote island, where the sorcerer Prospero lives with his daughter Miranda, and his two servants, Caliban, a savage monster figure, and Ariel, an airy spirit. The play themes including magic, betrayal, revenge, and family.
This is a superb debut performance by Green Productions that successfully contemporises the Bard's work, seamlessly blending his words with physical theatre and some of the best contemporary dance I have seen since duty managing at Déda, leaving me excited to see what the company and all involved do next. 
My stand out performance amongst a cast of strong character portrayals was Suzie Ford, who was not only a superb dancer with wonderful posture but made her character Ariel immediately one of my favourite ever Shakespeare creations, performing with glee, attitude, spirit and loyalty and wonderful stage presence. 
I must also highly praise Matthew Skelton as Stephano who truly deserves an award for best ever onstage drunkard with just a hint of Harry Enfield's creation Tim-Nice-But-Dim; and Michelle Kelly and Euan Irving as Miranda and Ferdinand who beautifully and naturally captured their characters young love and romantic chemistry.
Choreographed by Charmaine Lambert and Kiera Rhodes, the stand out dance routines in the performance for me was the opening scene, which not only brought to life the ship as it made its way to the island but also guaranteed a dramatic, energised and memorable start to the show.
Behind the scenes I must praise the clever direction, lighting and minimal white set design, which made great use of the stage area, whilst allowing the audience to focus on the characters, and made the clever use of colour add to and emphasis the production's comedy, especially evident in the second half with the teddy bear platters and cross dressing slapstick.
One minor suggestion is that the company make it clearer when it is the show's interval as the audience were unsure but this is an easy issue to solve, however after the interval the company more than proved the old theatre saying of "The Show Must Go On" when they smoothly continued the production despite a cast member falling ill and dropping out during the interval (Krysia Janeczek we hope you feel better soon).
Finally I must mention Maise Bamford as Prospero, who may have struggled with first night nerves early on but got stronger and stronger throughout the performance and was at her very best by her final speech requesting that the audience set her free with theirapplause, which the audience was delighted to do. 
This abridged production not only made the Tempest accessible to non-Shakespeare experts like myself but will also leave fans of the Bard, like my plus one for the evening, leaving the venue feeling satisfied. 
The Tempest will be performed at the Performance Lab at Sheffield Hallam University at 7.30pm until Friday 3 May. Tickets are £5. To book, which we advise doing in advance as seating are limited, visit www.eventbrite.co.uk/e/the-tempest-tickets-55978920458?aff=ebdssbdestsearch&fbclid=IwAR2wjf5gOrocEXn6mqTnedxpEl3fjsqWX3XhNG4su5_-iFkOwRZU_6z8wHk.
Green Productions are a group of students, who have merged together to create an amateur theatre company, aiming to share new talent and bring entertainment to others. For further information visit www.facebook.com/GreenProTheatre.