The Vicar of Dibley – 14 August 2019, Sheffield Library Theatre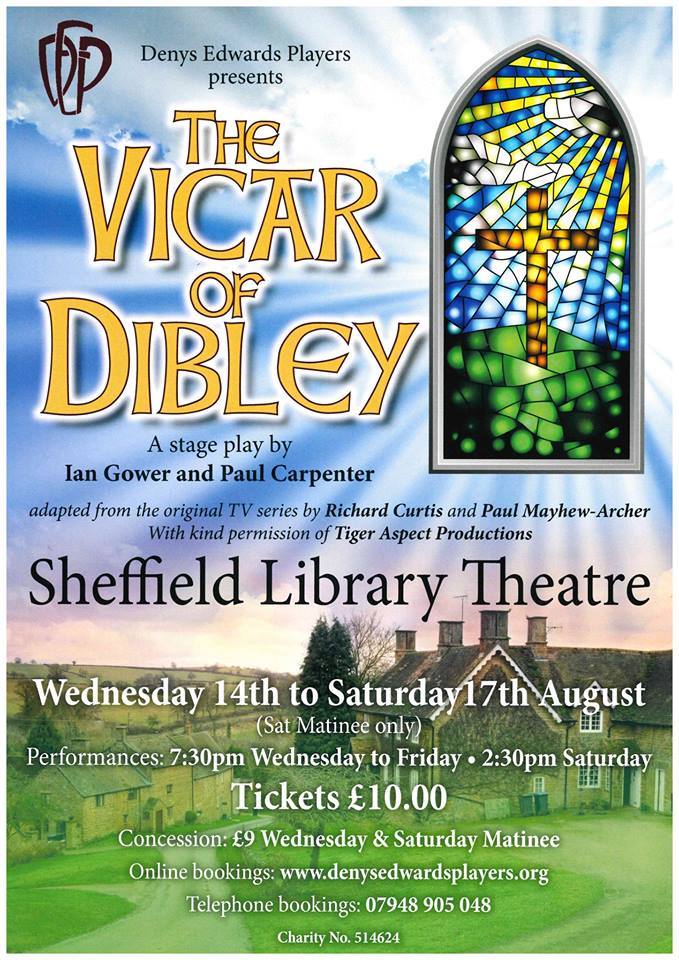 ***** During a year of sitcom adaptations being brought to the Sheffield stage, the Vicar of Dibley stands out amongst a crowd in British hearts for its beloved cast, characters and comedy, leading it to having previously been voted the third best sitcom of all time in a BBC poll, so we were delighted to send our reviewer Artisan Friendly along to Deny Edwards Players opening night of the stage production.
"There is a real air of anticipation in the full audience tonight. It's really buzzing. People are excitedly chatting away, perhaps recalling some of their favourite 'The Vicar of Dibley' moments. I'm certainly reflecting on some of mine, for example, the 'big puddle' and 'Christmas lunch' episodes and how – when it comes to hilariousness – they are timeless and tirelessly hysterical.
Directed by Andrew Hibbert who played a faultless Laurence in a truly spot on production of 'Abigail's Party' this time last year, 'The Vicar of Dibley' was a popular choice. The audience were onside with this much loved sitcom being on stage from the start off. This was evidenced at various points, being particularly noticeable early on when a delightfully crusty Jim (reminiscent of a playful Wilfrid Bramble) delivered his 'No, no, no, no…' catchphrase and audience members joined in with the delivery of the concluding 'yes'. The support was also evident through the warm applause and appreciation provided after every scene. Thus, it's very fair to say that these characters and this narrative work extremely well on stage and it must have been such a thrill for all involved to have received such a fantastic reception for the hard work they put in.
Joanne Ringrose played a cheerful, bubbly, bossy Geraldine with zest, panache and a real sense of cheeky fun. Marc Vestry (who previously played Tony in 'Abigail's Party') displayed great versatility as a painfully shy, hapless Hugo. His clueless facial expressions and overall awkwardness instilled the character with an adorable sweetness which, alongside Sophie Perez-Smith's charmingly naive, somewhat flummoxed (and yet, somehow knowing) Alice, provided depth to their historic and ever ongoing 'budding' relationship. And, WOW, what an hilarious pay off when Geraldine successfully incorporated her matching skills and got the two together. It was greeted with THE LONGEST STAGE KISS EVER!!! I also especially enjoyed Alice's hilarious indignation and general bamboozlement at 'I Can't Believe It's Not Butter', not actually being butter. Classic!
The cast worked really well together as a tight ensemble with a very professional approach (no limelight stealing here!) The story involved lots of eating (of chocolate, sandwiches, cake etc.) This is not always an easy thing to pull off on stage (dry throat, timing, nerves). The cast made it all seem so natural though I do wonder how many 'Twirl' bars they have collectively consumed up to tonight's show. Quite a few, I imagine!
The set was split into two halves so we saw both the public (committee room) and private (Geraldine's lounge) side of the vicar's character. It also allowed for very slick transitions between scenes with great musical punctuations and speedy stage hand work. There were some nice touches such as the 80's phone and PC. I really enjoyed the suggestion of a walled garden beyond the open lounge door. It reminded me of when I first fell in love with theatre on having seen an amateur production of Agatha Christie's 'Death on the Nile' in a local church hall, aged nine and believing I was ON THAT STEAMER! I further enjoyed the use of film/projection (for Hugo and Alice's wedding scene). It worked well, both as an homage to 'Dibley' being originally transmitted on the small screen and, as a meaningful excursion for the loved up couple away from the confines of the committee room.
As with 'Abigail's Party', the production illustrated a very high standard of direction, performance, set design, costume, lighting and sound. The 'hot ticket' in town last month was most certainly 'The Life of Pi' but at quite a cost (up to £60 a seat). At just £10, this classy and fun production of 'The Vicar of Dibley' made great theatre rightly more accessible at a fraction of the price and was bang on! What a pity it isn't running for longer than four nights. I'm pretty sure it would sell out every night of a full week run, including a Saturday matinee. Deservedly so."

The Vicar of Dibley will be performed at Sheffield Library Theatre at 7.30pm on Thursday 15 and Friday 16 August and at 2.30pm on Saturday 17 August. Tickets are £10, with £9 concession tickets available for the Saturday performance only. To book visit www.denysedwardsplayers.org/vicarofdibley.
Named after a leading local amateur actor who performed in the 1920s and 1930s, Denys Edwards Players was formed after World War Two and now perform a varied programme of three full length productions each year. For further information on the company, including a detailed history of how they were formed, visit www.denysedwardsplayers.org.