The Voyage of the Dawn Treader – 19 September 2019, Sheffield University Drama Studio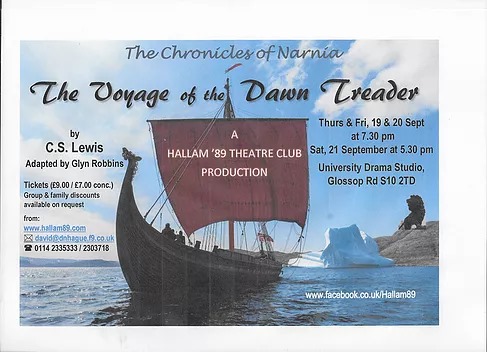 After accompanying Hallam '89 Theatre Company on the first of their first adventure in Narnia earlier this year (read our review here) we were delighted to send along our review Callum Haigh as they continued their voyage through C S Lewis' chronicles.
"Up until this point, I had never heard of Hallam '89 Theatre Club, nor had I ever read any of the books in The Chronicles of Narnia by CS Lewis, apart from seeing the first two films from years ago. So, with no knowledge of how the series went, I arrived at the University of Sheffield Drama Studio eager to see how Hallam '89's new production of The Dawn Treader would play off.
The result? An enjoyable and heart-warming piece that would make CS Lewis proud.
Based off one of the books in The Chronicles of Narnia, the play focuses on three children named Edmund, Lucy and Eustace, as they are transported to the magical world of Narnia. There, they team up with an old colleague called Prince Caspian, who enlists them to sail with him across the seas to find the ancient seven lords of Narnia. Joining them are a gang of sailors and a mouse named Reepicheep.
Again, having never read the original book, I wasn't really familiar with how the story would play out. That being said, I really enjoyed the play and thought that the cast put their all into it, particularly the ensemble. From their introduction in building the titular Dawn Treader to their appearances throughout the production, each cast member owned the stage.
Edward Warren, Sasha Hudson and Tom Coppard perform brilliantly as the main characters of Edmund, Lucy and Eustace. They all play off one another really well, even if they are little children. Saying that, I was a little disappointed that Eustace's arc of growing maturity didn't go anywhere, as he starts off as an arrogant young man before slowly being changed by the world of Narnia. It's as if the play had to rush over it and not give any attention to what Eustace was going through. But that's only a small complaint, and I think that they did well with what they were given.
Also fantastic were David Hague and Stephen Hall in the ensemble, particularly their characters of Pug and Pug Jr. Both characters appear on the first island and try to sell the main characters as slaves. This was a favourite part of mine, which bought a little bit of comedy into the play and had me chuckling along. The rest of the cast were brilliant as well, including Ava Greening as Prince Caspian, who gives a passionate, yet conceited performance as the young prince trying to do what he feels is right for his country. Despite his arrogance, you definitely get the feeling that Caspian is trying to do the right thing and will stop at nothing to do it.
Being a small amateur society, there was a bare minimum of props used throughout the production, apart from the parts used for the Dawn Treader. That's not a complaint, however, as less is more. With the use of a projector and sound effects in the background, it adds a lot to the production and makes you feel as though you're in the magical world of Narnia.
The Dawn Treader is a fantastic production and I was happy to watch it. Sometimes, it feels a little rushed and anyone who hasn't read the Chronicles of Narnia may have difficulty in keeping up with the story. Apart from that, the cast and crew did magnificent and CS Lewis himself would be proud."
The Voyage of the Dawn Treader will be performed at Sheffield University Drama Studio on Friday 20 September at 7.30pm and on Saturday 21 September at 5.30pm. Tickets are £9 full price and £7 concessions. To book visit https://thelittleboxoffice.com/hallam89/book/event/108531?fbclid=IwAR3TM3dYlU-hD7IV6bQEja5sIBz5r6HwUck2QCkpu8PssCemP9NA4KqPq_E.
Hallam '89 Theatre Club are a small amateur dramatic society based in Sheffield with a membership spanning all ages from early teens to pensioners. They stage two productions a year at Sheffield University Drama Studio as well as other occasional one-off performances and play-readings. For further information visit www.facebook.com/pg/Hallam89.