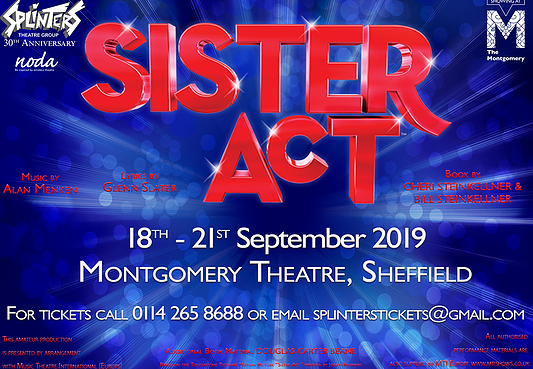 Sister Act – 18 September 2019, Montgomery Theatre, Sheffield
After presenting possibly our most outstanding musical production of the year if not the life of this website so far (read our review here) we were delighted to send our reviewer Heather Reynolds along to the opening night of Splinters Theatre Group's latest musical, as they continue to celebrate their 30th anniversary year.

Having been a fan of the 1992 film starring Whoopi Goldberg, I was very excited to be asked to review the opening night of Splinters Theatre Group's Sister Act, which tells the story of club singer Deloris Van Cartier who, after witnessing her gangster boyfriend commit a murder, is placed in witness protection finding refuge in a convent. After facing a difficult start, she is soon given charge of the choir, and completely turns life at the convent on its head.
Leading the 30 strong company in the role of Deloris, Shorelle Hepkin completely and masterfully inhabited the character in a performance that was very reminiscent of Goldberg's Deloris while still making the role her own. Her delivery was effortless and her stage presence undeniable. Georgina Willows provided a strong contrast to the flamboyant Deloris as the pious and holy Mother Superior, giving beautiful vocals throughout. The chemistry between herself and Shorelle was satisfying to watch, and their harmonies when singing together in the show's closing number were stunning.
Faith Hardy as Sister Mary Roberts was one of the standout performances of the night for me,with her song "The Life I Never Led" being one of the show's highlights. Ashleigh Badham gave a lovely performance as Sister Mary Patrick, managing to capture the bubbly nature of the character seen in the film, and Isabel Berriman went all out in the role of Sister Mary Lazarus, getting a lot of audience laughter in return. However, the entire chorus of nuns worked wonderfully together, and the interactions between them seemed to come very naturally. There was not a weak link among them.
In the role of Deloris' gangster boyfriend Curtis, Ted Tooley brought brilliant characterisation and smooth vocals as the story's bad guy, with his song "When I Find My Baby" particularly standing out. Daniel Schofield as police officer Eddie Souther also gave one of the favourite moments of the night with his song "I Could Be That Guy" and delivered a performance that had you rooting for him from the start. Joe White as Monsignor O'Hara was another standout of the night with hilarious characterisation from start to finish. Trevonte Golding, Joshua Holliday and Matthew Bevan also provided an abundance of comedy as Curtis' gang – TJ, Joey, and Pablo, respectively – and their Jersey Boys-esque song "Lady In The Long Black Dress" garnered a lot of positive audience reaction.
Directing team Jill Beckett and Kate Parkin, along with musical director Andrew Butterfield and choreographers Ellen Hindley and Joshua Holliday, have produced a show to be proud of. The costumes were fantastic, and the lighting and set design were cleverly implemented. I particularly loved the effect of the stained-glass windows. The whole company – cast, crew and band – presented a thrilling night of entertainment in a show that highlights and reminds us of the importance of female friendship and sisterhood."
Sister Act will be performed at the Montgomery Theatre at 7.15pm until Saturday 22 August, with an additional 2.15pm matinee on the Saturday. Tickets are £15 (£13 for concessions). To book visit www.splinterstheatregroup.co.uk/tickets.
Splinters Theatre Group have been performing annual full scale musicals in Sheffield with a cast aged 14 to 30 years since 1989. For further information visit www.splinterstheatregroup.co.uk.