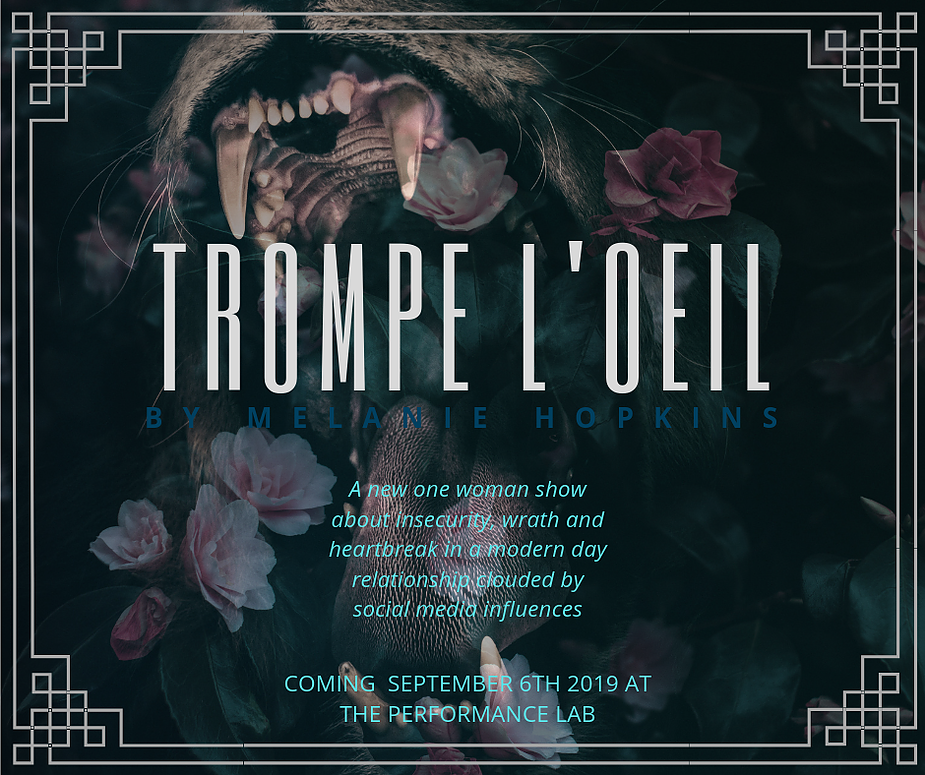 Trompe L'oeil – 6 September 2019, Performance Lab, Arundel Gate, Sheffield
When one of our talented reviewers Melanie Hopkins, who we first met when we reviewed her SOS Fest showcase earlier this year (read the review here) asked us to review her new one woman show, whose title translates as Optical Illusion, we had to say yes and send another of our talented reviewers Callum Haigh along.
"As I mentioned in a previous review, a one-person show can either be hit or miss on the stage. Luckily, there are some exceptions that can really stand out and wrap its audience up in a spine-tingling story. This is the case with Trompe L'oeil, a one-woman show performed by local actress, Melanie Hopkins on the 6th September at the Performance Labs, Sheffield.
Trompe L'oeil translated as "optical illusion" is a short play that focuses on social media and how it has an impact on relationships and a person's self-esteem. The play includes clips shown on a projector screen from films and TV shows, as well as little sketches and lip-syncing performances from Hopkins herself.
Having worked with Melanie before, I had high hopes that she would perform superbly. And I'm happy to say that she pulled it off without a doubt. From the moment the play began, Hopkins not only made me laugh but also moved me to the point of tears.
The lip-syncing performances were a particular highlight for me, using songs from the musical Chicago, Beyoncé and Lily Allen. The way that Melanie mimed along with every song was both sexy and hilarious, with each one linking to the overall themes of the show and giving the audience something to laugh about, as well as something deeper to think about.
The ultimate aim of the show is to explore the effects of heartbreak and insecurity in a modern-day relationships, something which Melanie achieves through the additional use of monologues and video clips, all of which focuses on the breakdown of a couple's relationship. What particularly moved me was watching Melanie's character slowly break down into a scornful and emotionally broken woman, damaged by the loss of her relationship. It really does go to show that having a fantastic relationship doesn't always mean that it will last forever. Sometimes, what the social media shows us doesn't reflect on what's happening behind the scenes.
The play culminates in Melanie breaking character and lecturing the audience on naked pictures of women, arguing that they may be feeling insecure behind the scenes. She concluded the play with a simple message; Self Love Heals All. This message is one that resonated with me and everyone else watching. In order to love properly, we must learn to love ourselves and Melanie was able to enforce that message onto us without any hesitation. As the play finished, we were all left to discuss what self-love really meant. It truly is a message that we all must learn.
Hilarious and moving, Trompe L'oeil is a masterpiece in a one-person show. Melanie Hopkins is a beautiful and fantastic actress, and I really hope that she goes on to do great things in the future."
For further information on Melanie Hopkins visit https://melaniejhopkins.wixsite.com/actor.