Sheffield University Theatre Company's Swap the Press – 26 October 2023, Sheffield University Drama Studio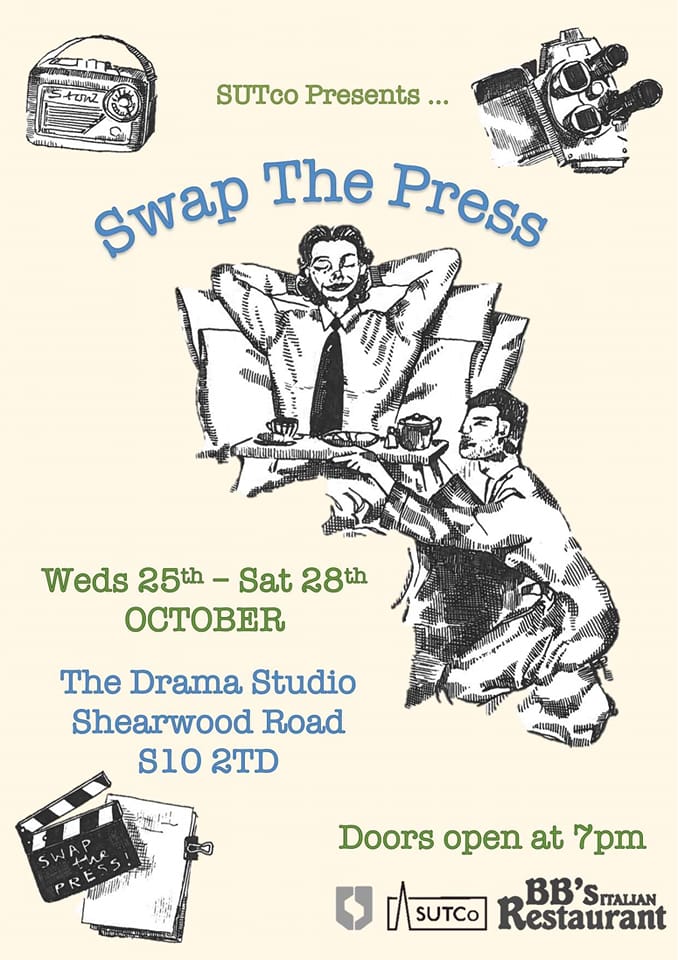 Review by Jacob Bush.
In an exciting new venture, SUTCo have made the decision to stage a brand new play written by their own members Francesca Vercoe and Charles Wright. Swap the Press is set in a world where feminism is flipped on its head – the women hold the powerful jobs, whilst the men struggle to get out of the home. Vercoe and Wright's play explores what happens when feminism, or in this play, masculism, tips just too far the other side of the scale. It is moving, challenging and powerful, whilst also finding enough moments of humour throughout. 
Vercoe also directs the play, with Wright assisting. They have worked with their talented cast to find completely believable and complex characters. The play is well paced, although some of the scene changes can feel a little long, especially when they're not filled with music. There some moments when action continues whilst the set is changed and more moments like this would have only been a good thing.
The play is very much an ensemble effort, but lots of the plot focuses around Jean (played by Georgia Cook), a high up producer of a TV station, and Michael (played by Joseph Judd) as he works his way up the ranks from being an intern. Both Cook and Judd are excellent in their roles. Cook holds command over the stage and portrays the intimidating Producer well, whilst she also tackles Jean's more vulnerable moments with ease. Judd starts off as likeable, with just the right amount of charm, depicting the character's journey perfectly. Some of the later moments of the play were genuinely difficult to watch and slightly frightening. 
Alice Haldane gives a beautiful performance as Debbie, the journalist who's a bit too left wing for the channel she works on. She is likeable and the audience immediately roots for her. She has a lovely chemistry with Ciaran Constable as Thomas and the pair of them are the driving force for much of the political narrative of the play. Constable is likeable, with some good comic timing, and it is a shame we don't see more of his character. Thomas is intriguing as a character and it would have been great to see some moments of his activism on stage. His plot is the one that feels most sidelined, so hopefully this could be developed in any future iterations of the play.
Other fantastic supporting performances came from Ambrose Robinson as the slightly smarmy yet likeable TV presenter Billy and Alicia Fitzwilliams who gives a lovely performance as Pam, one of the first to be impacted by the patriarchal take over. Kirsty Lucas is terrific as Marge, Debbie's co-news anchor. She gives a great performance as the journalist still stuck in the past, whilst delivering her more vulnerable moments powerfully. Patrick Gregan portrays Edward's story arc wonderfully, bringing to the life the shy intern who becomes a more confident staff member. The cast is completed by James Platt who appears in numerous roles throughout and is just lovely in every role they appear in.
Student productions in Sheffield are usually very good but Swap the Press is one of the best I've seen. It's powerful and challenging and I hope this play, after some minor developments, is seen professionally on the Crucible stage and beyond.