Message in a Bottle Monologues – 1 July 2022, DINA, Sheffield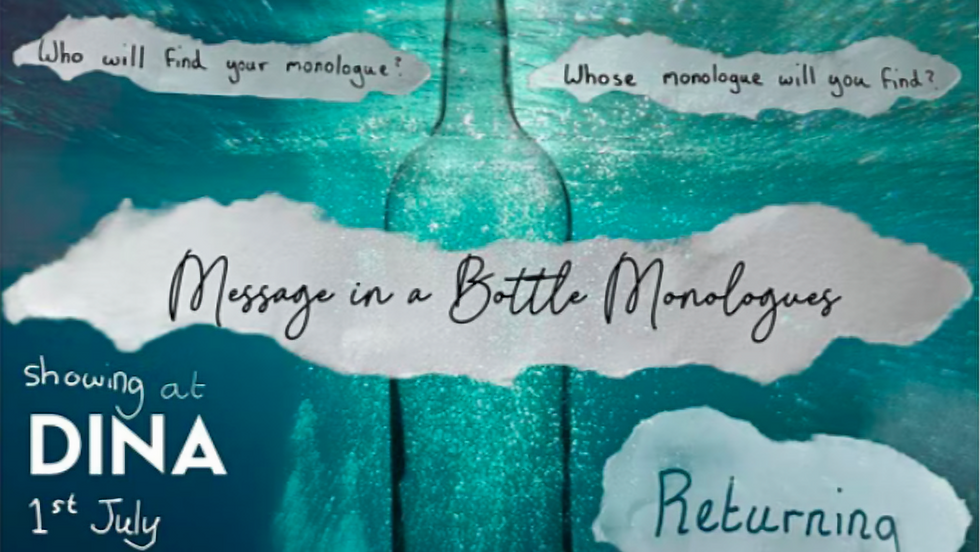 Reviewed by Jacob Bush
Message in a Bottle Monologues started as a social media initiative to allow creatives to continue making work during lockdown. Tonight, Message in a Bottle happened live and in person for the first time ever, hosted in the intimate DINA performance space in the heart of Sheffield. Eight actors took one monologue each: the actor did not know the writer until after they had performed and the writer did not know who would perform their text until it started being performed. This showcase style performance featured a wide range of styles, making it a very enjoyable evening.
First up was Sarah Spencer performing The Shop That Replaced Debenhams which was written by Ewan Fellows. This piece set the tone for the evening very well. It was rooted in Sheffield; it was somewhat inventive and abstract; and it was performed brilliantly. Kate Spivey then took to the stage in Lee Pollard's Father and Daughter. Based on Pollard's true story, Spivey demonstrated her excellent comic timing whilst reining it back in to deliver some emotional moments.
Eleanor May Blackburn performed Elliot Hunter's monologue A Better Person. Her performance was natural and believable. It made me want to see more from this character and her relationship. It very much felt like a section of a longer play. Anthony Garbett closed out the first half with his performance of Hunger by Eleanor May Blackburn. His performance is chilling, whilst getting plenty of laughs. He tackled the darker elements of the narrative well, frightening members of the audience just enough.
After a short interval, Ian France brought some true northern heart to the proceedings when he performed Jo Hibbard's For Alice. He gave a heartfelt performance, delivering the dark twist at the end very well. Ian Archdeacon showed great range when he performed Damian Luke McNeilly's The Screaming Man. At times, the monologue felt a little too abstract and it wasn't entirely clear who the character was. Regardless, Archdeacon's performance was committed and very engaging.
Kerry Frater gave an outstanding performance of Stephen Brennan's Book Keepers. His wealth of theatrical experience really shone through and it was an honour to see him perform in such an intimate setting. The concept of making librarians super villainous was hilarious and Frater's full commitment to the idea made it even funnier. The audience was howling in their seats. Damian Luke McNeilly closed the show by performing The Returning which was written by Carl Wharton. McNeilly had a terrifying intensity which was impressive to watch. The monologue did feel a little short though and more could definitely have been done with the character.
Message in a Bottle Monologues was a great showcase of local as well as up and coming talent. It was special to see a performance that was so inclusive – anyone could get involved regardless of experience in theatre. Watch this space because I'm sure Message in a Bottle will be back very soon.