Young Frankenstein – 30 November 2017, Sheffield Hallam Students Union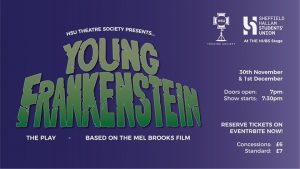 It feels fitting that a week after attending my boyfriend's graduation from Sheffield Hallam University I was in the audience for the first night of HSU Theatre Company's production of Young Frankenstein at Sheffield Hallam Students Union.
Based on Gene Wilder's 1974 film comedy of the same name, Young Frankenstein tells the story of respected medical lecturer Dr. Frederick Frankenstein , who learns that he has inherited his infamous grandfather's estate in Transylvania. Arriving at the castle he soon begins to recreate his grandfather's experiments including his very own monster, which combined with the arrival of his fiancée, leads to multiple complications and hilarity.
From the moment the audience walked into Halloween and horror themed songs, including "The Monster Mash" and "Thriller" playing, they were immediately put in the right mood for the show, before an introduction by its directors Mel Hopkins (Mel Brooks would be proud that someone who shares his first name is directing his masterpiece) and Christy Fitzsimmons (who described their first experience of directing as "stressful but rewarding").
My two stand-out performances on the night came from Anthony Dranfield as Igor and Callam Fellows as the Blind Man. Anthony perfected the bonkers weirdness combined with loyalty of his character, with just a pinch of Noel Fielding, leading audience members to easily believe he could have a career in alternative comedy. Callam's Monty Python style take on the Blind Man provided the best physical comedy and most laughs of a laugh packed show and made you wish the character appeared in more than one scene, though he was worth waiting around for the encore for.
Reminding me of actor Maxwell Caulfield, Jack Underwood's portray of Dr Frankenstein impressively captured his character's transition from respectable English professor to power craving, teenage stropping, mad scientist. Although partly cast for his build, Rob Lee as the Monster combined the Addams' Family butler Lurch / the Hulk with a far gentler side that could even tolerate floral decoration. In a scene in the second act, Jack also proved he could equally successfully pull off a career as a public speaker than as a an actor, though his dance routine with Rob may have impressed but not given Gene Kelly anything to worry about.
Other cast members who deserve a mention include Libby Allcock as Frau Blucher who brilliantly pulled off passion-driven insanity; Becky Cleary as Mel Brooks classic European dumb-brunette Inga who without hesitation pulled off sexual innuendos and comic sex scenes and like Rbys Degnan as Inspector Kemp successfully pulled off her character's wonderful accent, which in Rhys' case reminded me of an Allo Allo' German officer combined with the mispronunciation of the same sitcom's English policeman; and Alice Connelly as the fiancée Elizabeth, who  combined upper class uncomfortableness with the desire for sexual awakening of The Rocky Horror Picture Show's Janet.
I most also praise the ensemble who successfully and comedically pulled off an array of characters from students to angry villagers (if you're sitting in the centre of the venue watch out for the angry mob running past you) to children.
The cast and crew paid great respect to Mel Brook's script, whilst successfully slipping in some references for a 21st century audience (including Katie Price and IKEA), leading me to look forward to seeing more from this company and want to re-watch the rest of Mel Brooks back catalogue.
The show (which will make you want to eat a frozen pizza without pineapple) was full of side-splitting laugh out loud lines, direction and slapstick (including Chuckle Brothers and Benny Hill moments) making the production a must see for comedy fans new and old to the creations of Mel Brooks or who have always wanted to find out what happens next in the Frankenstein story.
Young Frankenstein is on at Sheffield Hallam Students Union until tonight (Friday 1 December). Tickets are £7 (£5 concession). To book visit www.eventbrite.co.uk/e/young-frankenstein-tickets-39587870386.
For further information on HSU Theatre Company including their forthcoming productions of Romeo & Juliet on 8 and 9 December and Avenue Q on 15 and 16 December visit https://hsutheatresociety.wixsite.com/theatre.
P.S. Please note that there is strobe lighting during the performance.