Work in Progress – 18 September 2019, Local Theatre, Sheffield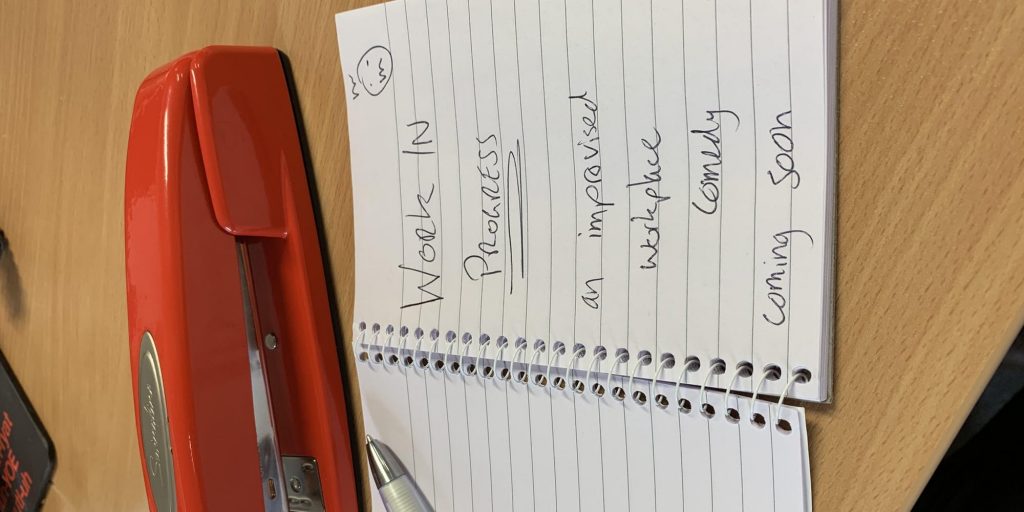 We are massive fans of improvised and workplace comedy (anyone else miss "Drop The Dead Donkey" and "Whose Line Is It Anyway"?) so were delighted to send our reviewer Callam Fellows along to the opening night of Work in Progress Comedy's new improvised comedy play.
"Work in Progress promises an original office-based comedy created around a single suggestion from the audience. I attended the opening night where an audience member suggested that the office specialised in the manufacturing of tiny, yellow IKEA pencils. From this the improvisers not only constructed pencils of varying sizes but also constructed an original plot full of toast making, cigar smuggling, and costume burning.
Whilst I would usually criticise a performer if they came across as wooden, I must praise Percy Pencil and his wooden pencil costume. Percy, the company mascot, provided the most laughs of the night with his love/hate relationship with his costume alter ego and creative innuendos such as having "Not to scale" written on his crotch and his relationship with Gary Graphite who spends most of their time inside him.
Whilst Percy Pencil served as a led character, the lead character of the story was undoubtedly Timmy. From the very start of the show the chilling and disturbingly friendly calls of "Timmy!" from his higher-ups establishes Timmy's place in the company and, along with the company's acronym ABT (Always Blame Timmy),we see how little respect his fellow employees have for him. As an audience member you'd feel bad for him, if you didn't feel even worse for Timmy's performer, who upon completing one scene would be quickly invited back into centre stage by another improviser. Kudos to his persistence throughout and his commitment to miming the act of holding an oversized pencil. The funniest part of the show for me came towards the climax when he spoke in a Biblical fashion after obtaining God-like powers.
I must note that the space the improvisers had to work with was limited, to the point that when two performers started pacing together they had to carefully avoid bumping into each other. It would have been nice if the show could have been performed upstairs at The Local Theatre in the room next to the box office. To enter the theatre audience members must first walk through a room that is not only more spacious but is also more visually interesting. With black and white illustrated furniture decorating the walls, it would have matched the improvisers black and white office uniforms and complimented the cartoon-logic of their improvised scenes. It would have had the potential of transporting the audience into a newspaper comic strip, rather than a small basement that is disappointing in comparison to the quirky rooms above.
Another suggestion I might propose is utilising the lanyards they wore with their work uniforms. There were no programmes or notice boards listing the cast, as far as I was aware. These lanyards worn by the improvisers displayed cards that said Work in Progress, but they could have easily worked as a name tags. The improvisers were all addressed by name at the end of the show by the enthusiastic host, but the applause was so rapturous it was hard to hear them. I realise that the name tags, more often than not, will not match with their character names, but I feel it best to be considered for future improvised shows so that the improvisers can get the recognition they deserve.
Overall a great deal of fun was had by all. The show featured a great deal of surrealism, innuendo , and dark humour, and balanced wit with pure silliness. The audience were able to enjoy the show so easily because the joy from the improvisers was so infectious. They are clearly enjoying themselves and even during the interval I could hear them in hysterics in the changing room over a scene involving Richard and Judy. Work in Progress is full of laughs for the people performing the show and for everyone who is watching."
Suitable for 16 years and over, Work in Progress is on at the Local Theatre until Saturday 21 September. Tickets are £8 full price and £5 concessions. To book visit www.eventbrite.co.uk/e/work-in-progress-tickets-64822053507.
The Local Theatre is a new 80 seater venue for performing arts in Sheffield, with a specific focus on making the arts accessible to everyone, regardless of their experience level or financial capabilities. They believe that everyone should have the opportunity to have their voice heard, and that theatres should take risks in programming work from new companies and writers. For further information visit https://thelocaltheatre.com.