Dickon Gough (aka Lurch) – The Addams Family Musical interview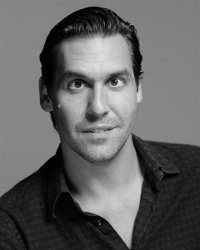 To celebrate The Addams Family Musical coming to the Lyceum Theatre, Sheffield this week I was delighted to interview cast member Dickon Gough who brilliantly plays the family's butler Lurch.
Me: What's your favourite thing about being part of The Addams Family musical tour?
Dickon: The company are wonderful. It's tricky being on the road for 8 months with a lot of people you've never met before, but we've been incredibly lucky with how well we get along and the fun that we all have together. It makes coming to work a great pleasure.
Me: What are you looking forward to most about performing in Sheffield?
Dickon: Being back at the Lyceum is fantastic. I haven't played here for 15 years so it's great being back. It's a very engaging theatre to play as the audience are so close to the stage. You get a real connection because of that. But also getting out to the Peaks! I love Sheffield and have some great friends here, so seeing them, seeing the countryside, that's one of the other joys of touring.
Me: The show is packed full of comedy but what's the funniest thing that has happened off stage on the tour?
Dickon: This happened as I was coming off stage a few months ago. I'm not sure how, but as I was exiting following Morticia's number, Secrets, I somehow managed to thump myself so hard in the nether regions, I knocked myself to the floor. Katie, our ASM, handed me an ice pack and I was down for a good few minutes. Due to the ice packing it went in the show report which gets sent to the production team after each show. Apparently 'Mr Gough floored himself by punching himself in the testicles. He applied an ice pack himself' was not what they expected to be reading.
Me: Apart from Lurch who is your favourite member of the Addams Family household and why?
Dickon: Grandma. I think Lurch and her probably hang out in the attic trying her various concoctions. It might explain why he moves so slowly!
Me: Yours is my favourite ever portrayal of Lurch, what inspired your performance?
Dickon: That's very kind of you! I studied a lot of old Boris Karloff movies. Especially his character Morgan in the 1932 movie 'The Old Dark House'. There's an astonishing movement to him that I found hugely inspirational.
Me: What do you consider to be essential qualities required to be a good butler?
Dickon: I don't think Lurch is the most skilled butler in the world! He is though, loyal to a fault. I think that's the most essential quality. There's nothing he wouldn't do for the Addams', especially Wednesday and Pugsley. My grandpa played a few butlers in his career and he was always immaculately dressed and perfectly organised. I think those are other essential qualities, but I don't think they are particularly important to Lurch!
Me: If you were made to play "the game" what would you disclose?
Dickon: As Lurch perhaps that I'm not as zombieish as people might think. For me personally? That's my wife's business!
Me: What's up next for you after the tour?
Gough: Christmas is next! Having been on the road since April I'm just looking forward to heading up to North Norfolk with my wife and hiding away from the world for a couple of weeks. Long walks, wild swims and log fires. It can be hard being away for the amount of time we are, so dedicating ones time to family is vital. Workwise, I'm happy to wait and see what comes around the corner!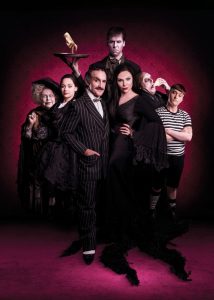 The Addams Family is at the Lyceum, Sheffield until 16 September before the tour moves on to the Bristol Hippodrome from 19 to 23 September; New Victoria Theatre, Woking from 26 to 30 September; Grand Opera House, Belfast from 3 to 7 October; Glasgow King's Theatre from 10 to 14 October; Wolverhampton Grand from 17 to 21 October; Milton Keynes Theatre from 24 to 28 October; Orchard Theatre, Dartford from 31 October to 4 November and finishing at MES Theatre at Mediacorp, Singapore from 15 November to 3 December.
To read a review of The Addams Family Musical click here.