Texas – 16 September, Sheffield City Hall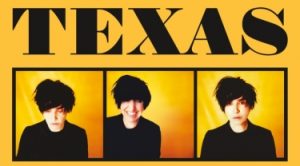 One of my biggest memories of a young people's coach trip around Europe in the late 1990s was discovering Texas' album "White on Blonde" and getting the coach driver to play it. Whilst the rest of the passengers on board were hoping for some dance music I was left longing to meet my own black eyed boy who I could say what I wanted to. Because of this I was delighted to finally be in an audience for the Sheffield City Hall date of their current tour, promoting the release of their ninth studio album "Jump on Board".
The support act Hightre was a talented young Swedish boy/girl guitar/synth duo who I can best describe as a contemporary cross between Depeche Mode and Texas with lyrics with original lyrics that Sharleen would have been proud of as well as a brilliant cover of The Cure's "Boys Don't Cry".
As well as the fantastic music and great atmosphere, I loved and will remember the sell-out Texas gig itself for Sharleen's amazing showwomanship, lots of audience participation and banter and the band's obvious love for their fans and the obvious friendship between band members.
The set list for this incredible gig, mixing both new tracks (which made me order the new album as soon as I got home), old favourites, songs I had forgotten I knew and loved, and a couple of amazing covers, was:
Halo
Let's Work It Out
When We Are Together
In Our Lifetime
Tell That Girl
Everyday Now
Thrill Has Gone
The Conversation
Can't Control
Tired of Being Alone
So Called Friend
Summer Son
Midnight
In Demand
I Don't Want a Lover
Black Eyed Boy
Say What You Want
Encore:
Inner Smile
Suspicious Minds
During a two hour set where Sharleen proved she was as talented a guitarist and pianist as she is an incredible singer (not being afraid to maintain her great Glaswegian accent or to swear on stage), there was not a song I didn't enjoy but my stand-out section was the final six tracks of the set starting with a beautiful stripped back version of "In Demand" with a rousing ending; a stomping performance of "I Don't Want A Lover" that got the audience members who weren't already on their feet on their feet; an outstanding audience singalong performance of my favourite ever Texas song "Black Eyed Boy" that didn't disappoint on any level; and a soulful performance of "Say What You Want" before the band returned to the stage for a party atmosphere inducing performance of "Inner Smile" and a finale of "Suspicious Minds" that Sharleen equally both made her and the band's own and brought out her inner Elvis that the King himself would have been proud of.
There are still several chances to catch Texas on tour in the UK before they head off to Europe, South Africa and Australia, including:
Sunday 17 September – Royal Albert Hall, London
Tuesday 19 September – De Montfort Hall, Leicester
Wednesday 20 September – Grimsby Auditorium
Thursday 21 September – York Barbican
Saturday 23 September – Usher Hall, Edinburgh
Sunday 24 September – Caird Hall, Dundee
Monday 25 September – Inverness Leisure Centre
Wednesday 27 September – Newcastle City Hall
Thursday 28th September – Bridgewater Hall, Manchester
Friday 29 September – Philharmonic Hall, Liverpool
Sunday 1 October – Symphony Hall, Birmingham
Monday 2 October – Nottingham Royal Concert Hall
Tuesday 3 October – Cliffs Pavilion, Southend-on-Sea
Thursday 5 October – Venue Cymru, Llandudno
Friday 6 October – Colston Hall, Bristol
Saturday 7 October – Plymouh Pavilions
Information on all of the tour dates and ticket booking information can be found at www.texas.uk.com.
P.S. As a Sheffield resident its great to know that the members of Texas only drink Yorkshire Tea and know how to party in Sheffield.