The Addams Family – 12 September 2017, Lyceum Theatre, Sheffield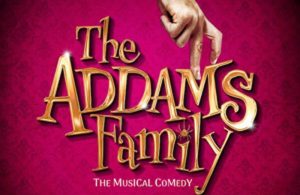 My boyfriend and I have been looking forward to the UK tour of The Addams Family coming to Sheffield, not only as an excuse to re-watch the original television series and films but because I have been a massive fan of Samantha Womack (playing Morticia) since her 1990s "Game On" days and my boyfriend has a crush on Christina Ricci (Wednesday in the films).
The musical, touring the UK for the first time, tells the story of what happens when Wednesday Addams, the ultimate princess of darkness, is all grown up and has a shocking secret that only Gomez knows. The secret – she's fallen in love with a sweet young man from a respectable family. With his cherished Morticia in the dark the audience will discover if Gomez manage to keep his daughter's secret until the two families meet for a fateful dinner with hilarious consequences? The story of love, family and friendship with a twist features a live orchestra, and original score and of course Uncle Fester, Lurch, Pugsley and more.
Cameron Blakely played Gomez with bonkers, South American charm and passion and devotion, especially evident in his three second act songs "Happy Sad", "Not Today" and "Live Before We Die". Sadly Les Dennis who was due to play Uncle Fester was ill for the performance but his understudy Scott Paige more than stood up to the role playing the character with comedy, campiness, loveableness and music hall charm. Dickon Gough (read an interview here) turned out to be my ultimate Lurch, with the power to make taking it slow (the human equivalent of a sloth) and groans completely hilarious. Carrie Hope Fletcher (not only a fantastic actress but I loved her novel "On the Other Side" as well) brought Wednesday perfectly into the 21st century and brilliantly pulled off being torn between your family and the man you love. Dale Rapley, Charlotte Page and Oliver Ormson as the Beineke's perfected the classic vision of the all American family, with praise especially earned by Charlotte who possessed an incredible operatic voice.
Although sadly missing Cousin It, a real life hand made up for it as Thing, especially when he got to kick off the whole show by clicking along to the original theme tune at the start of the overture (made myself and my boyfriend wish we could click our fingers). The ensemble of dead relatives boasted the best costumes and choreography of the show, combining ghostly freak show with contemporary ballet.
Packed full of fantastic songs it was hard to choose favourites but I must mention "Pulled", which showcased Carrie's powerful pop voice and incredible singing talent and may have become one of my all time favourite musical numbers, and "What If" performed by Cameron and Grant McIntyre (as Pugsley) the ultimate husbandly/brotherly love song. Audience members will not be able to get the chorus of "Full Disclosure" out of their heads, though should be aware of ever  getting involved in that game. "Just Around The Corner" brought out Samantha Womack (as Morticia) inner Julie Andrews in a Rogers and Hammerstein style musical number packed with dark comedic lyrics and showcasing her West End worthy singing voice. Scott's performance of "The Moon and Me" was beautifully performed with sweet, innocent love, whilst in "Crazier Than You" (another song impossible to get out of your head) the chemistry between Carrie and Oliver and between Charlotte and Dale shone through. Dickon saved the best cast singing voice for last kicking off "Move Towards The Darkness" with a deep operatic tone before showing off his cheeky side.
Praise must go to the costume and set designers whose costumes and sets, including torture devices, were stunning and brilliantly brought the show into a darker, quirky 21st century setting. The work of choreographer Alistair David also deserves a special mention for his crisp choreography ranging from tango and jive to ballet and contemporary dance, including a fabulous Argentinian Tango performed by Cameron and Samantha.
In conclusion, this musical is a must see for fans of the kooky family who are desperate to discover what happens to them next or anyone who just wants to escape the Autumn weather to enjoy a hilariously fantastic evening of theatrical musical fun.
The Addams Family is at the Lyceum, Sheffield until 16 September before the tour moves on to the Bristol Hippodrome from 19 to 23 September; New Victoria Theatre, Woking from 26 to 30 September; Grand Opera House, Belfast from 3 to 7 October; Glasgow King's Theatre from 10 to 14 October; Wolverhampton Grand from 17 to 21 October; Milton Keynes Theatre from 24 to 28 October; Orchard Theatre, Dartford from 31 October to 4 November and finishing at MES Theatre at Mediacorp, Singapore from 15 November to 3 December.
P.S. It's worth checking out the tour's website at www.theaddamsfamily.co.uk even if it's just to do the quiz to discover which member of the Addams Family you are – I'm apparently Morticia. Also as it's one of the best theme tunes ever there is only one way to end this review:
"They're creepy and they're kooky, Mysterious and spooky, They're altogether ooky, The Addams Family. Their house is a museum. When people come to see 'em. They really are a scream. The Addams Family. So get a witch's shawl on. A broomstick you can crawl on. We're gonna pay a call on. The Addams Family."