Bananarama – 5 December 2017, Sheffield City Hall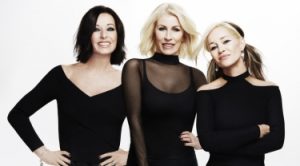 Like a lot of girls growing up in the 1980s not only did I love the music of Bananarama (I still own all of their 1980s studio albums on vinyl) but I wanted to be them to. So when it was announced earlier this year that for the first time ever the original line up of Siobhan, Sara and Keran were reforming I knew I had to be there. Then after being unable to get tickets for their original dates I thought I had missed out for good until they announced more dates including Sheffield City Hall and I got in there early to get a great seat near the stage.
Before the girls (who don't look a decade let alone 30 years older) and the live band even appeared on stage, the audience were in the mood for a great night thanks to the warm up of a DJ on stage (showing off a Bananarama jacket) spinning disco and 80s dance tracks from female vocalists, and this only developed as soon as the band got on stage, with the entire audience on their feet from the very first song "Nathan Jones" kicking off a fabulous party, poptastic, sparkly evening.
The set list featured every track us fans would hope for (though sadly missing a reunion with Lananeeneenoonoo), plus a few exciting B-sides and forgotten tracks and an unexpected but highly welcomed performance of Shakespeare's Sister's Stay, who Siobhan originally left Bananarama to join.
Nathan Jones
Robert De Niro's Waiting
Rough Justice
Aie a Mwana
Cruel Summer
Trick of the Night
Shy Boy/Boy Trouble
Really Saying Something
Cheers Then
Stay
Preacher Man
I Heard a Rumour
More Than Physical
I Can't Help It
I Want You Back
Venus
Na Na Hey Hey Kiss Him Goodbye
Encore:
It Ain't What You Do (It's the Way That You Do It)
Love in the First Degree
Although as a fan my favourite songs (which almost formed a gig sandwich) of "Robert De Niro's Waiting" and "Love in the First Degree" will always stay with me and be personal highlights of the evening to see live, I must also praise the girls performance of their first ever release "Aie a Mwana" which they not only sung entirely in a different language but created a fabulous carnival atmosphere; the beautiful and atmospheric performance of "Stay", which is the nearest I suspect I will get to seeing Shakespeare's Sister perform live; and the dance track "Preacher Man", which I had not heard before the set but quickly became my favourite post-Siobhan track.
I must also mention the Stock, Aitken and Waterman numbers, which led to audience wide 80s dance routine participation, especially "Venus", which took the party atmosphere to a whole new level and made me suspect that if there was a world record for the most people doing the routine at the same time the audience of City Hall would have got it; "Na Na Hey Hey Kiss Him Goodbye" not only provided a great way for the girls to introduce the other members of the band but also meant that the audience were chanting goodbye to them as they left the stage before the encore; and my unexpected favourite performance of the evening "I Heard a Rumour", which provided the pure pop perfection of the evening, with both the girls and the band at their vocal best.
As well as the girls who were on top form and whose friendship shone through, and the band who brilliantly combined live music and synth, I most also praise the designers of the projected images and the lighting team which brilliantly combined old footage of the girls with great artwork and footage.
An unmissable opportunity for all fans that will make you forget they have ever been away, if you haven't had the chance to catch Bananarama yet on tour, you only have two chances left, Brighton Centre on Friday 8 December at Eventim Apollo Hammersmith, London on Saturday 9th December.