Dare, The Human League Tribute – Interview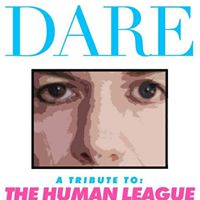 As a massive fan of The Human League I was delighted to interview Nick from the band's newest tribute act Dare, the Human League Tribute ahead of their gig at the Foundry, Sheffield this Friday (4th May).
Me: Tell us about Dare, The Human League Tribute, including how you came about and what people can expect from your shows?
Nick: Dare, the Human League Tribute has been put together by ourselves being Nic Price, (Phil Oakey) and Nick Stylianides (musical director / synths). Whilst working on separate projects, our mutual friend Mark Court, who runs The Fleece music venue in Bristol, was promoting double headlining acts Duran Duran and Spandau Ballet for a tribute night. At the last minute, Spandau dropped out leaving Mark a gap to fill. Knowing that we had the capabilities to do this (and being massive Human League fans ourselves of course) he suggested the idea to us and we thought – why not? With just three months to prepare a full show, we lived and breathed Human League for that period. Picking the right singers was paramount, as Susan Sully and Joanne Catherall are absolutely vital to the show, however after auditioning over 60 singers, we have picked what we can only describe as the best. And the rest as they say, is history. Fans can expect a full and accurate show dedicated to the Human League, performing a wide variety of their hits.
Me: What are you looking forward to most about bringing the show to Sheffield?
Nick: For us, it is a real honour and privilege to be playing in The Human League's home town. After all, this is where the magic started!
Me: What's your favourite Human League song to perform and why?
Nick: That's a very difficult question to answer as there are so many……
Me: Why do you think the music of The Human League has remained so popular for the last 40 years?
Nick: They have written and performed amazing catchy timeless and creative songs, which have stood the test of time and these classics are now appealing to a whole new generation of fans. The production values of the all new synth era was ahead of its time.
Me: Are The Human League aware of your tribute and if yes, what do they think of it?
Nick: We have no idea.
Me: And finally, what are your plans for Dare, The Human League Tribute going forward?
To stay busy, remain totally faithful with our shows and give the fans exactly what they want – the best tribute show ever to The Human League!!!
For further information on Dare, The Human League Tribute visit www.facebook.com/darehumanleaguetribute. To book tickets, priced at £13.75, for their gig at The Foundry, Sheffield on Friday 4 May visit https://foundrysu.com/events-tickets.