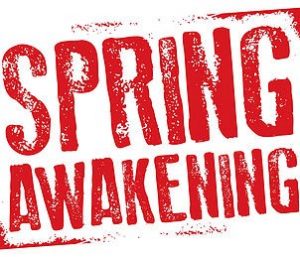 Spring Awakening – 2 May 2018, Sheffield University Drama Studio
***** Directed by this website's stand out star of 2017 Mike Alexander with a cast including our one to watch in 2018 and beyond, George Evans, I was excited to be in the audience for the opening night of a the first musical in over a decade from Sheffield University Theatre Company (SUTCo).
Set in 1891 Germany and with music by Duncan Sheik and book and lyrics by Steven Sater, Spring Awakening is set in a world where the grown-ups hold all the cards and teenagers fight to explore their sexuality for the first time against the repression of their parents, resulting in a rock musical that promises to be fast-paced yet poignant, challenging and exhilarating and that will leave you desperate to rebel against the status quo.
I have seem some exceptional productions by SUTCo and in my time as a reviewer but this phenomenal production blew them all out of the window, with every aspect from the cast's performances and singing to the direction, eight piece band and lighting being faultless and amazing. If SUTCo performed this off-Broadway, I can see it winning awards and selling out every night.
Powerful, dark, sensual and pushing boundaries (though sadly the issues of suicide, abortion and abuse are as relevant if not more relevant today) this show redefines the musical genre and makes me wonder how I lived without the musical in my life. I'm already planning on come back to the show and bringing friends before it finishes on Saturday and ordered the soundtrack on CD as soon as I got home, though if the cast and band released their own version of the soundtrack it would amazing.
On the subject of the musical numbers, their unique lyrics and arrangements cleverly took inspiration from a range of genres from the punk of "The Bitch of Living" to the harrowing Alanis Morrisette inspired "The Dark I Knew Well", the Morrissey feeling "And Then There Were None" and the poppy "My Junk", which I hope becomes my ear worm for a long time to come. Two musical number that deserves a special mention are "Don't Do Sadness/Blue Wind" which provided the perfect showcase for the leads (George Evans and Lindsay Manion) of two of the best new productions I saw last year "My Mate Dave Died" and "Buried: The Musical", both heading up to the Edinburgh Fringe this year; and the Blink 182 / 90s grunge rock styled "Totally Fucked" that provided the musical anthem of the night and put huge grins on all of the audiences faces. In terms of voices, if off the back of this production Wilf Walsworth and Katie Kelson and the rest of the cast get offered recording contracts I would be thrilled and be one of the first in the queue to buy their albums.
In regard to the cast, those whose performances  I have considered exceptional in the past incredibly got even better in this production, whilst the rest of the cast rose to the challenge and equally matched their brilliance and I can't recommend enough that people must see this production and everything else the cast and company are involved with as judging by this they are all destined to go far.
Finally, a word to SUTCo. If this is the breathtaking standard of your musicals, please, please do not wait over 10 years until your next one.
Spring Awakening will be performed at Sheffield University Drama Studio until Saturday 5 May at 7.30pm (doors open at 7pm). Tickets are £6 in advance and £7 on the door. To book visit www.sutco.org/tickets.
The award winning SUTCo perform four shows a semester. For further information visit www.sutco.org, like on Facebook at www.facebook.com/SuTCo, or follow on Twitter at https://twitter.com/sutco.
Please note that Spring Awakening contains strong language, scenes of a sexual nature, nudity, references to abuse, sexual assault, suicide and abortion. If you have any further questions regarding this please contact the chair of SUTCo at epickersgill1@sheffield.ac.uk.
P.S. If Robert Smith every needs a stand in for a Cure gig based on this production George Evans is more than ready to step up to the mark.