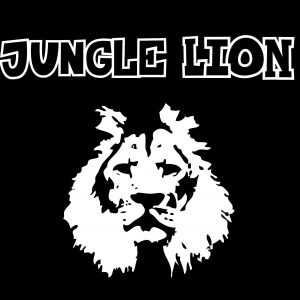 Jungle Lion – Interview
One of my favourite live, home grown Sheffield bands is the 12 piece SKA and reggae band Jungle Lions (read my previous review of them here) so I was delighted when the band's Dave Campbell agreed to an interview.
Me: For those who haven't come across Jungle Lion before, tell us about yourselves?
Dave: Jungle Lion are a 12-piece SKA and Reggae covers band based in Sheffield, we've been performing since 2009, mostly around the north and midlands of England, although we have played as far south as London too.  We're not a 'Tribute Band', that is, we don't just play material by one band – we do songs by 2Tone bands like the Specials, Madness, Bad Manners, Selecter, also older 'original' SKA tunes by bands like the Skatalites and Toots & the Maytals, we do Reggae material by artists like the Upsetters and Bob Marley (we've done special gigs in the past to commemorate Bob Marley's birthday where we've done a whole show of just Bob's songs) – as well as playing well known tunes as they appear on record, we also sometimes mash up several songs together, into our own arrangements. The overall goal is just to play shows where everyone gets up and dances and has a good time, we're more about creating a good atmosphere than exactly imitating a specific band. We have drums, bass, guitar, keys, five horns, and five vocals, so it's a big, powerful, and versatile sound – not the kind of band you see everyday.
Me: Where did the name Jungle Lion come from?
Dave: The Reverend Al Green recorded a song in 1972 called 'Love and Happiness'. Legendary Reggae producer Lee 'Scratch' Perry then took some bits of it, re-organised them, and with the Upsetters band, recorded 'Jungle Lion' (also known as 'Freak Out Skank') which was released in 1973. It's always been a favourite tune of mine, and 'Jungle Lion' has that rare quality of being a specific thing that fans would recognise, whilst also being neutral enough (and easily remembered) to be a good band name even for people who've never heard of the song. Thinking of a band name that you can be properly happy with is often a long, difficult chore – I got off quite easily with this one 🙂
Me: I have seen the band perform twice and you always look like you're having a lot of fun on stage, but what's the most fun the band has had on or off stage?
Dave: It's a really special thing to be in the moment at a good gig – everything is working, the songs are all well-rehearsed and feeling easy, the stage sound is good and everyone's comfortable, there's plenty of room to move around and band members are adding extra bits to the show, and of course most of all the audience is really up for it, a full dancefloor on the first song, people dancing like their lives depended on it, laughing and shouting, taking photos with their friends to capture the atmosphere – this situation is (thankfully) not unusual for us, but I think we're probably at our happiest when we're loading lots of heavy equipment up a narrow slippery fire escape in freezing rain.
Me: Why do you think SKA music continues to go down so well with audiences over half a century after its Jamaican origins?
Dave: I think there's an almost perfect balance in SKA music between the simple rhythmic mechanism of making people want to move and dance as soon as they hear it, and being varied, musical, and interesting enough to keep people's attention, and also being good to just sit and listen to. This isn't unique to SKA by any means, but there's no denying that this stuff just works. The older stuff from 1960s Jamaica was (at least I reckon it was) subject to a brutal, unfeeling sort of natural selection – that is, it was the music that was played at the dances. Anything that didn't work didn't get danced to, and therefore faded away pretty quickly, and only the 'fittest' survived – so standards were just naturally very high. SKA music was very fertile, too – slowly changing from SKA to blue beat, lover's rock, rock steady, and reggae – and then being revitalised in late 70s England as it was mixed with punk to form what is now referred to as '2nd wave' SKA, mostly personified by Jerry Dammers' 2Tone record label. SKA music really spans the decades, we've had people in their 70s at gigs tell us that we remind them of big bands in the 1950s, we have lots of people who were teenagers in 1979, re-living their experiences at 2Tone gigs, as well as people born in the late '90s, who've never heard of any of this stuff but dance all night and have a really good time.
Me: You have supported the Wailers on tour. Who else, alive or dead, would you love to support to collaborate with?
Dave: We've played with the Wailers four times now – we've done two gigs with the Skatalites, and we've also been on the bill with Toots & the Maytals, the Selecter, the Beat, UB40, Macka B, the Toasters, and we have stuff booked this year with Bad Manners and Neville Staples. I guess something that springs to mind straightaway is that it would be nice to play with Madness and the Specials, just to get the 'full set' as it were, of 2Tone bands anyway. A full list of all the people I'd like to do gigs with would be pretty long, really just a list of bands I like – and if everyone in Jungle Lion contributed, it'd be pages and pages long – I suppose to be 'realistic' about it, I'd have to say that really we're all about the live show, and getting people up dancing, so other bands who have the same focus would make the most sense. Personally, I'd love to do a gig with Antibalas, but I think I'd feel a tiny bit intimidated by the incredible god-like power those guys have going on. https://www.youtube.com/watch?v=P3xAQP6NDeU.
Me: What are your favourite songs to perform and why?
Dave: My personal favourites are the ones that get the audience the most pumped up, as this raises the intensity of the gig overall, which is the whole point, to my mind. Different audiences go for different songs, and there have been plenty of occasions in the past where we've put a new song in the set that we're all excited about, we've done a few gigs with it, and then dropped it because people just didn't get into it that much. There are some very reliable ones, off the top of my head I would say that 'Monkey Man', 'Gangsters' and 'One Step Beyond' are songs I always look forward to playing, no matter how well a gig is going, because I know they'll always push the atmosphere up another level.
Me: You describe your gigs as "triumphs of skanking mania" but what is skanking mania and how do audience members who are new to your gigs spot it?
Dave: I think maybe I have described our gigs as "triumphs of skanking mania" on one occasion, when I was trying to think of something new to say (writing PR blurb is awfully tiring if you have any sort of conscience) – basically, skanking is a sort of dancing that you find going on where there's SKA music, if some kind of young musico-anthropologist wanted to spot this phenomenon in the wild, the best thing to do would be to come to one of our gigs and get stuck in down the front, having imbibed a few pints of 'science lubricant' first.
Me: What's up next for Jungle Lion and its members?
Dave: As always – more gigs and an ever expanding repertoire of songs. Hopefully travelling to new places and playing to new audiences, and making enjoyable, memorable nights where everyone has fun. :).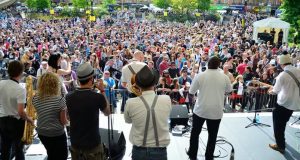 For further information on Jungle Lion, including forthcoming tour dates, visit www.junglelionska.co.uk, like them on Facebook at www.facebook.com/pages/Jungle-Lion or follow them on Twitter at http://twitter.com/#!/JUNGLE_LION_SKA.
Jungle Lion's next gig is on Friday 6 April 2018 at Wadsley Bridge Working Mens Club. Tickets are £5. For further information on contact the club on 0114 231 3151.