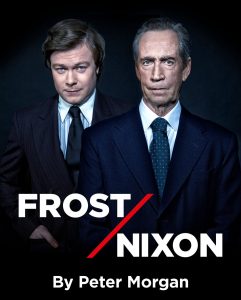 Frost / Nixon – 27 February 2018, Crucible Theatre, Sheffield
***** During a time of scandals related to the current US president, it's worth remembering that this is not the first time that scandals related to a US president have led to worldwide interest, something that being in the audience for Frost / Nixon at Sheffield's Crucible Theatre firmly placed back in the audience's minds.
In 1974 Richard Nixon became the only US President in history to resign from office, immersed in one of the biggest scandals in American political history: Watergate. For David Frost, international socialite and well-known chat show host, an access all areas interview with a fallen President is the career-defining opportunity of a lifetime. Nixon seeks absolution, Frost is pushing for confession. Both want to control the story, only one can emerge the victor.
Directed by Kate Hewitt, this captivating dramatisation of the post-Watergate TV interviews and  landmark play is its first British production since its award-winning 2006 debut.
By far the best play I have seen at the Crucible (and I have seen many wonderful productions there), the production did not feel like watching actors in a play but like observing close-up history and the people who were part of it as it unfolded before the audience's eyes. As a journalism graduate I also loved how the outstanding production gave an incredible insight into all aspects of 1970s television production from in front of and behind the camera, to behind the scenes and, thanks to the video design of Andrzej Goulding, on the digital screen resulting in an important reminder of the closeup and giving a documentary feel to the production which added further to it's realism.
The best performances of the night rightfully came from Jonathan Hyde as Richard Nixon and Daniel Rigby as David Frost, both of whom who had clearly studied the former president and chat show presenter, magnificently capturing their essence, charm, personality and survival instincts. Whilst Jonathan perfectly captured the fight to maintain presidential respectablity and reputation, Daniel brilliantly brought out the naive playboy presenter risking everything for the biggest life changing moment in his career.
In a cast where all performances can be described as faultless, I must also give a special mention to Ben Dilloway as Nixon's chief of staff Jack Brennan and David Sturzaker as Frost's researcher Jim Reston who combined wonderful acting to bring their characters to life with straight to audience narration that moved the story further whilst maintaining their characters own personal bias and commitment to the causes in hand.
Designer Ben Stones costume and set, alongside the flawless cast, transported the audience back to the 1970s, with even the backstage crew getting in on the action, staying in full 1970s get-up as they transformed the set between scenes. I must also praise writer Peter Morgan for the incredible script and director Kate Hewitt, for her crisp direction, which when combined brought the production stunningly and cleverly to life to unfold the lead up to one of the most important moments in television history to life in front of our very eyes.
I cannot encourage people more to venture through the snow (doing so carefully of course) to see this show, which is a must for anyone who loves theatre, world and cultural history or has ever wondered why every major scandal since has had the word "gate" put at the end of it.
Frost / Nixon is on at the Sheffield Crucible Theatre until 17 March. For further information, including a 60 second guide to the production and a link to the Watergate timeline, and to book visit www.sheffieldtheatres.co.uk/whats-on/frostnixon.