Regina Spektor – 10 November 2016, Albert Hall Manchester
---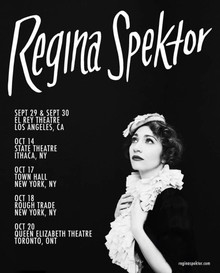 I was late coming to Regina Spektor's music, first discovering her through her song "Us" on the film soundtrack of "500 Days of Summer" and then through my boyfriend who is a fan (apparently we have all her albums in our house somewhere), but my love for her amazing voice, incredible lyrics and beautiful piano playing has since made me a huge fan, with her "Begin to Hope" album being my soundtrack of choice when volunteering on the shop floor of the Oxfam Shop on Ecclesall Road in Sheffield on Saturday mornings. So when my boyfriend mentioned she was performing live at the Albert Hall Manchester I was thrilled when he booked us both tickets.
For those of you who haven't come across her, a situation I'm trying to resolve by recommending her to everyone I meet, Regina is an American singer-songwriter and classically trained pianist who was born in Moscow in 1980 and emigrated with her family to the States when she was nine and began writing her own songs in her teens. The tour is promoting her new album "Remember Us To Life" (her seventh studio album and first new album in four years) but also included many of her classic tracks:
On the Radio
Grand Hotel
Older and Taller
Bleeding Heart
Tornadoland
The Light
Small Bill$
You've Got Time
Ballad of a Politician
Après Moi
Black and White
The Trapper and the Furrier
Sailor Song
Blue Lips
Obsolete
Better
Sellers of Flowers
Silly Eye-Color Generalizations
Don't Leave Me (Ne Me Quitte Pas)
Us
The Visit
Fidelity
Hotel Song
Samson
Regina is a unique performer who realises that you do not need support acts, stage set ups, choreography and glamourous costumes (though she got a lot of red shoe emvy) to make a great show and instead need a small backing band, a piano, a bottle of water, some hand cream, a couple of microphones. She was at her brilliant best when sitting at the piano appearing lost in her own music and lyrics and showing her incredible range rather than standing up and interacting with the audience, though contradicting this two of my favourite parts of the evening were her thoughts on this week's presidential election and relating it to the stages of grief and her unaccompanied "Silly Eye-Color Generalizations" which I had never heard before and loved.
I most admit that prior to the gig I found some of the tracks on the new album too main stream for my personal tastes, though loved tracks like "Older and Taller" and "The Trapper and the Furrier" made buying the CD a more than worthy purchase, during the gig itself all of the songs shone and were made her own without a need for over production.
I left the gig feeling like we had been privileged to witness such amazing musical talent in a beautiful and intimate venue (I'd recommend getting tickets to a show at the Manchester Albert Hall and heading up to the balcony to sit a couple of stairs up opposite the stage bringing a jacket to sit on), having developed a girl crush on Regina, realising I knew far more of her songs than I thought (though the "Sailor Song" is another new favourite) and considering even more so that "Us" and "Samson" are two of the most beautiful love songs written of our time. Whilst walking to the car park after the gig my boyfriend and I were already planning to see her again next time she tours the UK.
Regina's European tour ends with only five UK dates, with only three of these left, including Bristol Colston Hall on 12 November and the Royal Festival Hall, London on 14 and 15 November.