Made in Dagenham – 15 November 2016, Lyceum Theatre, Sheffield
---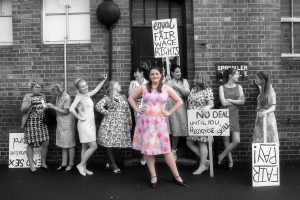 After seeing STOS Theatre Company's production last year, which was one of the best amateur productions I have ever seen, I knew I wanted to see them again so as soon as tickets went on sale I was booking for the opening night of their new show Made in Dagenham, at the Lyceum Theatre, Sheffield.
Inspired by a true story and based on the hit movie, Made in Dagenham is an uplifting musical comedy, about friendship, love and the importance of fighting for what is right. Set in Essex in 1968, it tells the story of Rita O'Grady (played by Kate Parkin) who each morning worked hard enough trying to get her husband (played by Phil Probert) out of bed, get the kids Graham and Sharon (played by Ben Nix/Oliver Allwood and Ruby Grace Birch/Freya Yates) off to school and get to work at the factory on time. Rita's life changed forever when it's announced that the girls in the sewing room of Ford's Dagenham car plant would have their pay grade dropped to unskilled. Drawing on a strength she never knew she had, Rita leads her colleagues in a battle against the might of Ford and the corruption of the union that is supposed to protect them. As the girls' inspiring journey gets bigger than anyone could have imagined, the pressure is too much for some, the audience will discover if Rita can keep up the fight and the happy home she's worked so hard for?
I will happily admit to loving the show, which was strong in the first half and even stronger in the second packed full of crisp choreography and incredible voices from all cast members making the show almost a Dagenham opera, great use of a minimal set, friendship and passion shining through, a well timed bird and of course the "We want sex" half unfolded sign. Racing to the end of the show, which raced through all us audience members emotions from happiness to sorrow, anger to empowerment, I was also delighted that the band and back stage team were included in the encore.
It's hard to pick out stand-out cast members from such a superb overall cast but specific praise must go to Kate Parkin and Phil Probert, who made a great couple and left me rooting for them through the nearly three hour show; Jill Beckett as Beryl who combined great humour and language with an unexpectedly soulful voice; Suzanne Bullivant and Sandra Beaumont who perfectly balanced humour with dim in the former and blonde in the latter; and Marie Mason and Phil Brownhill as Barbara Castle and Harold Wilson who combined great impressions of the MPs with the singing voices of Tommy Steele and an Essex Cilla.
For those of you not familiar with the musical numbers, look forward to the empowering anthem "Everybody Out", the loving duet "I'm Sorry I Love You", the feeling almost straight out of last year's show "Legally Blonde's" "This is America", the very moving "The Letter" and the dramatically stirring "Storm Clouds".
STOS aims to produce and perform top musicals made by and for the residents of South Yorkshire and have been watched by over 15,000 people in the last three years alone. You can add to these numbers and enjoy a brilliant, inspiring musical by seeing Made at Dagenham between now and Saturday 19 November at the Lyceum Theatre. To book visit www.sheffieldtheatres.co.uk/whats-on/made-dagenham/dates. If you would like to get involved with STOS either on or off stage visit their Facebook page.
I want to end this by giving special thanks to director Mark Feakins, choreographer Claire Harriott, musical director Anna Wright, set designer Mark Feakins and wardrobe manager Christine Minott, along the rest of the cast and crew and confirm I will be in the audience next year (probably with my mum rather than my boyfriend this time) for your production of "My Fair Lady" at the Lyceum Theatre, Sheffield from 14 to 18 November 2017.