Interview – Rob Kemp (aka The Elvis Dead)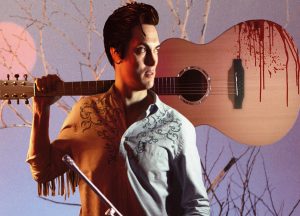 This year we will be celebrating Halloween on 1 November so we were delighted when Rob Kemp (aka The Elvis Dead (aka the reason we are celebrating on that date as he is bringing his show The Elvis Dead + Evil Dead 2 to the Leadmill) agreed to an interview. Intrigued, confused or just a fan of Elvis, the Evil Dead 2 film or both, read on:
Me: What can audience members expect from The Elvis Dead + Evil Dead 2?
Rob: From me they can expect a lovingly made, b-movie audio/visual concert, with a tongue in it's cheek and a promise of a good time (as long as you are willing to play along). From Evil Dead? Well, if you haven't before November 1st, it pleases me to offer you the chance to see it on a cinema screen. It is a horror comedy set in a cabin in the woods, where a group of people suffer after a demonic book is read aloud. It is 84 minutes of joy.
Me: Both are fantastic, but what is your favourite thing about Elvis and the Evil Dead 2 film and how did your merging of the two come about?
Rob: My favourite thing about Elvis is his warmth and charisma. The biggest rock star in the world and he was somehow approachable! (his voice is a given). I adore Evil Dead 2 in all of it's ridiculous Tom and Jerry cartoon violence and chaos. Bruce Campbell made a film called Bubba Ho-Tep*, where he played an elderly Elvis (who had swapped places with an impersonator to escape the limelight), fighting a soul-stealing mummy in a nursing home. (This film is exactly as wonderful as it sounds). After seeing it, I was chatting with friends about it, and we got on to Evil Dead, and ultimately they said I bore a resemblance to Bruce. This became a joke show idea, but I foolishly took it seriously.
Me: What are you looking forward to most about bringing the show to Sheffield?
Rob: I have done the show in Sheffield before and I had a great time because they were such a good audience. Sheffield has always been lovely to gig in and The Leadmill is a great venue.
Me: What's your favourite song to perform from the set that we as audience members should look out for, and without giving away to many spoilers, whereabouts does it fall in the story?
Rob: Viva Las Vegas is one of my favourites. It comes when Ash has to go back into the cellar in search of book pages. (about 4/5ths of the way through).
Me: Is Bruce Campbell aware of your show, and if yes, what does he think of it?
Rob: Bruce does know, I know he knows because he frequently gets tweeted after a show, and also, I queued to meet him at his book signing in London and told him directly. He was charming and politely refused my invite. I was pretty much last in the queue and he had been signing and greeting for hours, so I imagine he was tired and no longer in the mood. Maybe he'll come one day.
Me: You're performing the day after Halloween but if you could open your door to any trick or treaters alive or dead on 31st October who would you love to see standing there?
Rob: Rik Mayall, or David Bowie. For tricks or treats. So gutted they died.
Me: And finally, if you could have any power tool strapped to your arm which would you choose?
Rob: Now, I don't tend to have to fight Deadites, so in my less world-saving life, a leaf blower would probably be more useful on my arm, but that's only useful for part of the year. Same with a grit spreader. Ace during the winter, not so the rest of the year. A power drill, oooh no, a whisk! Or a carving knife. Actually a carving knife I'd probably the most useful day to day… and still succeeds in looking sort of cool… so yeah, a carving knife? I'd look like Ash's sidekick with the slightly less impressive weapon!
You can catch Rob on 30 October at The Leadmill, Sheffield in his show The Elvis Dead + Evil Dead 2. Tickets are £12.50 and available at www.leadmill.co.uk/event/the-elvis-dead-evil-dead-2.
For further information on Rob Kemp's The Elvis Dead, including forthcoming tour dates, visit www.theelvisdead.com. You can also follow The Elvis Dead on Twitter at https://twitter.com/RealElvisDead and like on Facebook at www.facebook.com/TheElvisDead.
*Please note that I had to take a break from typing up the interview at this point to order a copy of Bubba Ho-Tep as it sounded so good from Rob's description.