Ben Hur – 16 October 2018, Sheffield Library Theatre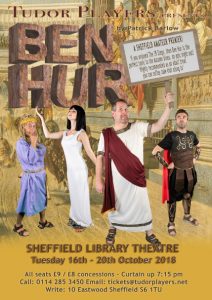 ***** When a theatre company promises to bring the greatest book ever penned to life on stage with a towering team of just four actors, and complete with a bona fide chariot race, with real chariots, an authentic sea battle, with real water, and a decadent and unexpurgated, suitable for all ages, Roman orgy, I had to be in the audience for the opening night.
Ben Hur turned out be an evening of side splitting, laugh out loud daft comedy perfection, offering something for fans of all types of comedy from physical and slapstick to farce and innuendo, brilliantly acted by the four cast members (Rob Duncan, Ross Banister, Charlie Gascoyne and Phil Gascoyne) who wonderfully pull off 27 characters between them whilst pretending to members of a completely different theatre company, brilliantly directed by first time director John Moran proving he is a directing natural, and brilliantly support from the stage crew, both on and off stage, the sound, set, props, wardrobe and dressers.
The production superbly brings the clever and witty comedy gold script of Patrick Barlow to life, with hints of inspiration from British comedy at it's best from Dad's Army to Monty Python and Carry On, and makes me wish I could travel back in time to 2012 to see the company's production of his version of "The 39 Steps" as even if it was only half as good as this production I would still be in comedy heaven.
I can easily compare the show to the likes of current professional comedy theatre tours including "The Play That Goes Wrong", as it is just as brilliantly professional and side splittingly funny at a fraction of the price, with even the audience participation and encore being amongst the funniest and cleverest I've witnessed. If you have seen the epic film the play is based on, I guarantee you will leave the theatre wondering why all the jokes were written out of the movie and why it needed such a massive cast.
Ben Hur is not only the funniest and best all round show seen by Tudor Players but one of the overall funniest plays I have seen on the stage. I genuinely can see no way to improve this production and urge everyone looking for outstanding comedy on a cold October evening to book their tickets.  In short, don't miss this show!
Ben Hur will be performed at the Library Theatre at 7.15pm until Saturday 20 October. Tickets, priced at £9 for adults and £8 concessions, can be ordered by telephoning 0114 285 3450 or emailing tickets@tudorplayers.net.
A leading Sheffield amateur theatre company for over 50 years, Tudor Players, named after Tudor Way where the Library Theatre is located, present three full length plays a year. Their recently announced shows for 2019 are Allo, Allo from 12 to 16 February, Cheshire Cats from 14 to 18 May and A Chorus of Disapproval from 15 to 19 October, all at Sheffield Library Theatre. For further information and to book visit www.tudorplayers.net.
P.S. I'm not going to apologise for the overuse of the word "brilliantly" in this review as this is the only way I can think to describe how brilliant it is.