Avenue Q – 23 October 2018, Theatre Deli, Sheffield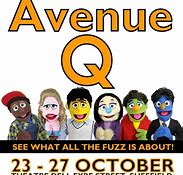 ***** When one of Sheffield's best amateur musical theatre company's invited me to the opening night of their production of one of your favourite ever musicals, I had to be there, knowing I was guaranteed to have a great night of loveable puppets, laugh out loud comedy and unforgettable musical numbers ahead of me.
Part flesh, part felt and packed with heart, Avenue Q tells the timeless story of a bright-eyed college student named Princeton, who arrives in New York City with big dreams and a tiny bank account, and has to move into a shabby apartment all the way out on Avenue Q, where he meets new friends, who together struggle to find jobs, dates and their ever-elusive purpose in life.
Everyone involved in this production should feel incredibly proud as the show hit all the high standards of the professional productions and, as someone who owns the original Broadway soundtrack of the show, I can confirm there is no differences between the quality of the musical numbers. Southey Musical Theatre Company also confirmed that not only can they produce and perform superb musicals but they can add an amazing talent for puppetry and comedy to their theatrical CV.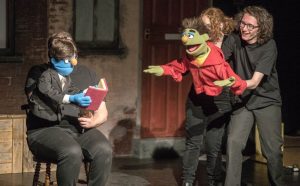 My stand-out performance of the night came from Mark Holmes and his puppet Rod, who were less puppeteer and puppet and more puppet and their shadow twin, both living through their experiences and emotions simultaneously and with great passion and providing my favourite ever interpretation of the character of Rod, with their chemistry with Ewan Fellows and his puppet Nicky confirming them as New York's definite Bert and Ernie for the adult generation.
This production is also the first time I've seen Gary Coleman (yes, that Gary Coleman) in puppet form and it worked wonderfully, with our 2017 Best Actor in a Musical winner Adam Walker confirming he's just as talented when it comes to comedy, puppetry and capturing Gary's attitude and personality, as well as, in his role as the superintendent of Avenue Q, cleaning the stage during the interval.
I must also mention Ben Bason and his puppet Princeton and Jennifer Horsfield and her puppet Kate Monster who between them brilliantly captured the highs, lows and excitement of first crushes and first love, and with the current attempt to reintroduce the humble cassette will make you wish the puppet you love would make you a mix-tape too.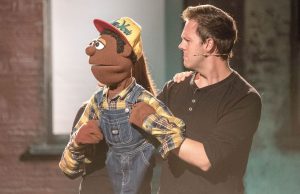 My favourite musical numbers of the night included "You Can Be As Loud As The Hell You Want", not only for Princeton and Kate Monster's imaginative naked moves but for showcasing Adam Walker's incredible voice as Gary Coleman, which smoothly blended the soulful musical qualities of Barry White and the Chef from South Park; "There's A Fine, Fine Line" not only beautifully showcased Jennifer's vocal and emotional range but reminded me why I relate so much to and if could have any puppet for a best friend it would be Kate Monster; "The More You Ruv Someone" between Lizzie Yoxall as Christmas Eve and Jennifer providing the most beautifully performed, moving puppet / person duet of all time; "Schadenfreude" confirming Adam has enough fantastic stage presence for both himself and Gary and the smooth, jazz voice to be a Broadway star; and the full ensemble, gloriously feel good "The Money Song" reminding us all of the important lesson that "when you help others you can't help helping yourself".
Anyone who is an existing fan of Avenue Q and its residents will love this production and anyone wondering why people love this show love it so much will be converted before it's even half way through the first act. I for one had a huge smile on my face from the second the "Avenue Q" theme began which stayed on my face throughout.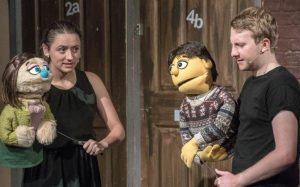 Ahead of the national professional tour of Avenue Q coming to the Lyceum next summer, this is your unmissable chance to see a fantastic professional standard production for a fraction of the price and at a smaller venue that allows to view all the puppet action in greater detail.
Southey Musical Theatre Company will perform Avenue Q at Theatre Deli, Sheffield at 7.30pm until Saturday 27th October, with an additional 2.30pm matinee on the Saturday. Tickets are £15. For information on how to book visit www.southeymusicaltheatrecompany.co.uk/current-production.html. Please note that at the time of publishing this the only shows tickets were still available for was the Saturday matinee.
With a history going back to 1933, Southey Musical Theatre Company is a Sheffield based amateur theatre company producing everything from full scale shows to intimate concerts. Their next production will be Joseph and his Technicolour Dreamcoat at the Montgomery Theatre from 4 to 9 December. For further information visit www.southeymusicaltheatrecompany.co.uk.