Tudor Players' FlatSpin – 29 June 2022, Library Theatre, Sheffield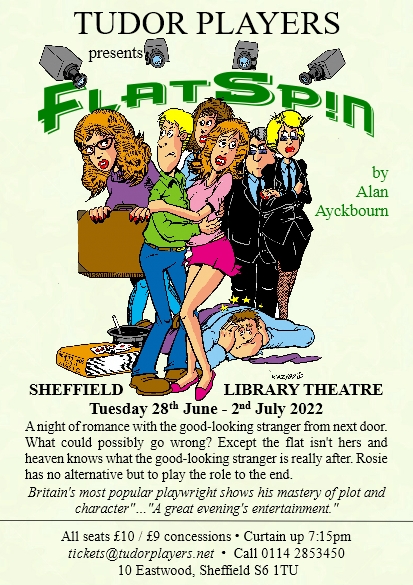 Review by Claire Chapman.

"After over two years both the Library Theatre and Tudor Players are back with one of the best performances I have seen by the company and my new favourite play from Alan Ayckbourn.

My stand out performance of the night came from Charlie Gascoyne as Rosie Seymore in a role that could have been written for her, showcasing her full acting range at its best and with her solo monologue in the first act being worthy of giving Charlie her own one woman show.

John Moran playing neighbour and love interest Sam Berryman beautifully combined the traits of all 30 something men I know, including another Sam who I wonder if will read this, when they meet a girl they really like, with obvious on-stage chemistry between them and their gnocchi moment being my favourite moment of the entire show.

As someone familiar with actor Joe Thompson, I admit I was nervous before he made his stage entrance when another character describes his character Tommy Angel as ex SAS as it sounded nothing like him, but Joe was unrecognisable in his biggest stage transformation yet, making me doubt for a moment it was even him and providing another of my favourite and unexpected performances of the night. I must also praise Charlie again, who I hope they don't mind me revealing is Joe's real life fiance, for hiding all chemistry between them no matter how much Joe in character tried.


Other cast members who deserve a special mention include Danni Birks-Hibbert, an existing favourite of our website for her musical theatre performances, proving she is just as talented in comedic roles as the leather clad badass Tracy Taylor (for Brooklyn Nine Nine fans think a British blonde Rosa) and Edwina Gascoyne as Edna Stricken, who just might give the audience nightmares with a performance best described as the Avon lady from hell.

It's hard to write this review without giving the plot away but this was a play that was equally a modern day romantic comedy that led the audience to almost forget it was a play and not us eavesdropping on real people and a contemporary dark comedic crime drama and this is thanks to the superb direction of Rod Duncan, who also took to the stage as Tracy's partner in crime Maurice Whickett, bringing out the best in the cast in a production that as the programme stated "has a beautifully crafted plot, is full of rich characters and is packed with laughs."

To conclude all I can say is welcome back Tudor Players and thank you for returning on a theatrical high."
Tudor Players are performing Flatspin at the Library Theatre until Saturday 2nd July. To book visit www.tudorplayers.net/welcome.