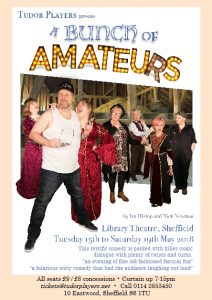 A Bunch of Amateurs – 15 May 2018, Sheffield Library Theatre
***** After being in an audience with Ian Hislop last year, I was intrigued to see how his comedy and writing, in partnership with Nick Newman, would work as a play brought to life on stage by Sheffield's Tudor Players.
Adapted from the 2008 film of the same year, the 2017 play A Bunch of Amateurs tells the story of fading Hollywood action hero Jefferson Steele, who keen to boost his flagging career arrives in England to play King Lear in Stratford, only to find that this is not the birthplace of the Bard, but a sleepy Suffolk village. And instead of Kenneth Branagh and Dame Judi Dench, the cast are a bunch of amateurs trying to save their theatre.
My stand out performances on the night came from Rod Duncan as Jefferson Steel, who had fantastic stage presence and perfectly captured the self-worth Hollywood actor attitude, tantrums and the fish out of water panic, and along with Charlie Gascoyne as his daughter Jessica Steel also brilliantly captured and maintained the LA accent; and Edwina Gascoyne as Dorothy Nettle who wonderfully brought to life the normally not seen amateur dramatics director on stage with genuine down to earth wit and feeling and the best lines of the show.
In an excellent cast, I must also praise Phil Gascoyne as Nigel Dewberry for his upper class pompousness, sarcasm and acting competitiveness presented with a hint of Andrew Sachs; Judith Wade as Mary Plunkett capturing the muddled star-struckness and the misery of unrequited love; Charlie Russell as Lauren Bell who brought to life the PR girl/physio attitude and put upon young wife and the blondness of her change of hair colour, whilst walking in killer heels; Charlie Gascoyne as Jessica, who joined her co-Charlie in a change of hair colour for the production, going bright pink and unrecognisable from previous roles to bring to life the Hollywood brat with a heart daughter; and Marcus Newman presenting the lovable Denis Dobbins as a 21st century Benny from Crossroads whilst wonderfully capturing the Suffolk accent.
In addition to their acting talents, I must also highlight Edwina, Marcus and Judith for their unexpectedly beautiful singing voices that brought to life Shakespearean style verses between scenes.
Reading the programme, I spotted that several of the company have a background in stand up and improvised comedy and this not only shone through in the cast's comic timing and delivery but also made me desperate to watch them to see their comedic talents in their other performing outlets.
Behind the scenes I have to celebrate first time director John Fereday, who after performing in ever Tudor Players production I have seen so far confirmed he is just as highly talented off stage as he is on; the set design and construction team for cleverly creating a theatre within a theatre; props for not only making the audience hungry with a takeaway on stage but also pulling together in a unique way Jefferson's list of demands; costumes for not only fitting out a whole production of King Lear but for the costume highlight of Mary's flamenco outfit which perfectly reflected her aggressive passion during her appearance in it; and Jill Hepple for writing and performing all the music in production, which was a great combination of Shakespearen and 70s' American cop show.
Co-writer Nick Newman describes the play as "a love letter to amateur dramatics" and I completely agree, with the speeches in one of the later scenes guaranteed to be understood, supported and appreciated by everyone involved in the amateur dramatics community that I have ever reviewed all will review in the future.
The third production in a row by Tudor Players that featured a play within a play and my favourite comedy so far that I have seen them perform, this production continues to prove that Tudor Players present consistently excellent productions that leave you highly entertained and feeling even more warmhearted than the unexpected May heatwave.
As someone who saw the film at it's release, this production brought the story up to date into a world of social media and selfies, confirmed that by far the best place to see this story of local theatre brought to life is on stage in a local theatre, and that the Tudor Players production of it should be seen and will be loved by anyone who has ever seen, been involved with or wanted to be involved with the world of theatre.
A Bunch of Amateurs will be performed at the Library Theatre at 7.15pm until Saturday 19 May. Tickets, priced at £9 for adults and £8 concessions, can be ordered by telephoning 0114 285 3450 or emailing tickets@tudorplayers.net.
A leading Sheffield amateur theatre company for over 50 years, Tudor Players, named after Tudor Way where the Library Theatre is located, present three full length plays a year. Their final production of 2018 is the Sheffield premier of Ben Hur, brought to stage with just four actors, at Sheffield Library Theatre from 16 to 20 October. For further information visit www.tudorplayers.net.