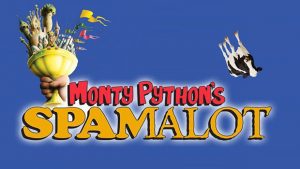 Spamalot – 16 May 2018, Montgomery Theatre, Sheffield
***** After recently being introduced to the comedy of Monty Python by my boyfriend, I was delighted that we could both be in the audience for the opening night of Southey Musical Theatre Society's production of the Monty Python musical Spamalot.
Winner of the 2005 Tony Award for Best Musical, Spamalot is an outrageous musical comedy lovingly ripping off from the film classic Monty Python and The Holy Grail and retells the legend of King Arthur and his (misfit) Knights of the Round Table. The show features a bevy of beautiful showgirls, flying cows, killer rabbits, with burning and flatulent French people, not to mention the comedy song classic Always Look On The Bright Side Of Life.
The show was written by Monty Python legend Eric Idle, who has been entertaining the public for over 50 years. The funny man also wrote the score alongside John Du Prez who is famous for his work on Monty Python's The Meaning of Life amongst a host of other big-name film scores.
This production of Spamalot is the most entertaining musical I have ever seen and one of the best all round musicals I have seen on the Sheffield stage, with the cast, crew, orchestra, choreography, props and sets combining not only to perfectly capture the spirit of Monty Python but also serving up a truly professional show throughout. And if you do not consider yourself to be a Monty Python fan then even if the production does not convert you, you will still be in for a hilarious evening covering every type of comedy from slapstick to one-liners, as well as all the aspects of a traditional musical that you love, that is guaranteed to not only leaving you in side-splitting stitches but singing along from the very first fish slap.
You can truly tell that director Chris Badham is a life long fan of Monty Python by how fabulously he has brought their unique style and comedy to the Montgomery stage.
The two standout performances of the night came from Gina Townend as the Lady of the Lake, who not only continued to prove she has amazing stage presence and one of the best and most versatile singing voices on the Sheffield stage, that should be destined for the West End,  but also that she is not afraid to make fun of herself, highlighted at it's best in her unforgettable musical numbers "The Song That Goes Like This" and "Diva's Lament"; and of course Mark Holmes as King Arthur, who would have made Graham Chapman proud, performing with great leading man stage presence, optimism and charm even when playing opposite the voice of Eric Idle as God, and, without the need for any classic comedy ingredients, getting everyone giggling with his breathtaking performance of the ballad "I'm All Alone".
Other highlight performances include Eli Ingle as King Arthur's Baldwick style horse Patsy for not only mastering the essential coconut halves but displayed a beautiful singing voice, chirpiness, and a perfect whistle during the essential musical number "Always Look on the Bright Side of Life", supported by the ensemble with a hint of another of my musical favourites Singin' in the Rain; Joe Cowling who smoothly transformed from Scouse man of the people Dennis to Tom Ellis style Sir Galahad, with a mullet Pat Sharp would be proud of; Mark Litherland as Sir Robin, who played the role with wonderful posh campiness, sensitivity and theatrical loveiness; and Richard Grainger as Sir Lancelot, who came into his own and proved he is the bravest knight of them all in his Village People inspired "His Name is Lancelot" disco moment in the spotlight.
Also Frank Badger at the Historian, who would not have been out of place narrating Little Britain and who I secretly wish was wearing stockings and suspenders underneath his tower, Rocky Horror style; Richard Granger as the Head Knight of Ni, who had the entire audience in stitches before he'd even spoken his first "Ni" and stayed brilliantly in character even when his helmet did not; and Steve Pashley as Prince Herbert, who with a hint of Les Dennis, sang with an unexpectedly sweet singing voice.
Out of the Laker Girls, who crisply combined red coat style enthusiasm with Las Vegas glamour, cheerleading and can-caning, and the rest of the ensemble, I must especially praise Jessica Anderson who reminded me clearly of Hi De Hi yellow coat Nikki Kelly; Ellie Richards for her rabbit miming; and combined for the best physical comedy of the night and the biggest laughs by far, Lynne Hickey and Paul Black.
And for those Holy Grail fans wondering how the Black Knight (played by Paul Webster) sketch will be brought to life on stage, you will not be disappointed and for those who are new to this classic comic creation you are in for comedy gold.
During a week of several excellent productions in the steel city, I promise you that you will not find a better show to be in the audience for than than this and guarantee that you will be grinning at the memory of it for a long time to come.
Spamalot will be performed at the Montgomery Theatre, Sheffield until Saturday 19 May at 7.15pm, with an additional 2.15pm matinee on the Saturday. Tickets are £15. To book visit http://www.southeymusicaltheatrecompany.co.uk/current-production.html, email smtctickets@gmail.com or telephone 0114 265 8688.
With a history going b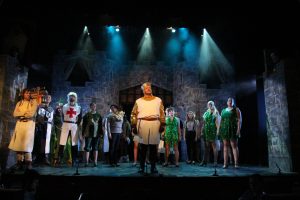 ack to 1933, Southey Musical Theatre Company is a Sheffield based amateur theatre company producing everything from full scale shows to intimate concerts. Their next productions will be Avenue Q at Theatre Deli from 23 to 27 October and Joseph and his Technicolour Dreamcoat at the Montgomery Theatre from 4 to 9 December. For further information visit www.southeymusicaltheatrecompany.co.uk.
P.S. If like me and my boyfriend you have a pet rabbit please do not take them to this performance, as if they don't develop a fear of mime or giant wooden structures they may learn some bad lessons from a white rabbit.