Carmen – 22 August 2017, Kelham Island Museum, Sheffield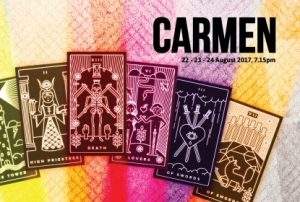 I have a confession, I know nothing about and have never seen an opera, but Carmen performed in English and transported to my favourite decade the 1980s, at a venue I love, Kelham Island Museum is a great place to start.
The opera tells the doomed love story of the naïve yet aggressive Don Jose and the seductive and dangerous Carmen who is drawn to Don Jose after finding him different to the other men who ogle and grab her. As they fall in love, both of them get more than they bargained for as their volatile and tumultuous relationship is pushed to the extremes of human emotion before a battle for Carmen's heart with new love interest Escamillo leads to a dramatic climax.
Presented by Opera on Location, who are celebrating five years of music-making in Sheffield, the opera has been transported to a dark and unsettling 1980s setting, with Kelham Island Museum providing the ideal backdrop for a gritty interpretation of this classic tale. The performance promised to explore cultural themes and issues, including people trafficking and abusive relationships, prevalent during the 1980s and transport the opera to a new era and promises to be as surprising, captivating and stirring as it has always been.
In a show where every cast member's operatic voice was more marvellous than any voice I had ever heard live before on stage (I became so use to hearing every word sung that the occasional spoken word almost felt out of place) I have to give special mentions to Gareth Lloyd as Don Jose and Aiden Tweedale as Escamillo whose voices where so powerful they were almost to large for the large venue, with for most of the show Gareth's filled with innocence and love whilst Aiden's was filled with charm and arrogance. Sophie Goldrick in the lead role of Carmen sang not only with powerful passion and spirit but with a sexuality and sensuality I never thought possible with opera and the growing love and chemistry between her and both her suitors came across naturally.
Other cast members who deserve a mention are Andrea Tweedale as Micaela who sang with a Rogers and Hammerstein operatic beautiful voice that was both innocence and full of friendship and unrequited love for Don Jose. Christopher Littlewood as Remendado and Oliver Gildea as Dancaire proved that opera singers could be terrifying and that you wouldn't want to bump into their characters in a dark alleyway (or even a light one) however mesmerising their voices are. The friendship between Chloe Saywell and Victoria Gray as Frasquita and Mercedes shone throughout and they perfectly complimented each others voices in their duet at the beginning of act three, whilst reminding me why I never go near tarot cards.
If I hadn't been sitting two rows away from the incredibly talented pianist (and musical director) Juliane Gallant I would have almost forgotten that it was just one person and not a large orchestra performing beautifully throughout the opera.
The opera working incredibly well in the industrial 1980s setting, with the company's producers Kathryn Gasic and Gareth Lloyd not feeling the need to resort to the extreme stereotypes of the decade and with the sportswear, double demin and early Madonna inspired looks brilliantly masking the unexpected incredible operatic and acting talents of the cast members within. The brilliant direction and acting by the cast, including stage fighting, harassment and seduction, meant that even if the opera had not been sung in English the audience would still have been drawn in and have been able to follow the story.
The minimalist set perfectly suited the industrial venue and the small stage and lack of stage curtains meant the cast had no where to hide and led to the brilliant use of the space surrounding the stage and the audience and making the cast's entrances and exits on to the stage part of the story, whilst the sun setting outside of the huge factory windows during the performance perfectly complimented the mood of the opera as it became darker.
This production is one of the best shows I have seen, well and truly opening my eyes to the world of opera, which shouldn't be missed by those new or old to opera, lovers of musicals and dark romantic tales or anyone who is a fan of the style and attitude of the decade, though you should be prepared for an intense tragic climax and sore hands from applauding this fabulous show so much at the end.
Carmen is being performed by Opera on Location on Wednesday 23 and Thursday 24 August at 7.15pm. Tickets are £21 (£19 concession) including a £1 booking fee. To book visit http://sivtickets.com/event/carmen2017, telephone 0114 223 3777 or visit the Sheffield City Hall box office in person.
Opera on Location, formed after the success of the production A Midsummer Night's Dream in August 2013 from a group of young professional singers and producers, is a vibrant opera company based in Sheffield with a reputation for captivating performances in unusual locations, including a full scale annual summer production and a three venue tour each Spring. They aim to perform professional opera in real locations that do not have an opera provision and provide opportunities for young singers on the cusp of their professional careers. For further information visit www.operaonlocation.co.uk.
Located in one of Sheffield's oldest industrial districts, the Kelham Island Museum stands on a man-made island over 900 years old. The museum opened in 1982 to house the objects, pictures and archive material representing Sheffield's industrial story. For further information visit www.simt.co.uk/kelham-island-museum.