A Chorus Line – 10 April 2017, Yellow Arch Studios, Sheffield (Written by guest reviewer Peter Taranaski)
Tickets available for the show between 10-13 April 2017 here
Easy Street Theatre's Facebook page here
Introduction
Through the courtyard and into the rather hip and bohemian venue known as the "Yellow Arch" in Sheffield; there is a musical story of audition, hope and identity taking place. You can go see the dancing in Cats, you can be see absurd profanity in "The Book of Mormon", or even be taken in by the sadness and drama of "Phantom of the Opera." But if you fancy a musical more grounded, more exploratory (and yet still non-judgemental) about people and what they want from life and the stage, then "The Chorus Line" by Easy Street Theatre Company in Sheffield should fulfil this need for you, no problem.
I say that it is about people wanting to perform on the stage, it's appeal doesn't end there.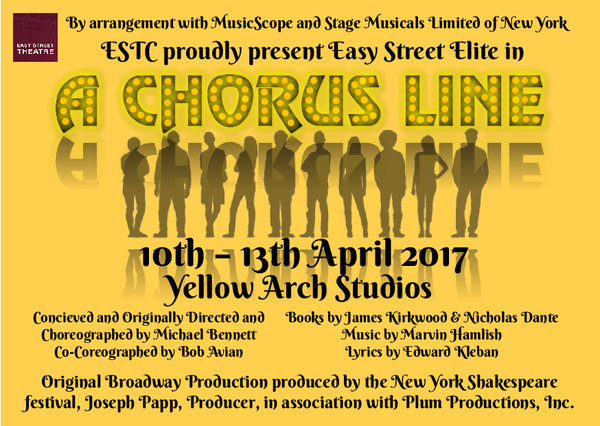 What it's about
The characters are dancers who really want to be chosen to take part in a Broadway show, they come from all sorts of backgrounds and the joy is seeing these stories enfold on stage. They don't really have to be dancers though, the stories that come through involve regret, and heartbreak with each member having their reasons for looking for work and keeping afloat in difficult times. Easy Street do a good job of expressing the themes within it be it sexual identity, the role of parenting, gender, and whether people feel powerful in the world or not giving the show a lot of social weight and a philosophical attitude. Among some of the most poignant themes are those toward the end of the show where the dancers are asked to consider their futures, and what they want outside of the here and now (despite the process being about the here and now). It all works together wonderfully.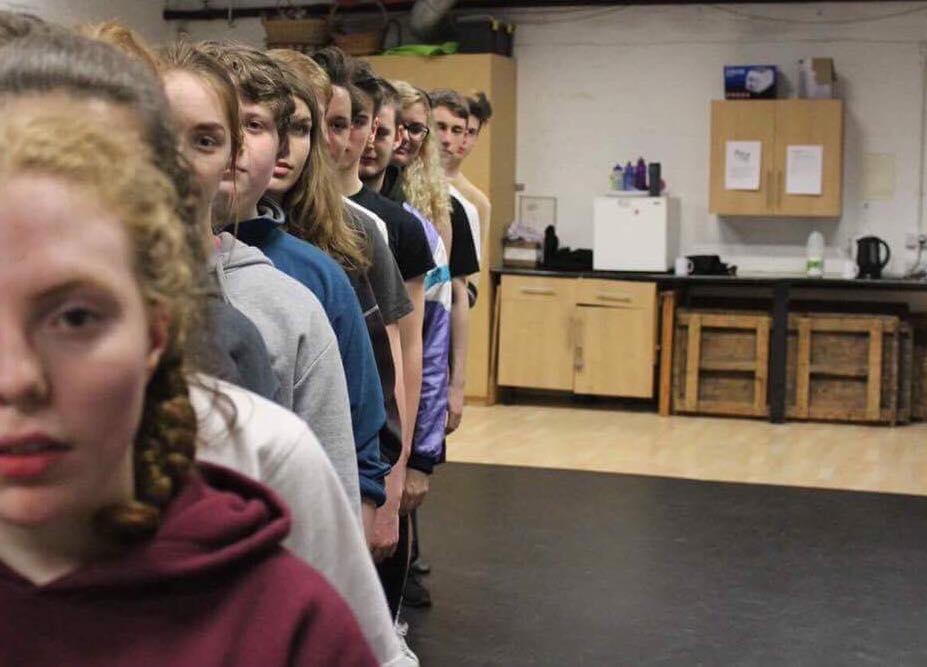 The Setup
So following on from their last performance of Les Miserables, Easy Street Theatre continue their journey of creating a musical theatre adventure in this public space. Quite different to their usual shows in the Montgomery Theatre, "Yellow Arch Studios" does actually suit this show (even with a few minor niggles). The stage is smaller and the orchestra is pretty much alongside the audience, but in this story it helps bring the audience closer to the action, you feel almost in the audition itself. The choreographer, Amanda Tya has adapted to this change in location well and found some good spaces for dancing to take part in (particularly during the character Cassie's dance solo).
Director Chris Hanlon has done a good job in wringing some good emotional interpretations from the cast as they shine quite extensively on the boards. It is quite a mature musical in a number of ways, there is an aura that the actors have become committed and focused in particular with this performance. The show is taken in a single take without an interval after all and the young actors continue without breaking much of a sweat, but it goes beyond this. After all there are mature themes as the musical explains, considers and justifies some deep and meaningful attitudes about the lived experience of women and homosexual men and how this has taken an emotional toll on them. The actors portray these, but not just these. There are also a lot of lighter moments and songs which are pretty damn funny, Easy Street have managed to communicate the joys of the characters also . Special kudos towards the choice of a show with a full spectrum of female characters of various strengths and outlooks that go beyond the  musical stereotype of the "sweet" and "cheerful" supporting lady who is "lost in love." With so many examples, The Chorus Line is a great showcase of writing for and about women. So what about the actors in this performance?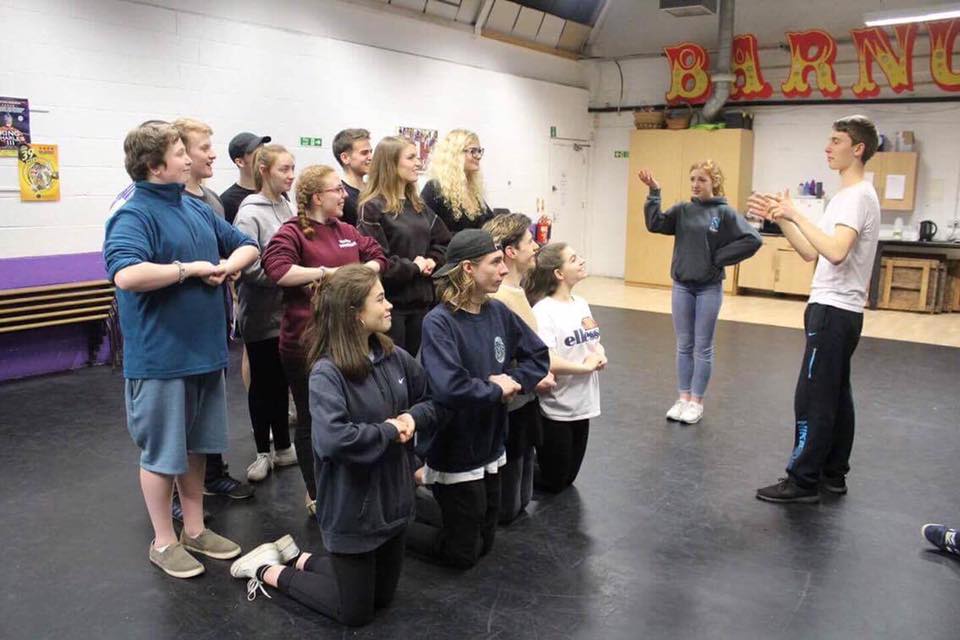 The Actors
There are many good turns from the cast who do well for being aged predominantly 20 and under. It is a consummate effort by all, but there is only so much space here, so here are my highlights:
To kick off, in no particular order. Alex Flaherty does an exceptionally good turn for his first role for Easy Street as "Richie." The character of the role is often laidback, relatable and more adjusted than many of the other roles, some might consider this an easy role but Flaherty brings a quite dynamic natural to the part and as with many of the actors here, (including Ella Jay Morley's "Maggie") a great singing voice. Back in consideration of the commitment of actors, it seems like many might have had to learn tap from scratch. Harry Foster-Major's "Mike's" tap routine certainly looks like he's put the hours in.
For her first principle role, Beth Eyre does exceedingly well as "Cassie."An actress filled with disappointment and self-doubt, she is one of the most central figures. Her character has been been in a relationship with the director character (Zach, Danny Hawley) in the past and this has a number of implications for what has happened between them, as an audience this is followed well by some good on-stage chemistry. It takes some welly for a young actress to bring a feeling of redundancy to their role when "Cassie" has been through the machines of Broadway and over the wheel of success and failure. Beth manages it all smoothly, her solo dance is something worth watching out for too, there is a ruby red blaze in the stage space as her movement and character shines through. There is a dash of Maisie Williams to her.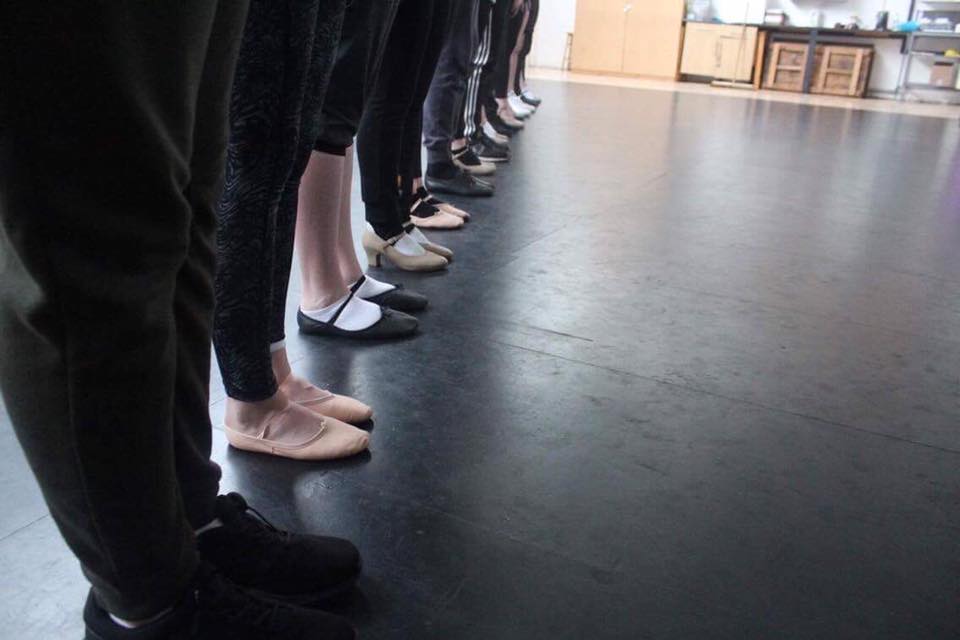 Next I have to mention Harriet Wade's "Val". It's not every day you hear "Tits" sung out in an array of combinations and styles, but throughout the early show and the build up to her number, "Dance 10, looks 3" we get this and a far from cutesy, safe showing of this woman of action. The character is considered rather vulgar and unrepentant in explaining how she gets surgery to get ahead in her career (due to being told that she could dance but was not attractive enough to succeed). The world treats her in this way, she sees the pictures and does something about it. I suspect a role challenging for a lot of people, Wade takes it and doesn't look back (except maybe to point at her derriere for the aforementioned number). It is safe to say she commands the audience and takes centre stage quite often, a brasher Jessica Rabbit maybe. Another actor up there with a considered theatrical sass is Megan Dixon's "Sheila". Similar to "Val" in confidence but more dressed down to impress, Dixon's body confidence, presence and look of disdain at director Zach (Hawley) when he tells her to "be herself" is quite joyous. The actor builds walls with the character that are slowly taken apart brick by brick as the story continues; a wonderful performance all round.
Katherine Rice's "Connie" does not get as much backstory as some of the other characters, but she plays the role as good as it gets. Athletic and bubbling over with sugary energy she makes good use of the stage. Another example of defiance her acting is delightfully compensatory for the small stature of her character, if she was a coffee she would be like the dangerous ivory glint of a fresh espresso during your lunch break. Her part of song referencing her height (4″10) and her strong vocals during "What I did for Love" draw a lot of deserved attention.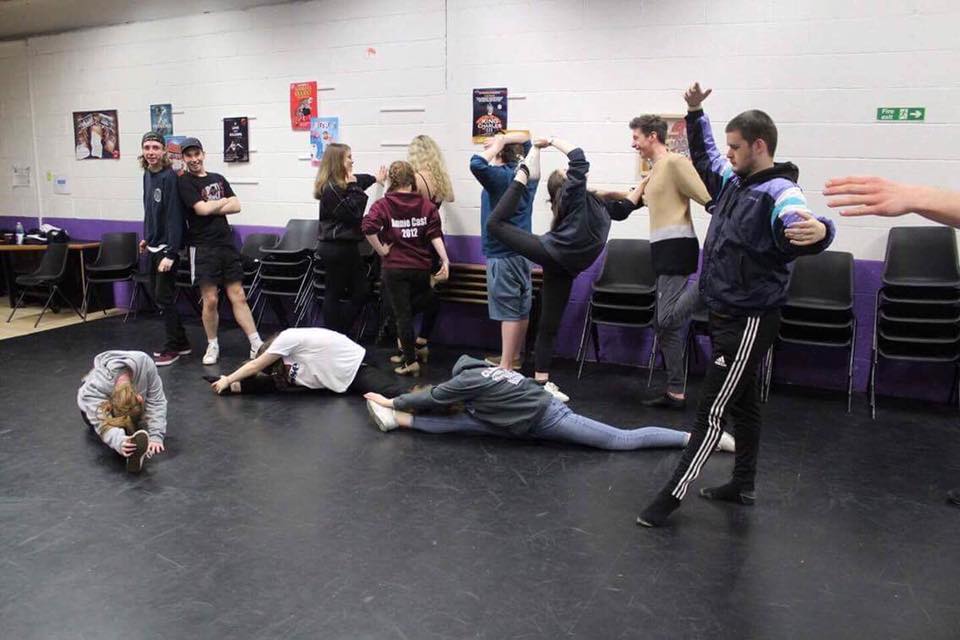 Emma Nielsen's "Diana" is also quite memorable, for myself the choices she makes with the character. Playing a Puerto Rican woman with a kind of gritty attitude that pushes aside those who disagree, she is very much a juggernaut that moves mountains with her performance. This is a large contrast to her previous role as the comic "Madame Thenardier" in the Easy Street Les Miserables show, she plays a sterner, more serious role and shows an engaging versatility. Her character is a "do-er", not willing (or maybe able) to articulate how she "feels as an ice-cream" during the "Nothing" song, she is quite probably being the everyday person's reaction to the elaborate and unusual acting preparation games that are performed in honing the craft. Think Michelle Roriguez."Diana"'s partner in crime "Paul" (another Puerto Rican character) gets one of the most moving points in the play as a young, gay character recounting his troubled and difficult circumstances leading up to the audition. He celebrates a great character with a nuanced and admirable bit of talent in  some of the best scenes in the musical, the quieter, emotional moments. He does not waste any of them.
Finally I want to mention one of the biggest laughs of the evening that came from Helena Anderson and her portrayal of the tone-deaf dancer and singer "Kristine." The crowd moved rather a lot in pain and delight during her rendition of "Sing", her voice was so well controlled and grating I am pleased I was not holding a beer, lest it break and dribble down my shirt. This is certainly well received by the audience, with large claps (as difficult as they are to fit into a continuous production); for me, it is the best comedy moment.  Ed Maxted's "Bobby" is also comedic in his sex-scapades, and Ted Tooley's "Mark" handles the extensive, machine-gun profanities of the show with obvious ease, rounding off my write-up.
In Conclusion
A dedicated and highly spirited performance of a play that due to it's mature themes you'd think would be better suited for an older cast. The guys at Easy Street however tackle the subject matter well with an energy of youth and a mature, heart-felt performance; it get's you right in the heart. If you are not sure, you should give it a go; it is comedy and tragedy in equal measure, peppered with philosophical sentiments about life and society. Its intertwining stories and personalities make is a surefire hit.
The show is running from 10th-13th April, tickets cost £15 you can get them from the website "Party for the People" here.