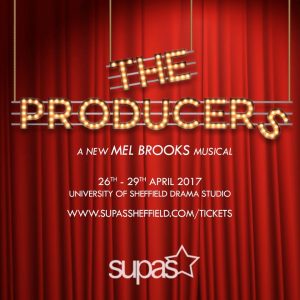 The Producers – 26 April 2017, University of Sheffield Drama Studio
***** If it wasn't one of my boyfriend's favourite musicals I may never have discovered Mel Brooks' The Producers but after seeing the hilarious original film I was delighted that we were both in the audience for Sheffield University Performing Arts Society (SUPAS) production of the show at the University of Sheffield Drama Studio from 26 to 29 April.
Impoverished by a string of flops, the award-winning musical comedy tells the story of New York producer Max Bialystock (Calum Black), who recruits timid accountant Leo Bloom (Will Prosser) to help him pull off Broadway's greatest scam. They aim to produce the worst show ever "Springtime for Hitler" and run away with millions, but they soon learn that show business can kick you in the teeth.
SUPAS turned out to be the strongest university theatre company I have seen and I couldn't imagine a professional touring company being able to pull off a production of "The Producers" that was better than there's.
Kicking off with the chorus and dancers singing and dancing with perfect voices and crisp choreography from the opening number "It's Opening Night" the superb quality of the show only continued with the operatic "The King of Broadway", which began the show's showcase of Calum Black's powerful operatic voice and comedy persona, timing and physical humour which stayed on top form throughout, especially when opposite Will Prosser, who pulled off nervous hysteria brilliantly and made the two of them the show's very own version of Laurel and Hardy.
In the scene in the accountants office Zac Lewis pulled off the 1960s boss Mr Marks with perfection (and just a hint of Mr Burns from "The Simpsons") whilst Will Prosser in the scene's number "I Wanna Be a Producer" displayed a singing voice that would not be out of place in a Broadway or Rogers & Hammerstein musical, accompanied by the company's dancers, who proved they can also add tap dancing to their CVs.
Kirsty Hobbs as script writer Franzine brilliantly combined "Allo Allo's" Helga Geerhat and "Chitty Chitty Bang Band's" Baroness Bomburst, perfecting the German accent and stereotype with brilliant comedy timing, alongside Nazi pigeons that even as someone with a phobia of birds I didn't find scary.
Moving on to the scene at the director's house Jonathan Cooke pulled off campness with style, pearls and glitter as assistant Carmen Ghia only to be brilliantly upstaged by Chris Ventom as the director Roger De Bris in a tiara, dress and showing off a beautifully feminine singing voice in "Keep it Gay" only for the campiness to go up another hilarious level by four fifths of Roger's team especially when they finished the scene and the number congo-ing off the stage.
Bea Derrick brilliantly pulled off Ulla Sweddish actress/love interest/receptionist working her inner European Marilyn Monroe with great dance skills and a high class cabaret voice, especially in her audition song "When You've Got It, Flaunt It". The chorus might not have been able to pull off the looks of old women in "Along Came Bialy" and the court scene but they had perfected the posture and voices and "Carry On" style sexual antics, including the only zimmerframe dance I have ever seen, especially Lucy Grant as Hold-Me-Touch-Me.
Act 2 opened with Will Prosser pulling off the old school romance of the song "That Face" and a cheeky 60s style sex scene that made my want to re-watch "Barefoot in the Park". This was followed by the audition scenes that can best be described as "Chorus Line" meets "The Play That Goes Wrong" with Hitler mustaches, before the band's conductor got his chance to perform opposite Franzine in "Haben Sie Gehort Das Deutsche Band?", where Kirsty Hobbs proved that she is hilarious even when singing in German.
In "You Never Say 'Good Luck" on Opening Night" I was reminded of the lesson that you should never say 'good luck' on opening night and instead say "Break a leg" (a phase I don't like using) unless it's the opening night of "Springtime for Hitler" in which case the line may be taken to literally, especially off stage by the sound department's sound effects (thanks to Ali Stringer, Nick Young and Lewis Brand). I learnt another lesson later on "Where Did We Go Right", Calum Black and Will Prosser's duet, which provided useful lines for theatre reviews (none of which I've used here) and reminded us all that actors are humans not animals.
With it's own curtain rise, "Springtime for Hitler" became a musical within a musical, performed with the same high standard of choreography and singing shown throughout the night. The worse show ever made was definitely not the worse show ever made, feeling the equivalent of the creators of "South Park" getting their hands on the "Sound of Music", and was definitely a show I'd buy tickets for in its own rights. It also features Chris Ventom being even camper than when he was earlier in a dress and reminded me of "Gay: The Musical" from the "IT Crowd" episode.
Calum's operatic and acting star shone even brighter in his emotional solo "Betrayed", including his side-splitting impression of Leo and summary of the story so far, proving that the actor is not just destined for great things but is guaranteed to go far and I can't wait to see what role he performs next.
One of the best musical's I have ever seen on stage, ended with the ultimate bromance duet between Max and Leo "Tell Him", with even Max acknowledging that Leo is a good singer, accompaned by the intentionally screeching chorus of old women, who even Max asked to stop. This was followed by the show's final song and dance number "Prisoners of Love" which proved that the spirit and hilarity of "The Producers" was destined to continue long after the cast took their bows.
Having the band on stage during the big musical numbers gave their superb musical talents the spot light they deserved and the minimal set (designed by Samuel McDermott and Beth Shaw) meant that the cast, the work of production team including director David Snelling and co-choreographers Hollie Eustace and Emma Lord, and the brilliant costumes designed by Lewis Brand shone through, alongside of the course the amazing script which smoothly combined comedy and Hollywood magic.
The Producers is on at the University of Drama Studio until Saturday 29 April at 7.30pm (doors open at 7pm) with an additional matinee performance on the Saturday at 2pm (doors open at 1.30pm). Tickets are only £9 for adults and £7 for concessions. To book visit www.ticketsource.co.uk/supas.
SUPAS is the University of Sheffield's only society specialising in musical theatre, putting on two shows each academic year at the University of Sheffield Drama Studio. They also run a variety of workshops, projects and have their own radio show. Their core philosophy is to have fun and be inclusive, a philosophy I fully support. For further information on SUPAS visit www.supassheffield.com. For further information on University of Sheffield Drama Studio visit www.sheffield.ac.uk/cics/performance-venues/drama-studio-octagon-firth-hall.