The History Boys – 22 February 2017, Sheffield University Drama Studio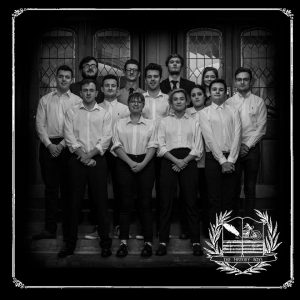 The History Boys is my favourite play (this is the fourth time I've seen a performance of it) and I'm a massive fan of the film and its writer Alan Bennett, and not just because it includes my favourite ever line "How do I define history? It's just one fucking thing after another", so I was delighted to be in the audience for the first night of Sheffield University Theatre Company's production of it.
Set in Sheffield in the early 1980s, the play follows a group of eight history pupils preparing for the Oxford and Cambridge entrance examinations under the guidance of three teachers with contrasting styles and shows how education, culture, friendship and sexuality make you who you are.
From my second row seat in a packed auditorium I enjoyed the best performance I have seen of the play, and not just for reminding me of the many other lines I love in the play, "gobbits" and a mention of my boyfriend's favourite philosopher. The play was well-rehearsed, with the cast making the lines their own, featuring clever direction (thanks to the director Beth Dawson) and paid respect to Alan Bennett (and not just with his photograph hidden on the classroom noticeboard). i hope the rest of the audience joined me in learning, thinking and being entertained and leaving us all wanting to "pass it on".
I must give high praise to Mike Alexander as Hector and Peter Reed as Posner, whose performances of these characters were the best i have ever seen, capturing their characters with perfection and in Posner's case with a beautiful singing voice during his rendition of "Bewitched, Bothered and Bewildered", acting of a scene from "Brief Encounter" and reciting of the poem "Drummer Hodge" (though anyone who has read Alan Bennett's current diaries will know the meaning behind the name Hodge has now changed).
Other cast members I need to praise for their excellent performances include Jack Hewitt as the headmaster who performed with a camp 1950s stereotypical poshness and was at his best during his final scene in the first half and along with the rest the cast playing teachers excelled at performing far older than their age.  In terms of the other history boys I must praise Tom Brindley as Dakin, Georgia Bell as Lockwood (my favourite ever History Boy) and Teah Lewis as Akhtar who brilliantly captured the attitudes of their characters, Ellie Pickersgill as Scripps, who was superb when speaking straight to the audience, and Christopher Ventom who took on the piano playing of Scripps role and got to storm off stage in the second half.
My favourite scenes included the French brothel (yes for those of you reading this you read correctly), the Holocaust discussion (which meant even more to me since my recent visit to Poland) and the mock interview scene were Emily Bowles as Mrs Lintott and Sebastian Belli as Rudge both shone, though he later proved he is no "Pet Shop Boy".
Praise needs to go to the sound department, including sound designer Adam Carter and sound operator Lewis Brand, for a fantastic 80s soundtrack in between scenes and during the interval, including the very Sheffield appropriate "Don't You Want Me" and "Together in Electric Dreams" and for capturing the sound of the tragic ending.
i was sat next to set constructor Karl Rayner (this was the first performance he had worked on) along with other members of the seat team including set designers Nina Carroll and Hannah Ghotbi-Ravandi and the lighting team made up of lighting designer Sam Costelloe and lighting operative Harriet Maxwell need to be praised for a clever set and lighting that enabled all the scenes to take place on the same stage with just the occasional desk re-arrangement, cleverly pulled off by the cast and school uniformed stage hands.
Don't miss The History Boys at Sheffield University Drama Studio until 25 February at 7.30pm (doors open at 7pm). Tickets are £7 (£6 if booked in advance) and are available from the Sheffield University Student Union Box Office in person, online or on 0114 222 8676.
You can also see the very busy Sheffield University Theatre Company's forthcoming productions Dr Faustus at Sheffield University Drama Studio from 8 to 11 March, Mary Stuart at Sheffield University Drama Studio from 22 to 25 March and Breathing Corpses at DINA on Cambridge Street, Sheffield from 3 to 6 May.