Sue Holderness – Interview
Ahead of starring in the UK tour of Quartet, I was delighted to interview "Only Fools and Horses" and "Green, Green Grass" star Sue Holderness.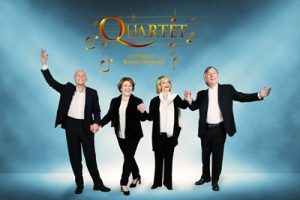 Me: Tell us more about Quartet and your character in the show?
Sue: My character in Quartet, Jean Horton, was a major star in the world of opera. In her heyday she was known as one of the finest sopranos of her generation. She retired very early, apparently to settle down and spend time with her children. We discover during the play that there was rather more to it than that. She is a diva. She still thinks of herself as a major star and expects all those around her to jump to her every whim. She's really rather a monster – so thrilling to play. The four characters are very different and seeing them interacting is great fun. Ronald Harwood is the most wonderful writer. I've been blessed in my career to be offered roles written by some of the very finest writers – Alan Ayckbourn, George Bernard Shaw, Terence Rattigan and, of course, the genius John Sullivan. Ronald Harwood is up there with the best of them.
Me: The show is about the hilarity of growing old disgracefully, what advice would you give to anyone to do so?
Sue: You ask me to give advice about the hilarity of growing old! Much of it isn't hilarious at all. Bits of you start to creak and the memory goes walkabout. My character in this is waiting for a new hip and is in constant pain (which probably accounts for some of her grumpiness!). But my advice would simply be to keep going! Walk a lot, eat well, and LAUGH. Laughter really is the best medicine – so come and see Quartet!
Me: What are you most looking forward to about performing in Sheffield? 4)
Sue: I'm greatly looking forward to our week in Sheffield because I've always had very good times in your beautiful city. I love the Millennium Gallery and the beautiful Winter Garden – that stunning glasshouse full of the most amazing plants. The shops are scarily tempting. And the people of Sheffield are always very welcoming.
The last time I saw you on stage was in Calendar Girls as Annie, are there any other stage shows you would love to perform in?
Sue: You mention Calendar Girls. I toured in that show four times with different casts and loved every second. It was such a "feel good" play and raised huge sums for charity. I would do it again like a shot. But Quartet is where I'm focused now and can't wait to start.
Me: You can't be interviewed without mentioning Only Fools and Horses. Why do you think your character entered the nation's hearts and what was your favourite Marlene moment, on or off screen?
Sue: Of course I'm always happy for Only Fools and Horses to be mentioned! It was probably the luckiest day of my life when I was offered the chance to play Marlene. And of course it led to the wonderful John Sullivan writing four series of the spin-off The Green Green Grass for me and John Challis where Boycie and Marlene lived on. My favourite Only Fools and Horses episode was From Prussia with Love where Boycie and Marlene nearly adopted a baby. It was wildly funny and terribly touching. John Sullivan could make audiences laugh hysterically but he also knew how to make them cry. Brilliant.
Me: Do you and John Challis have any more plans to work together on stage or screen?
Sue: John Challis and I have done four plays together and toured a little show about Boycie and Marlene for a while.  We are very good mates (which is lucky!) and would love to work together again if the right project came along. Fingers crossed for that.
Me: What's coming up next for you in 2018?
Sue: Well future plans for me are – tomorrow I jump on P&O's beautiful ship Oceana and sail to Antigua. I'm fortunate to be a guest speaker for P&O and my husband, Mark, and I just LOVE the life on board their wonderful ships. Then it's straight back to start rehearsing Quartet. Discussions are underway for next year's pantomime – and what happens in between remains to be seen. That is the joy (and the fear!) in this business. Who knows what might be just around the corner? Terribly exciting.
Me: And finally, apart from your three amazing co-stars in the show, if you could be in a quartet with anyone who would you choose?
Sue: I couldn't possibly imagine a better or more fun trio to be touring with in Quartet. Paul Nicholas, Wendi Peters and Jeff Rawle are THE DREAM TEAM.
Starring Sue Holderness, Paul Nicholas, Wendi Peters and Jeff Rawle, and written by Oscar winning writer Sir Ronald Harwood, the play is a brand-new revival of the bitter-sweet comedy, which celebrates the twilight years and the hilarity of growing old disgracefully. Quartet tells the charming tale of ageing opera singers; Cecily, Reggie and Wilfred who reside in a magnificent retirement home in Kent. The rumour circling the halls is that the home is soon to play host to a new resident. Word is, it's a star. Jean arrives and old rivalries resurface, secrets are revealed and chaos unfolds, but in true theatrical tradition – the show must go on.
Quartet is on at the Everyman Theatre, Cheltenham from Thursday 8 to 17 February; Lyceum Theatre, Sheffield from Tuesday 20 to Saturday 24 February; New Wolsey Theatre, Ipswich from Monday 26 February to Saturday 3 March, and Theatre Royal, Bath from 16 to 21 April.