Game Night – 18 May 2018, Merlin Theatre, Sheffield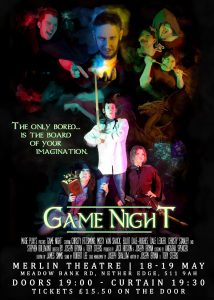 When offered a ticket to the opening night of a new company performing a new play at a newly re-opening theatre, I could resist the triple combination, which is how I found myself in the audience for Mage Plays Theatre Company's debut show of weird wonderfulness Game Night at the Merlin Theatre.
Written by local writers and Mage Plays founders, Joseph Bryan and Toby Steers. Game Night is a larger than life comedy about four friends; Jake, Amy, Ned and Rob, all of which, with the exception of the latter, are dealing with various social issues in their day to day lives at university. From exams to love to dim-witted deans, Rob decides that the best way to help his friends is through a game of Tombs & Mythical Beasts, a table top role playing game.
The audience were entertained from the moment they entered the auditorium, carrying the biggest glossiest theatre tickets I have ever seen that I personally will use as a bookmark, with great 8 bit versions of 80s hits and classic television theme tunes from Rick Ashley and Queen to Game of Thrones and Friends.
But what about the play itself. Contemporary, original and laugh out loud funny, with strong influences from Knightmare and Dungeons & Dragons, the production provided an insightful look into the lives and minds of students today for those of us well into adulthood and hopefully reassuring those in their teens that they are not alone with their issues, and will definitely appeal to anyone with any knowledge of table top games and those who play them, either as a player themselves or a table top widow, and at the very least will leave you leaving the theatre to plan your own next games night.
With clear friendship bonds shining through between and great protrayals of the emotions of student life from all of the four main friends, played by Elliott Dale-Hughes, Christy Fitzsimons, Dale Ledger and Missy Van Schiack, I must especially praise Christy as Jake, whose overall performance reminded me of a young Hugh Dancy, whilst his behaviour around the girl of his dreams Grace, played by Amy Blake, was reminiscent of Rik Mayall's character Richie around girls in Bottom; and Dale as the Game Master Rob, who not only brilliantly broke the fourth wall with great comic effect but also perfectly pulled off the obsessive character you can't help but like that anyone with gamer friends will know.
Outside of the four friends, other cast members who deserve a special mention include Amber Bryce, who if magic is a sulky teenager with attitude pulled off the role fantastically, Ian Whitehead who played the Dean/King with a bizarre blend of bumbling, authority, dim-wittedness and un-comfortableness that some how worked; and Luke Mosley, Christy Stanley and Melanie Hopkins as the evil bullies, who with wicked laughs and attitudes came across as the student equivalents of evil hyenas in a dark Disney animation.
In the same way that all great Hollywood blockbusters would not be completed without a montage, my favourite moment overall from the production was it's proof that all great theatre productions need a montage too, not only for the great comedic moments but also to provide my second pair of coconut halves in 48 hours.
In addition to the highly talented co-writers and directors of the show, including Joseph Bryan who stepping into an acting part at short notice, I must especially celebrate James A. Simms who provided some of the best use of lighting I have ever seen in a production, both reflecting the changing atmospheres of the scenes and adding cleverly to the overall comedy.
If you are wanting to see young, exciting, new theatre in Sheffield from a talented fresh cast and production team, with homemade cake produced by Freeman College in the interval, then I can think of no where better you could be on a Saturday evening than at the (aptly named for this production) Merlin Theatre, and I am already intrigued to discover what this company and everyone involved with it does next.
Founded in early 2018, Mage Plays are a new Sheffield based, amateur theatre company whose goals are to bring original writing and theatre to Yorkshire. For further information like them on Facebook at www.facebook.com/MagePlaysTheatre or follow on Instagram at www.instagram.com/mageplaystheatre.
The last chance to see Game Night is on at the Merlin Theatre, Sheffield on Saturday 19 May at 7.30pm (doors open at 7pm). Tickets are £12.50. To book visit www.eventbrite.co.uk/e/game-night-tickets-44693136374.
The Merlin Theatre is a thriving arts centre and a unique place for celebrating the creative potential of young people with special educational needs. The theatre has recently had a major renovation to restore it back to its former glory. For further information visit http://merlintheatre.org.