My Mate Dave Died – 11 October 2017, Sheffield University Drama Studio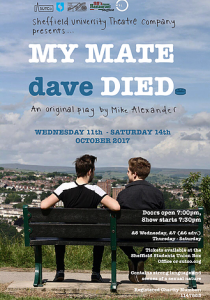 ***** Although I love the theatre classics, there's something great about seeing a brand new show, especially when the writer is from Sheffield and you have previously loved their previous performance in your favourite play (Mike Alexander played Hector in The History Boys earlier this year) so I was delighted to be in the audience for the opening night of Sheffield University Theatre Company's production of new dark comedy My Mate Dave Died.
When carefree Dave (George Evans) unexpectedly dies, leaving behind an array of loved ones, he is soon to discover that his business on earth is not quite finished when he finds himself stuck in the "in between", only visible to his best friend Jimmy (Alex Cosgriff). With the help of Jimmy and the mysterious Zoe (Emily Bowles) he meets along the way, Dave begins a journey to discover what his earthly purpose is via deities, awkward meetings and surprising discoveries.
Mike Alexander's amazing writing and direction more than proves that he is a young creative force to be reckoned with, creating a play full of natural conversation and clever stage direction (including the living cast successfully ignoring the dead Dave), with plenty of laugh out loud comedy as well as deep emotion that was not afraid to tackle big issues including adolescent, suicide, alcohol, drugs, relationships, bereavement and religion.
Their was genuine friendship and chemistry between George's smug and arrogant Dave and Alex's naïve virginal Jimmy despite their characters friendship being one of opposites attract and obvious sexual chemistry between George and his on stage girlfriend, the vibrant and instantly likeable Hope (played by Lindsay Manion), who also made a great lollypop lady with attitude. George displayed great stage present and charisma, which became even stronger when he was back on earth dressed in white and only visible to the audience and Jimmy, also perfected the  "Dave look" of you can't be angry with me as you love me so much. Alex perfectly captured being pulled all in all directions whilst also being brave enough to deal with stage nudity, apart from a pair of socks, and you will truly believed he ran a half marathon during the interval.
Lorna Dale perfectly captured the stroppy teenager playing Dave's younger sister Molly and when she finally got the chance to speak Kirsty Magree, as Dave's mum Theresa, spoke with more maturity, grief, angry and loneliness than you would have considered possible. Katy Leigh as Flo was at her best when she allowed her emotions to come to the surface and when she released her inner sexual tiger. Presenting a perception of heaven that everyone in the audience would love to enter and a relationship of secret love and affection for each other, Harry Carling played Kyle the Angel with posh, thoughtful campiness whilst Laurence Hunt played God with the air of a reality talent competition judge (be warned if you are sitting in the front row you will get high fived).
However my three standout performances came from Emily Bowles as the delicate, vulnerable and ghostly Zoe, who from the minute the audience entered the theatre to her sitting alone on a bench I wanted to hug, give chocolate to and reassure her everything would be okay, which continued for the duration of the play as she played a deep and emotional role beyond on her years, though we needed to wait until the end to discover her beautiful singing voice in a lullaby that would send any child to a peaceful sleep; and Kirsty Hobbs as The Woman and Wilf Walsworth as The Man, who speaking straight to the audience, including taking us all back to exam conditions, brilliantly played a variety of roles including a Nigella style cook to an Inbetweeners style teacher, via a vicar, television commenters and a comedic Jesus and One Ball Bob as well as Jimmy's own parents.
Fans of George Michael, and dancing as if no one is watching, will relish two moments in the second half including, after a beautiful, emotional and moving ending, an encore that left the biggest grin on my face an encore ever has.
In a play that will leave you wanting to eat quiche (so much so that I had it for breakfast this morning), I must also praise Francis Rooney for the set design, with the minimalist sets of the earth locations meaning the audience can focus on the characters and make the 80s gay nightclub style heaven sign in all its glory and make you want to enter up its scaffolding stairs; and lighting designer Rowan Reed and lighting operator for their clever use of lighting that always directed the audience to the root of the action. I will also take this chance to mention the instrumental music which simply and beautifully captured the emotion of the play.
I am more than happy to declare that My Mate Dave Died is the best new play I have seen and I would happily watch it again and again, leaving audience members wondering what their own earth purpose is and how you can your mark on the world. It continued to provide that the members of Sheffield University Theatre Company are ones to watch and I can't wait to see what all of them do next. I also look forward to everything Mike Alexander writes in the future as if it's anywhere near as good as this will be unmissable for theatre attenders.
Containing strong language and scenes of a sexual nature, My Mate Dave Died at Sheffield University Drama Studio until Saturday 14 October at 7.30pm (doors open at 7pm). Tickets are £7 (£6 if booked in advance) and are available from the Sheffield University Student Union Box Office in person, online or on 0114 222 8676.
The award winning Sheffield University Theatre Company perform four shows a semester with their forthcoming productions including Alice in Wonderland from 25th to 28th October, The 39 Steps from 15th to 18th November and Journey's End from 6th to 9th December.