Sheepish Productions' The Last Motel – 8 September 2023, Theatre Deli, Sheffield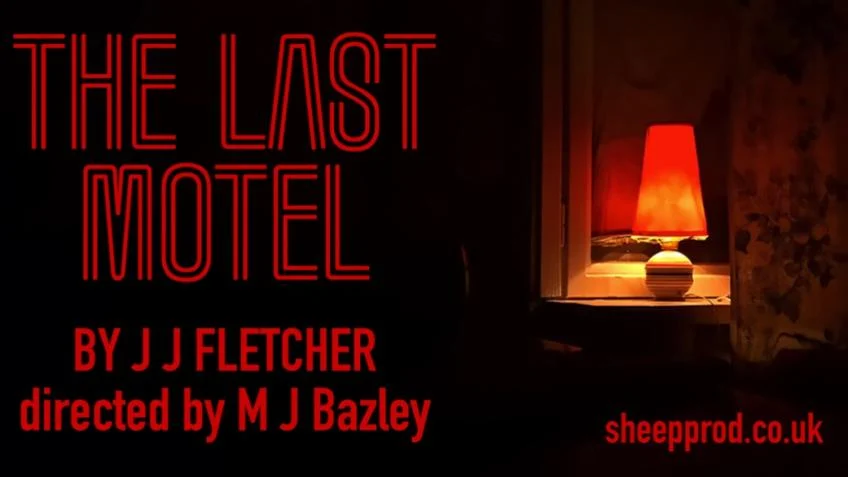 Review by Claire Taranaski.
I was delighted to attend the season launch of Theatre Deli Sheffield's autumn programme, which included Sheepish Productions' The Last Motel, but when reviews already compare it to the likes of "Inside No. 9", Stephen King's "Misery", Lynch and "Fargo" I was worried I would have nothing more to add, but I was proved wrong.
Yes, all of those comparisons were rightly deserved, but the play, which will resonate most with South Yorkshire audiences and their darker sides, was not only darkly funny, with unexpected twists, but also extremely moving and thought provoking, leading you to never think about life, natural disasters, religion, right and wrong and who to trust in the same way again.
It will also never let me see rubber turkey masks (not that I have thought about them before), 80s toys (almost extra characters in the show) and Elvis songs (it's not the play but the worry of coming into contact with the hotel receptionist that would put me off staying at the title motel) in the same way, though they offered light relief.
The play was a two hander and both actors Jeremy Drakes as Abalone (don't let the character name put you off) and Angela Rose as Eve were both superb, making you forget they were actors as they drew you into their world and the journey you went on with them in, with their discussion about grief in particular making them likely to emotionally resonate with every audience member there.
Jeremy not only should be cast in every film, television show and play that requires a Yorkshire hardman (leaving me sure I had seen him in more shows that I actually had) but also superbly captured that feeling of being out of your depth and the struggles of just trying to survive in a world where life is constantly thrown at you.
Angela was equally superb drawing the audience and Abalone on to her side and into her sympathies and as the play moved on making you actually consider the logic of her ideas to a point and the climax even more shocking. As a recent graduate actress, Angela has definitely made the right career choice.
Praise must go to writer Jeremy Fletcher for his flawless, clever, twisted script (though Jeremy I have one question for you, in the lead up to how the play starts did Eve know?); Caitlin Mawhinney for her set that beautifully drew us into the run down motel room and made the play ideal for more intimate venues; and Adam Foley for his lighting design, which not only moved the evening along but allowed to in vision the bathroom and outside without the need for additional sets.
The Last Motel like all great theatre will make you think, make you laugh, be drawn into a world you will never forget and learn the unexpected life lesson of be careful who you sort-of-kidnap (okay maybe all great theatre does not teach you the last one), should not be missed by fans of dark "Yorkshire" noir and makes me excited for the rest of Theatre Deli's forthcoming season.
To check out Theatre Deli Sheffield's full autumn 2023 programme click here and for more information about Sheepish Productions here.